By: Ben Joubert
January 31, 2020
There have been many changes in my life since I have moved to Ontario. First is just learning what Ontario is like, especially in the Greater Toronto Area (GTA). The GTA stretches over a large area and many people live here. There are no mountains to look to like there was in Calgary and it seems like everything is always busy. I have found that the pace of life is different, which has been something to adjust to. Apart from the differences in the way of life, I also do not have as much stuff here. I arrived with just a suitcase and a backpack. The main difference in the things I used to have is that I do not have a desktop computer anymore. Using a laptop exclusively is really different. I never got a secondary screen, so working with one has been limiting. For years, I have worked with two monitors instead of one. Furthermore, keyboards on laptops are hard-pressed to beat mechanical keyboards, especially because my graduate work requires lots and lots of writing. It was a nice shift when I got the chance to review the XPG Summoner, which we will be taking a more in-depth look at today.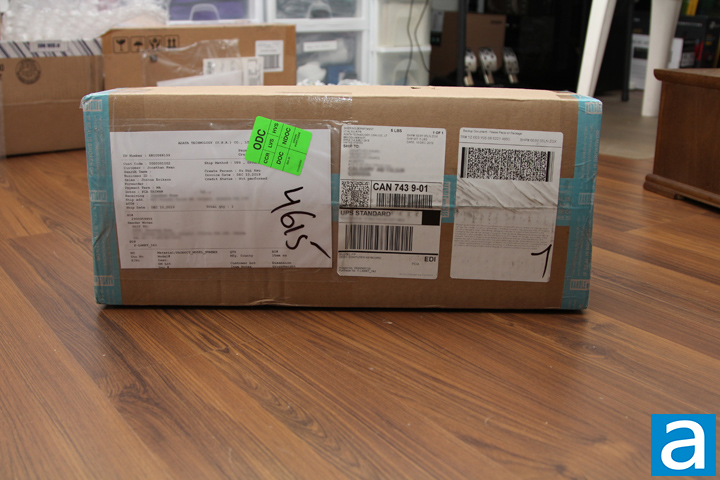 The XPG Summoner keyboard traveled from Brea, California all the way to Calgary, Alberta, which I picked up when I was back home this Christmas. The journey was long, but the shipping box is in good condition. UPS did a good job ensuring the safety of the contents. The box was not too large; only slightly larger than the retail packaging. Since the retail packaging was such a tight fit, there was no room for any padding inside, but it was not needed in the end as the box arrived in good condition.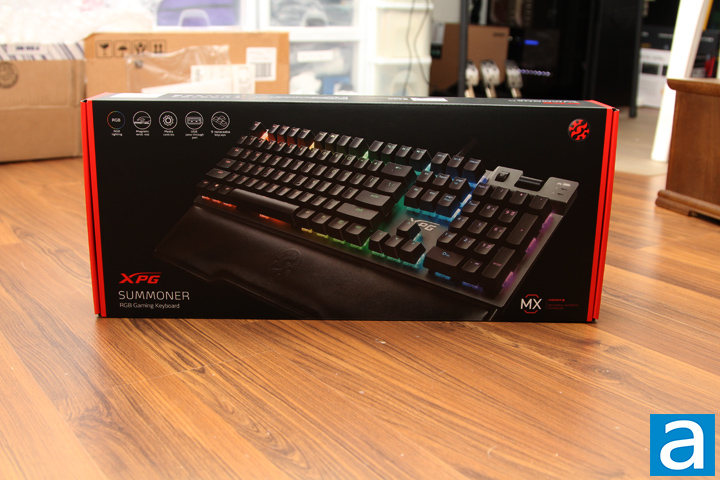 The retail packaging of the XPG Summoner has a classic gamer aesthetic. The box is mostly black with red accents. The keyboard, along with its wrist rest, is front and center. The RGB capabilities are shown off with all the keys illuminated in different colors. The top left of the retail box highlights a couple of features, namely the wrist rest, media controls, USB passthrough, and the replaceable red keycaps. The main feature, the key switches, is mentioned in the bottom right. This keyboard has Cherry MX Red switches. I do not think I have ever personally reviewed a Cherry MX keyboard at APH Networks, even though my daily driver is a Cherry MX Red keyboard. This is an exciting first!
Before we move on, here are the specifications from the manufacturer's website:
Specifications
Color: Gun-metal grey
Weight: 951g
Dimensions (LxWxH): 449 x 135 x 44 mm
Wrist Rest Specifications:
Color: Black
Weight: 191g
Dimensions (LxWxH): 445 x 88 x 19 mm
Tech Information:
Anti-ghosting keys: 100%
Key Switch: CHERRY MX Speed Silver/Red/Blue
Lighting Effect: 7 RGB lighting modes (Static / Breathing / Trigger / Explosion / Color Cycle / Color Wave / WASD mode)
Number of keys: 104/105/109 (Depending on Localization)
Macro Keys: 5
General Information:
Interface: 2x USB 2.0 type A, 1 Pass-through port
Working Voltage: 5V DC
Polling Rate: 1000 hz
Keystroke Lifecycle: Over 50 million strokes
Warranty: 2 years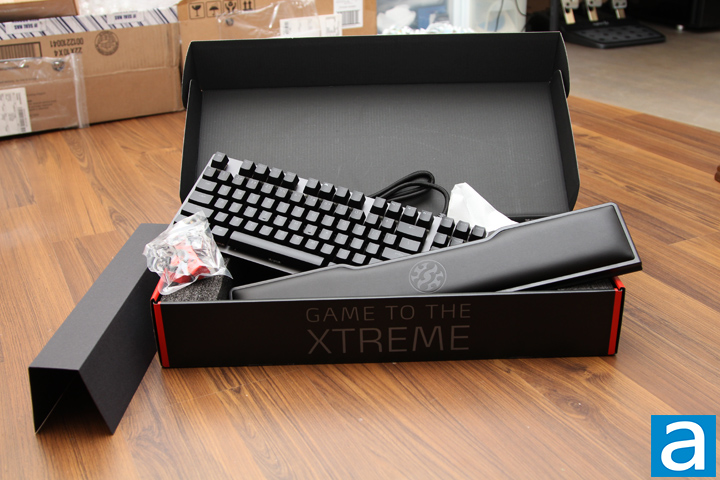 The keyboard is well-packed inside. Two large foam blocks hold the keyboard in place, while the wrist wrest is kept safe in a soft foam covering. The accessories are stored below the keyboard in small plastic bag. There are nine red keycaps and a keycap puller included. A manual details the basic controls of the keyboard and has some extra detailed information.
---
Page Index
1. Introduction, Packaging, Specifications
2.
A Closer Look - Hardware and Software
3.
Conclusion