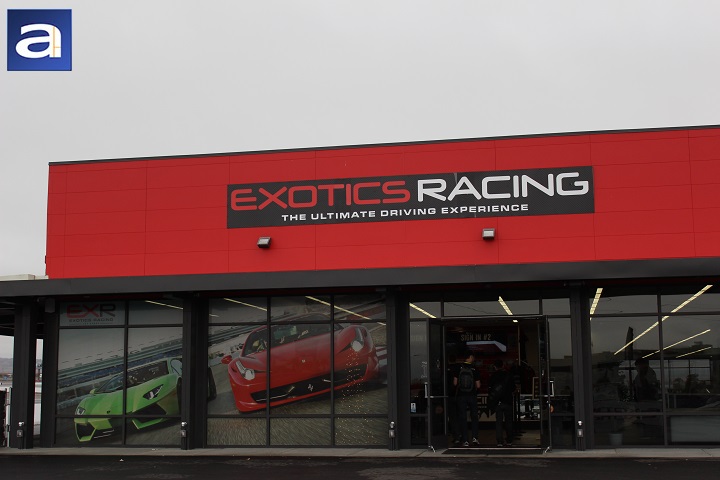 As you saw in our latest review of the NZXT HUE+, I have very high standards for NZXT because I know they are capable of doing very well in the case and accessories department. Today they drove us, along with several other press representatives, out to Exotics Racing in Las Vegas. Now you might ask, "Why would they do such a thing?", as this was on my mind too.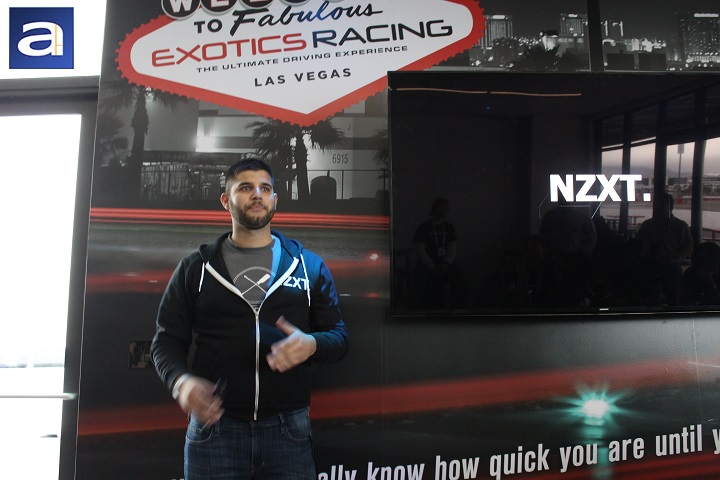 After arriving, Mitchell Podlaha from NZXT sat us down to unveil their latest case. According to Mitchell, this product has been in development for over two years, going through several scraps and redesigns. As for their reasoning for bringing us to a racetrack, they mentioned many of their cases, such as the Noctis 450, was inspired by cars. Their lead designer often spent more time drawing cars and robots, rather than cases alone. Either way, I was glad they took us here.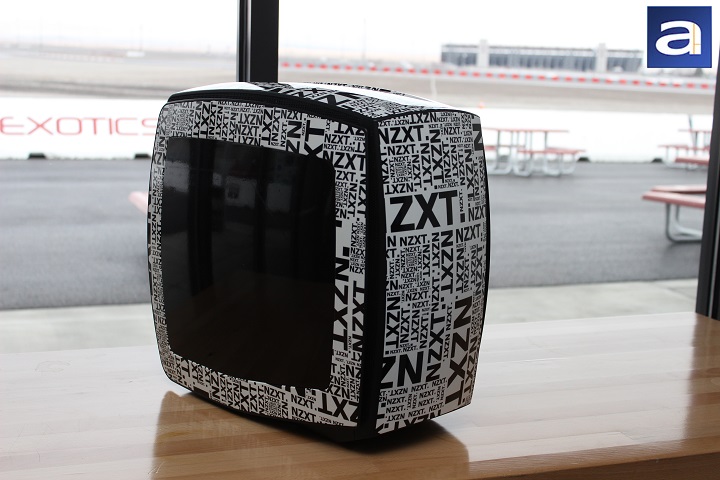 With the blanket off the case, I was able to take a closer look at the unnamed new product. Unfortunately there are quite a few details that have yet to be disclosed, as this case is not necessarily the final production product. However, I will tell you everything I was able to get from what they told us, observations of the case, and intelligent probing for answers from the NZXT representatives. This is a small form factor case, which presumably would mean for ITX motherboards. The real neat thing about the product is the fact it has bowed panels on its left, right, top and front sides. In addition, these are not plastic panels, but rather curved steel, making for the first case ever to have curved steel panels. I should note the NZXT labeling is not going to be on the final product, as this is another car inspired idea by putting wrapping on their cases.
The left side panel shows a black window, and according to Ivan Barajas, Community and Social Media Manager at NZXT, there are going to be different models with windows or not. Whether the window will be tinted or not was not released to us today, as it was only darkly tinted to hide the internal specifications. As for colors, I was told there will be a variety of colors, but exact specifications were again not disclosed. I was told they were experimenting with a matte white finish, but whether or not this will be released to the public is up in the air.
The top panel has the basic layout, with a power button, two USB 3.0 ports, and two 3.5mm audio jacks. The front also has a line LED light, which is hidden under the wraps, but is used to indicate power status for your computer.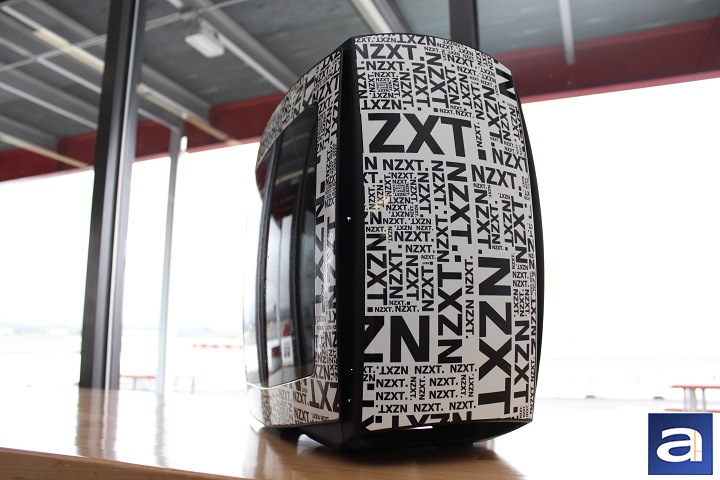 Taking a closer look at the front panel and bottom, there are a few other things to note. For one, all the panels are not directly connected to each other, but rather have vents on the side to maximize airflow into the chassis. Behind the front panel there is two included 120mm fans, but upon further inspection, it seemed there was a possible capability for 140mm fans. Whether this allows mounting options for 240/280mm radiators is unknown. At the bottom there are two extended legs, which bend out from the base. This gives the case enough clearance and airflow off the ground. In addition, four rubber pads are on the bottom to reduce vibrations and grip the case to the floor.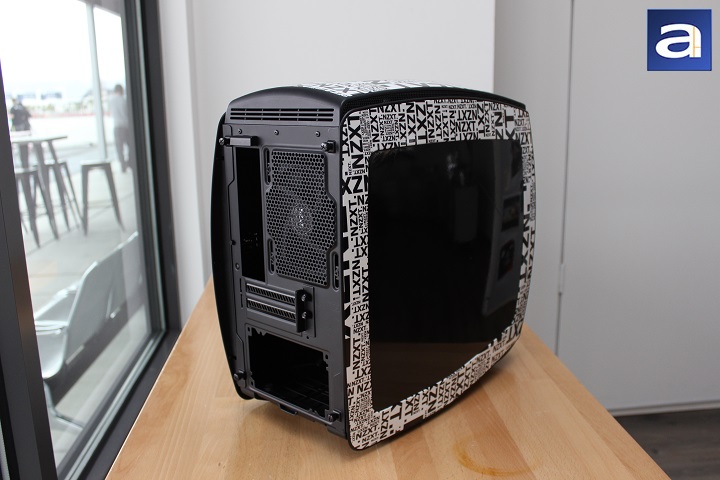 Finally at the back there is an additional 120mm fan exhaust vent. Four thumbscrews hold the side panels in place. As you can see, there is also a top vent area near the back, suggesting the possibility for top-mounted radiators, but again exact sizing is unknown. Located underneath the exhaust vent are two slots for expansion ports. At the back there is the bottom mounted power supply cutout, with a removable power supply intake fan filter. Finally at the top over the I/O panel, there are two LED lights, which we could presume to be some sort of illumination for the I/O ports. However, whether it is RGB or not is pure speculation.
As for availability, NZXT has said this product will be officially released on January 26, 2016. Pricing is to be announced. Finally if you were wondering what car this case was inspired from, it was the Ferrari 458.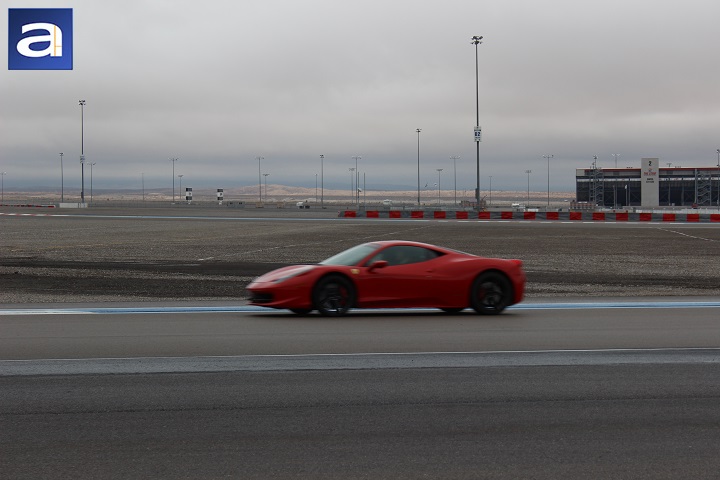 Another press personnel taking a ride around the track
Unfortunately I did not get to drive the 458, but rather I drove the Ferrari F430. It was definitely a thrilling experience, and I truly thank NZXT for the opportunity to report from their race track press event.