We have not been reviewing any Thermaltake products for a while now, but we did manage to get in contact with them to take a look at their new products. It looks like they have been hard at work, with a number of products aimed at enthusiast consumers. Here is what we have from Thermaltake straight from their room.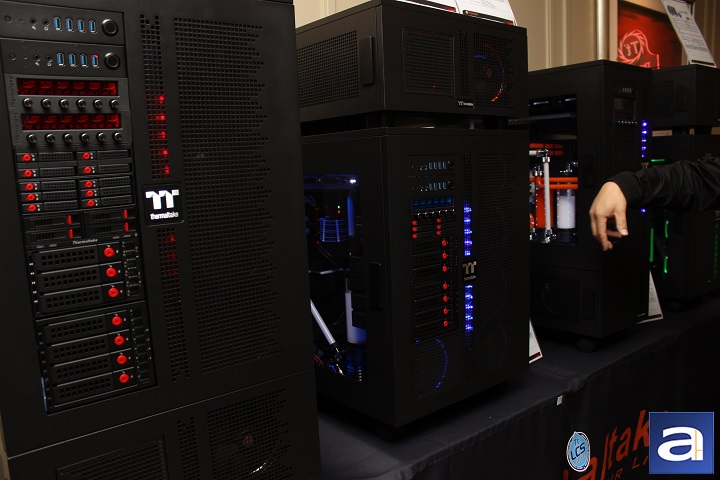 As aforementioned, Thermaltake has focused their attention on enthusiast consumers. Like eSports, Thermaltake has a new line of chassis dedicated for the enthusiasts, namely, Thermaltake Premium. Fundamentally, these chassis can house one or two systems each, and have an enormous amount of room to house large radiators and other custom water cooling components. Essentially, each machine is a glorified beast, to say the least. These models included the Core P100, Core W100 and Core WP100.
According to Thermaltake, the WP100 alone has more than twenty hard drive slots, and is capable of supporting pretty much any motherboard form factor, ranging from mini-ITX to SSI MEB. "What the heck is a SSI MEB?" A quick Google search shows a motherboard that supports up to four processors on one board. Crazy? Yes. Practical use? I am not to sure myself, unless you are planning to use it as a desktop server. Stack the P100 with it and you will have yourself a super computer capable of expanding to your heart's desire. The W100 is the slightly "smaller" version of the WP100 whereby it is slimmer simply by not stacking the P100 on top or below it.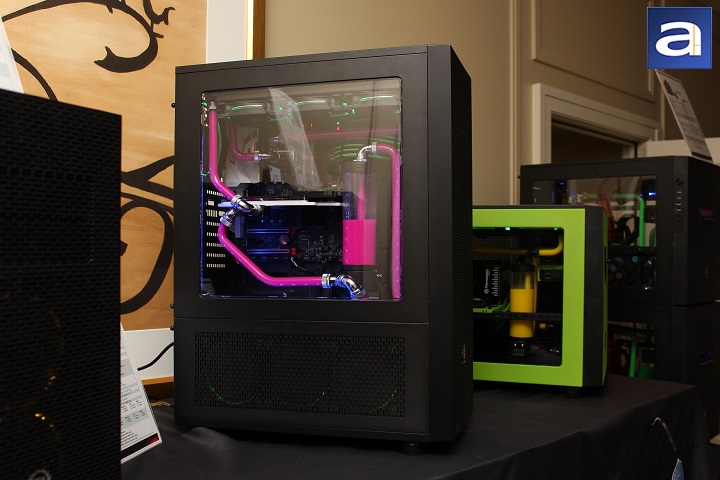 Thermaltake not only had new products in the enthusiast line, but also came up with some consumer grade chassis. What we have here are the Core X31 and Core X71. The X31 is your standard mid-tower chassis, whereas the X71 is slightly higher end with more space and brackets to work with. Both chassis have been redesigned for cleaner looks, better cooling capabilities, and better dust reduction in the form of fan filters being placed throughout the chassis itself.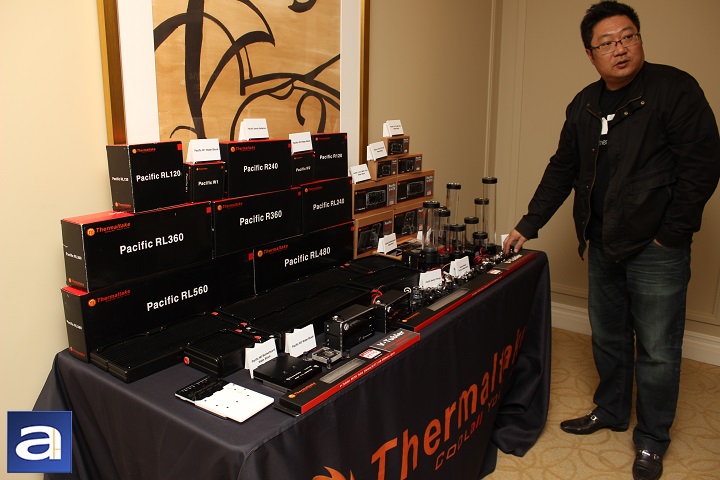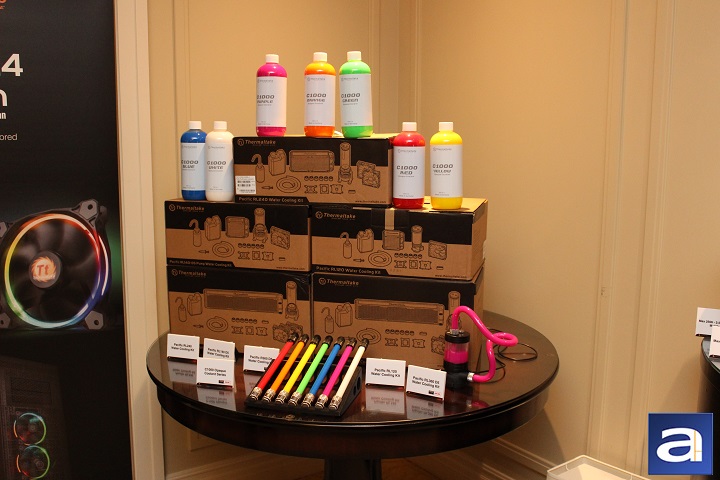 When I mentioned Thermaltake was hard at work, I was not kidding. Thermaltake is now tasked themselves with making water cooling products. I do not mean the closed loop water cooling products they have made before (Although they have come up with the WATER3.0). Thermaltake is now making hard tubes, fittings, water blocks, pumps, reservoirs, radiators, and all the other accessories that come with a full blown water cooling kit. As you may have noticed earlier, their systems that were on display were all liquid cooled. Each and every individual component, with the exception of the actual electronics of course, are Thermaltake products, including the liquid cooling products. From the photo above, you may have guessed Thermaltake has named this line the Pacific RL series, where each of the numbers represent the size of the radiators.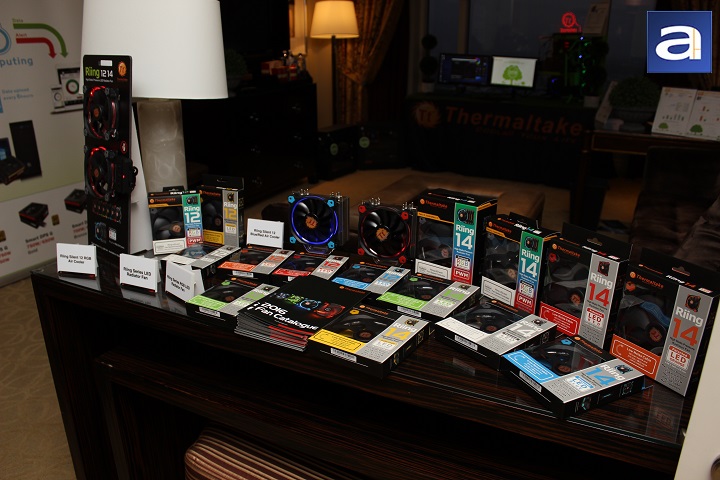 Of course, in addition to liquid cooling, Thermaltake is still quite active in producing air cooling products. The "Riing" design seen on the 120mm and 140mm fans is still patent pending, where a ring around the fan is lit up by LEDs. You are limited to only seven colors however. Though, Thermaltake did mention they will potentially be providing more colors in the future. The lighting effects can be easily controlled by a set of buttons.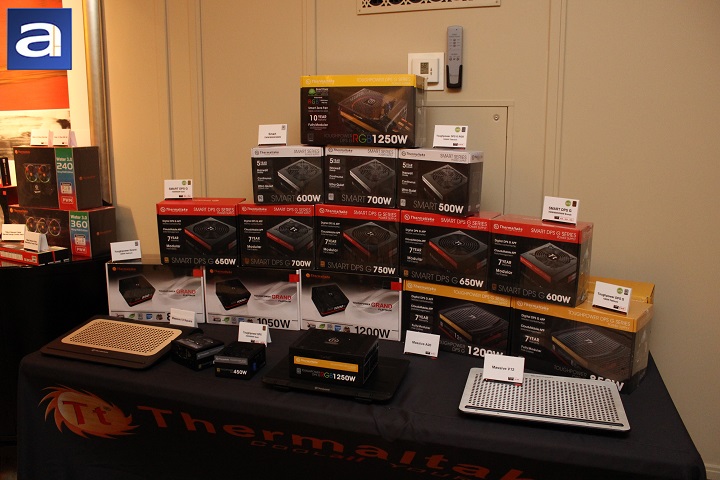 Power supplies from Thermaltake is still popular, and they still intend on pushing the limits in this area. You may notice two small form factor power supplies displayed near the front. Small may not mean "non-beefy" and weak. In fact, these small little guys are Gold Certified. They have even produced a Titanium Certified power supply, namely, the Toughpower DPS G 1250W.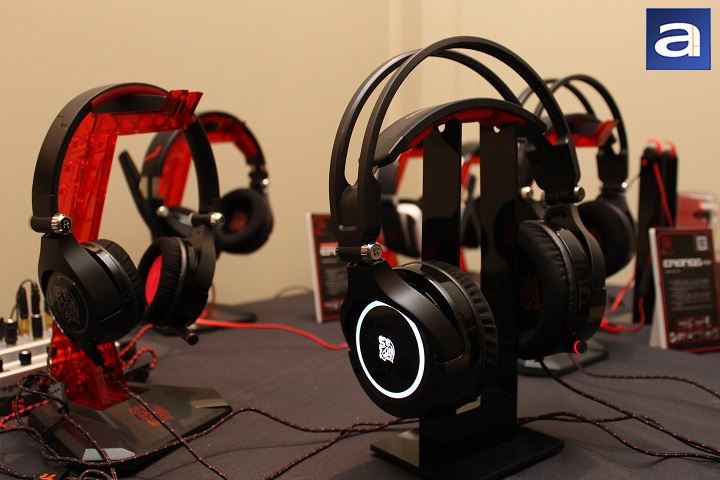 The Cronos series headsets are new to the scene. Thermaltake designed these headsets to be light, portable, and flexible to serve the convenience of travel while being able to listen to music and chat with friends. The Cronos Go features a retractable boom mic while the Cronos Ad is designed more for comfort and flexibility. Each are priced at $49.99 and $59.99 USD, respectively.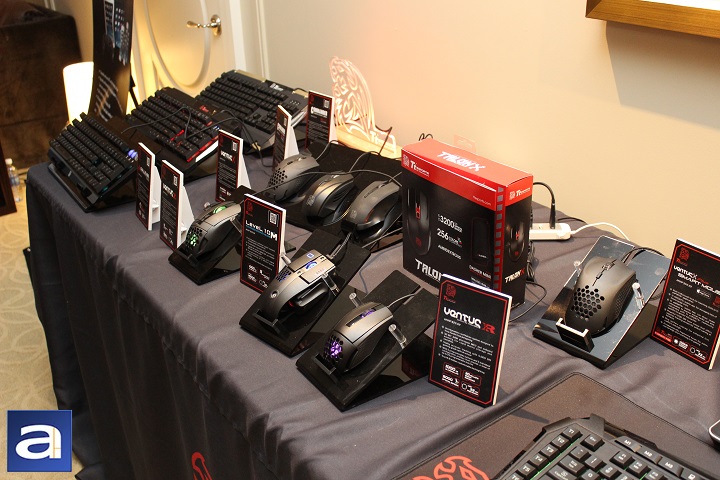 In the eSports arena, we have new and familiar gaming mice. If you have been around APH Networks, you will have remembered that Jonathan has reviewed the Level 10M. At Thermaltake's showroom, the Level 10M was displayed again, but with some modifications. Thermaltake also introduced Ventuq and the Talon series of gaming mice. As you can see, the honeycomb ventilation design is featured throughout most of the mice on display.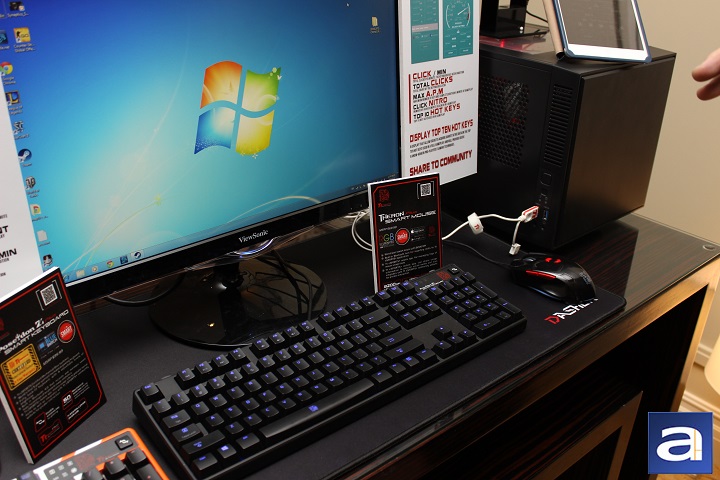 The Poeseidon keyboard and Theron mouse had a little nice touch to them. Thermaltake has partnered up with Synaptics, and has come up with a touch sensitive spacebar and fingerprint authentication sensor in the mouse. The spacebar itself has five different zones, and can be customized for different macros via the software provided. The fingerprint reader on the mouse can be used for logging into Windows and for protecting files.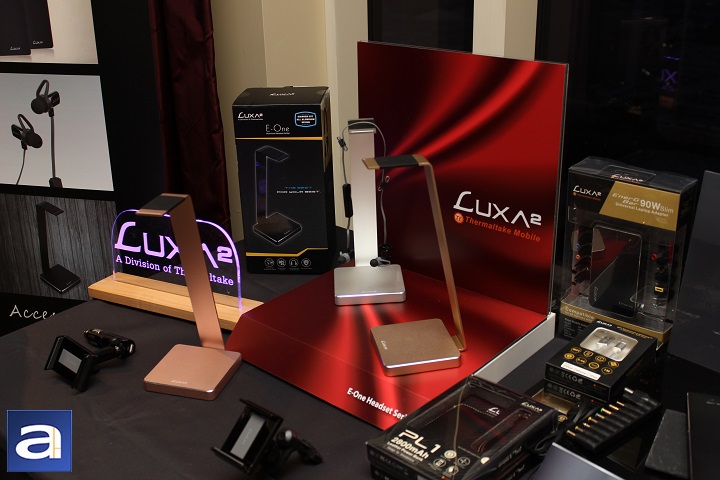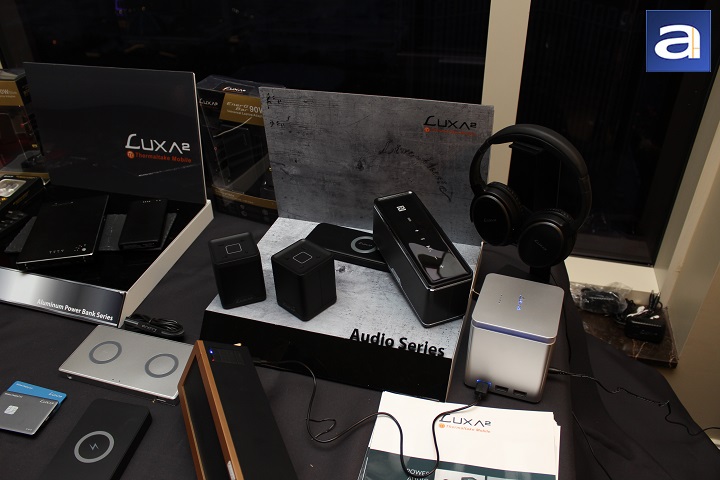 As some of you may have heard, Luxa is a division of Thermaltake, and have been making different types of accessories. Recently, as you can see from the two photos above, Luxa has redefined the headphone stand for a mere $30 USD. Additionally, they have been working on charging cables for phones and adapters with multiple bits to accomodate different models of laptops. Wireless charging plates, battery packs with 20,000 mAh and 40,000 capacities, and audio devices are also part of the package.