By: Jonathan Kwan
July 13, 2018
In my opinion, one of the biggest downfalls to any organization is complacency. To be complacent means you are happy with where you are at and not venturing into any new grounds; to insist on doing things the way it has always been done because it worked in the past. A prime example of this was Sears. Sears was actually one of the first companies to venture into online shopping, and in June 2000, a press release boasted their website sold appliances, home electronics, computers, cookware, office equipment, baby products, and toys. If that sounds exactly like Amazon to you today, the actual Amazon at the time was still a small unknown company selling books. Fast forward eighteen years later, Sears is bankrupt and Amazon is one of the most valuable companies in the world. Whether it is a lack of foresight or complacency that killed Sears, Wharton School marketing professor Barbara Kahn best puts it: "Sears came along with its great service and low-prices, other retailers started to innovate more with products and service. Sears and Kmart simply trudged along and thought that was good enough." A little over four years ago, my colleague Kenneth Kwok reviewed the Antec High Current Gamer M 750W power supply. The High Current Gamer M 750W was a decent 80 Plus Bronze certified power supply built by Seasonic. Fast forward to today, we have one of Antec's latest offerings, the High Current Gamer Bronze 750W. Wait, has anything changed in the last few years? Did Antec become complacent in the same way Sears did by simply trudging along thinking that was good enough, or is there something we do not know about? Read on to find out!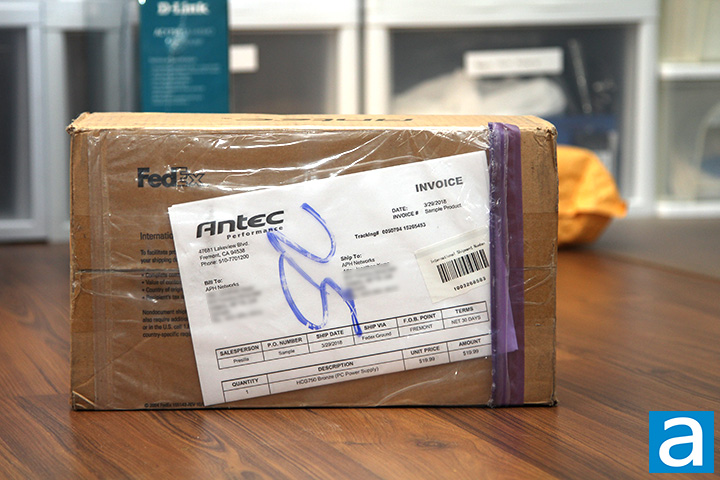 Just like the Antec DF500 and P6 reviewed by my colleagues Ben and Aaron, respectively, recently, our High Current Gamer Bronze 750W also came from the company's American headquarters in Fremont, California, USA. Using FedEx International Ground, the medium sized brown corrugated cardboard box arrived in reasonably good condition to us here in Calgary, Alberta, Canada for our review today.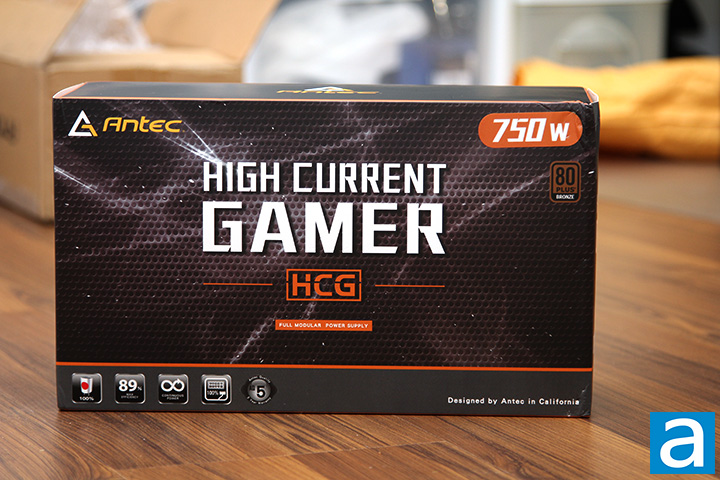 Even if the 80 Plus certification for the Antec High Current Gamer Bronze has not changed since 2014, the retail packaging certainly has. As you can see in our photo above, the HCG Bronze comes in a box with a predominantly black background. The metal mesh background is complemented by the "High Current Gamer" text and HCG branding, which boldly occupies the middle of the box. Antec's logo is printed at the top left corner, while the 80 Plus Bronze badge and 750W rating is found at the top right corner. At the bottom, an array of five icons highlight its 100% Japanese capacitor design, 89% maximum efficiency, continuous power (whatever this means), 100% modular cables, and five-year warranty. The "Designed by Antec in California" line may be familiar to those who have purchased products from a certain Cupertino company in the past. Stuff like the feature highlights, efficiency curve, and specifications can be found on the remaining sides of the box.
Before we move on, let us take a look at the specifications of the Antec High Current Gamer Bronze 750W, as obtained from the manufacturer's website:
Model: HCG750 Bronze
Type: ATX 12V 2.4
Modular: Fully Modular
Dimension (W x L x H): 165(L)*150(W)*86(H)
Warranty: 5 years
Input Voltage: 100-240 VAC ±10%
Input Current: 12A-6A
Input Frequency Range: 50Hz-60Hz
PFC: Active PFC (>0.9 typical)
Power Good Signal: 100-500ms
Efficiency: 89% Typically
Protection: OCP/OVP/SCP/OPP/OTP/SIP/NLO
Output Capacity: 750W
Operation Temperature: 0~40°C
Regulatory: cTUVus/TUV/CB/RCM/CE/EAC/FCC
Fan: 135mm DBB Fan
Certifications: 80 Plus Bronze
Connector: 1 x MB 24(20+4) Pin, x 8(4+4) Pin EPS 12V, 4 x 8(6+2) Pin PCI-E, 9 x SATA, 4 x Molex, 1 x FDD
Net Weight: 1.62 kgs
Gross Weight: 2.78 kgs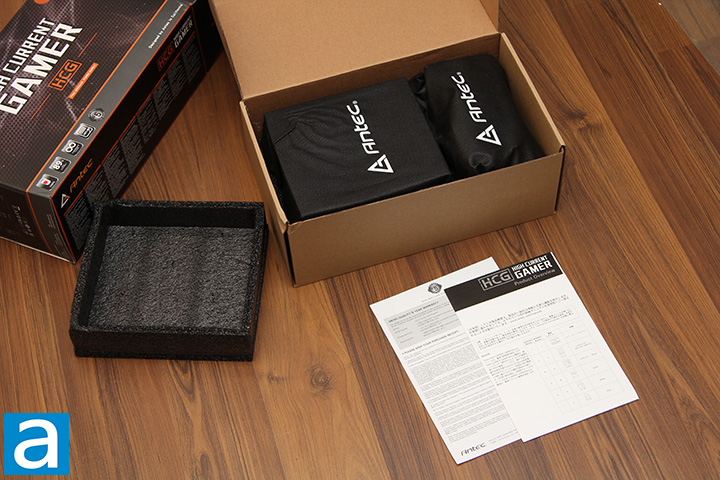 The Antec High Current Gamer Bronze 750W's retail packaging can be opened by a flap attached at the bottom after sliding out the brown corrugated cardboard box inside. Upon opening the box, you will find everything neatly organized. The power supply is located inside a nylon bag on the left and cables and everything else in a nylon bag on the right. Out of the box, you will receive the High Current Gamer Bronze 750W power supply itself, modular cables, AC power cable, three Velcro straps, five zip ties, four screws, warranty guide, and a product overview. The bundle is appropriate for a power supply of this caliber.
---
Page Index
1. Introduction, Packaging, Specifications
2.
Physical Look - Outside
3.
Physical Look - Inside
4.
Minor Tests and Conclusion