By: Aaron Lai
June 1, 2018
If you read my last review on the 1MORE Quad Driver, you would know I ended by saying we were able to track down the phone. To continue the story, we called the cleaning company to ask if they knew anything and they mentioned the lady in charge brought some extra people to the office. They suspected a boyfriend of the cleaner's niece. Immediately, people started guessing this guy was a bratty adolescent who did not know any better. The next day, we called the police and they sent a cop to take our notes and the tracked location. It was not long until he was able to contact this person and they agreed to meet up at a mall. However, he was clearly scared and he dropped it off at the lost and found, claiming he had "found it in the mall". The policeman came back to our office and he handed me the iPhone. When I asked the officer who this person was, he replied by saying it was some old forty year old guy, which caught everyone off guard. This time, our impressions were not in line with reality and affected our expected suspect. With the review unit of the Antec P6, it has been a while since we have seen anything from Antec. Besides our recent review of the DF500, we had not received an Antec case or product in a while. In fact, the last chassis we received from this company was the P182 back in 2007. Back then, it was a pretty good case with a sleek exterior. The Antec P6 is a compact mATX case selling at a budget price. Does this case keep up with Antec's past case and the current trends from other case manufacturers? Let us read on to find out!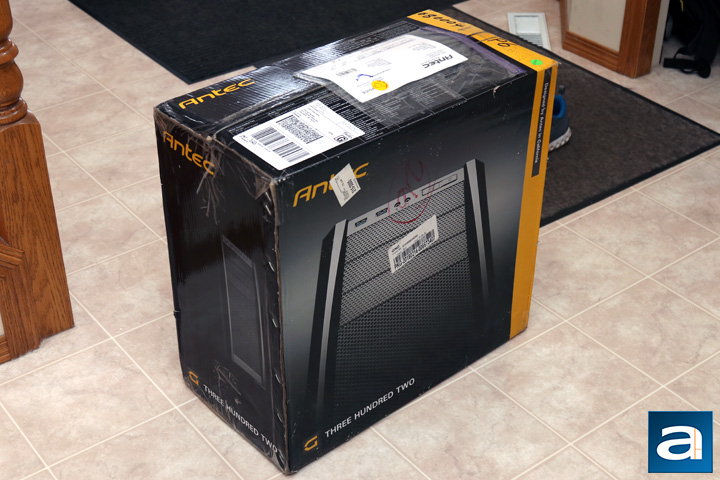 When we received the Antec P6, there was a bit of confusion with our unit. Traveling via FedEx International Ground, this box arrived in average quality with not a whole lot of issues to talk about. This box was shipped from Fremont, California, where Antec's American offices are located. Just like the DF500, this case arrived in a different box. More specifically, our Antec P6 arrived in a larger Antec Three Hundred Two to prevent any damage. Thankfully, the unit inside was the case we were looking for.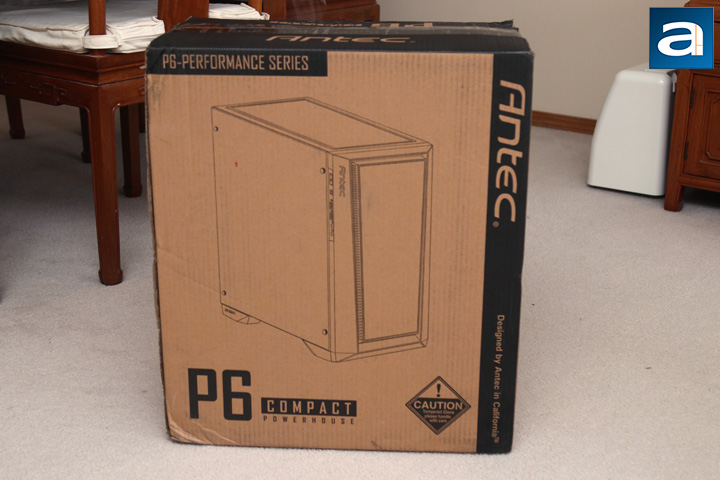 The retail container of the Antec P6 is pretty similar to other ones we have seen with a standard brown corrugated cardboard box. Black printing is seen on the box to show off the general design of the Antec P6. As you can see, Antec refers to this product as the "Compact Powerhouse". In addition, you can see a huge "Caution" diamond smacked on the lower right corner. This is because of the left tempered glass panel inside. At least we can see one current case trend already in action. Otherwise, there is not a whole lot else to talk about, so let us look at the case itself.
Before we do so, let us peruse the specifications from the manufacturer's website:
Specifications
Unit dimensions: 470mm x 200mm x 405mm (DxWxH)
Form factor: Micro-ATX
Material: SGCC + Plastic
Motherboard support: Micro-ATX, mini-ITX
I/O Ports: USB 3.0 x 2, MIC/ HD AUDIO, Power, Reset
Side Panel: 4mm tempered glass
Expansion & Storage
Expansion slots: 4
5.25": 0
3.5"/2.5" (Convertible): 2
2.5": 4
Fans
Front: 2 x 120mm or 2 x 140mm
Top: 3 x 120mm or 2 x 140mm
Rear: 1 x 120mm
Included: 1 x 120mm white LED fan in rear
Liquid Cooling
Front: ≤ 240mm (Up to 55mm thickness with fan)
Rear: ≤ 120mm
Clearances
Cable management: ≤ 20mm
Max VGA card length: ≤ 390mm
Max CPU height: ≤ 160mm
Max PSU length: ≤ 160mm
Miscellaneous
Dust Filtration: Top / Front / Bottom
Warranty: 2 years
Net Weight: 5.90 kgs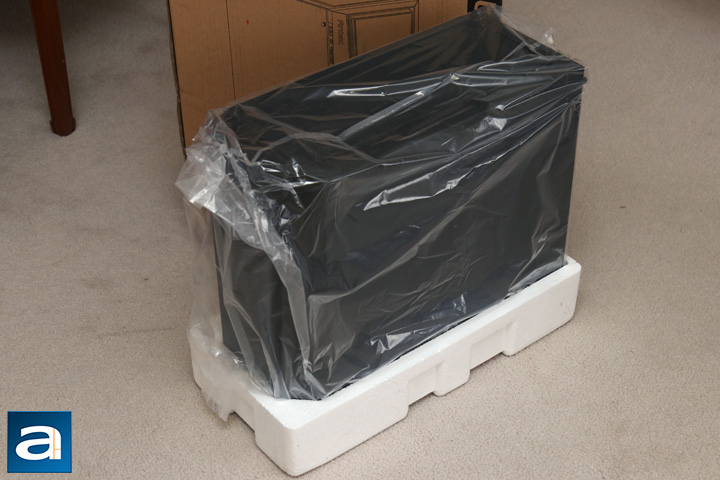 Out of the box, we have the Antec P6 wrapped in several layers of plastic. This includes plastic covering the tempered glass pane plus a plastic bag to hold the entire case. The P6 came held within two white foam brackets to ensure there was no damage to the physical product. The foam itself had a bit of bruising and breaking, but thankfully the case was not harmed in the process. All of the documentation and accessories are contained inside the case, so I will take a look at them later. Otherwise, let us now take a closer look at the case itself.
---
Page Index
1. Introduction, Packaging, Specifications
2.
Physical Look - Outside
3.
Physical Look - Inside
4.
Installation and Conclusion