Page 2 - Physical Look - Outside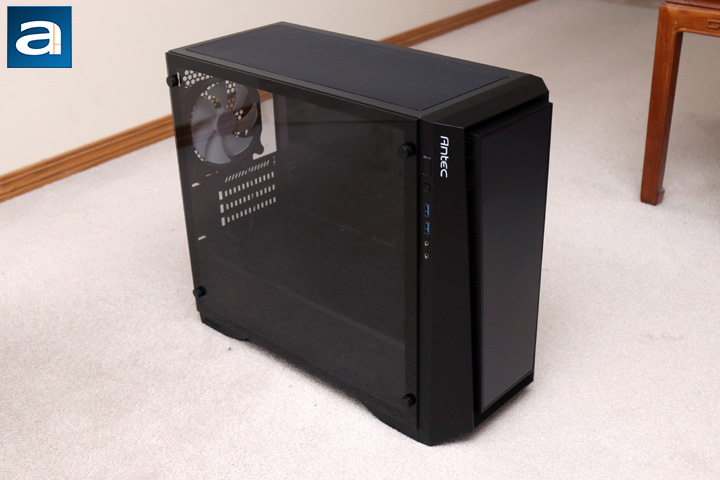 I have looked at more of the smaller cases here at APH Networks, but I am still always intrigued when we get any case smaller than the standard mid-tower ATX case. Clearly, not all of them are as compact as the other, but it is kind of neat to see a smaller footprint. As for the Antec P6, it takes a few similar elements from previous Antec products, but it has some interesting aspects unique to this case. The mid-tower overall looks pretty average with nothing really eye-catching about its design. It does not really strike me as either minimal or eye-catching. According to the manufacturer, we have a mix of SGCC and plastic on this case. For those who did not know, SGCC refers to a hot dip galvanized steel. Otherwise, this case weighs in at around 5.9 kg, which is reasonable for its size. With dimensions of 470mm in length, 200mm in width, and 405mm in height, these dimensions are as you would expect for a mid-tower mATX case. The real reduction compared to other cases is probably in its height, which is understandable considering the less number of PCI Express slots you will find on a micro ATX motherboard. This has some internal implications, as we will see later on.
The front panel has an inverted trapezoidal cutout. The side of this cutout has slits to allow some air to pass through the front. The panel is finished with a semi-smoothed feel and does enough to hide most fingerprint marks. I am a bit concerned about the airflow at the front, or lack thereof, as there are only the slits to allow air through. On the left side, we have the full tempered glass panel. This panel has a black border around it to prevent people from seeing handling marks when touching the edges. The glass itself is slightly tinted too to hide any imperfections inside the case. At the top, we have a long mesh filter, which is held on by a magnetic frame. These magnets are relatively strong enough to keep the mesh in place.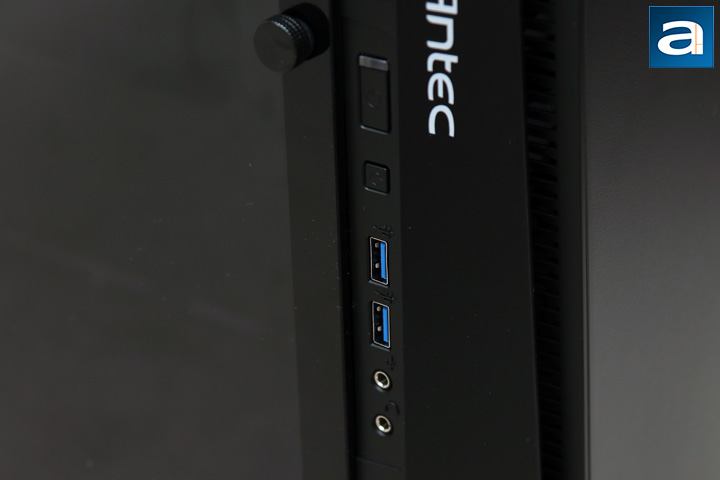 The inputs and outputs are not located directly at the front, but more so on the left side of the front. Down this side, we have several buttons and inputs, including a power switch, reset switch, two USB 3.0 or USB 3.1 Gen 1 ports, microphone jack, and a headphone jack. Each of these inputs have embossed logos to help users see the different inputs. This is probably the most helpful for differentiating the two audio jacks. Missing in action are any newer ports like the USB Type-C inputs. Above the longer rectangle power button is a translucent area, where a blue LED exists to indicate power status. Interestingly enough, we do not have any sort of light to indicate drive activity. Finally, a printed Antec logo can be found here. Some other Antec logos can be found around the case as we will see shortly.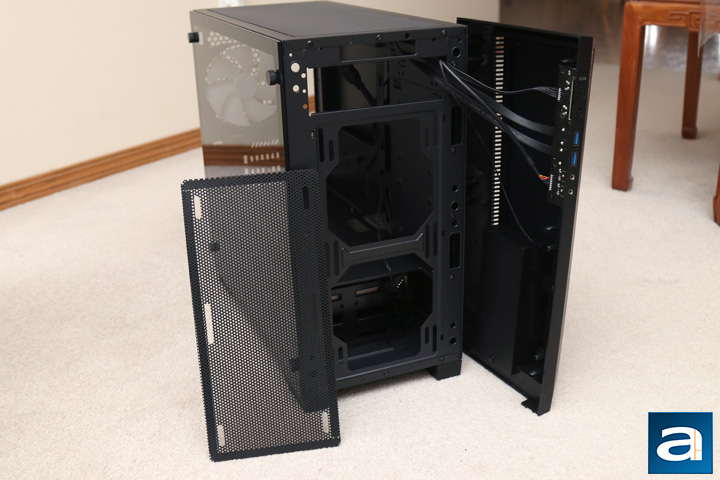 Popping off the front panel involves carefully pulling it away from the case. This panel is held on by plastic tabs and do a decent job of keeping the plastic in place. You do have to be careful, since there are cables leading from the front panel into the case. I would have rather seen the front I/O area be a part of the rest of the steel frame, as we have seen from other manufacturers. Behind the front is a magnetic mesh filter, plus a place to mount up to two 140mm fans or a single 240mm radiator. Unfortunately, a 280mm radiator is not supported here due to the lack of clearance at the bottom for mounting such a huge thing. You probably could jam one in here still, though you would have to be careful about the clearance at the front. Going back to the filter, while I am happy it is magnetic again, I have to question why they put in slits on the sides for attaching it under a mounted fan. It completely defeats the point of having magnets if you have a mounted fan. As well, if you do not have any fans here, this is a huge hole to allow dust particles in. Also, the holes on the front filter are much too big. Considering some of the finer mesh we have seen on most cases, it strikes me as really odd to see such large holes.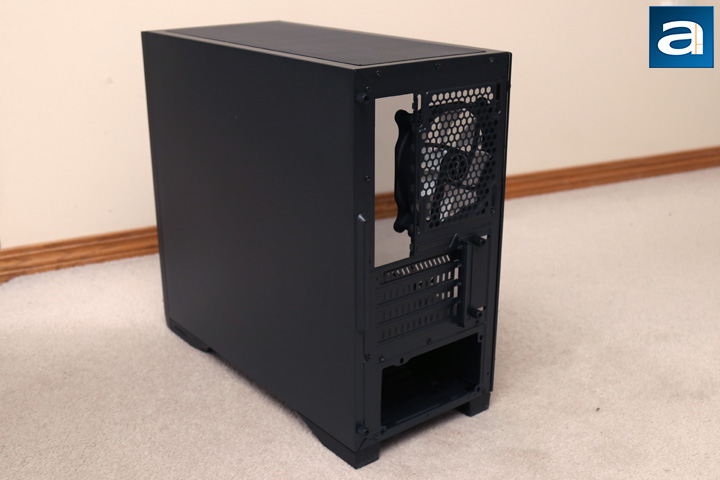 Flipping to the back, we have a pretty standard state of affairs. At the right side, we have a steel side panel. At the back, we have a cutout for the motherboard opening with an exhaust area beside it. A single 120mm fan, which is the largest to be mounted here, is placed on rails for some flexibility here. Underneath, we have four expansion slot covers, which is standard for a mATX motherboard. One questionable design choice is the fact only the top expansion slot cover is screwed on. The bottom three are breakaway covers, which feel cheap. Antec has included three more covers to be reused, so I have to ask why they even used these breakaway covers at all. Otherwise, these expansion slots are held on with an integrated sliding frame, which is held on by thumbscrews. At the bottom, we have the opening for a standard ATX size power supply.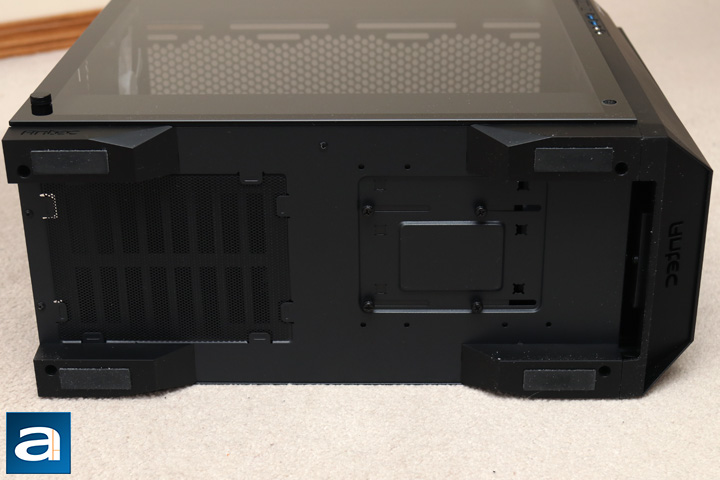 If we are to peek under the Antec P6, we can get a better look at its underside. The feet of the Antec P6 raise the case up off the ground to get some clearance for some intake. If this case is on carpet or some plush surface, you may find the Antec P6 is not raised enough. However, this should be fine on hard flooring. The rubber pad on the bottom of each foot also ensures there is little vibration or noise created here. As for the intake, you can see it is lined by a plastic mesh, but this is one place Antec really needs to improve on. Not only is this mesh filter really flimsy, but it is also really hard to remove for cleaning without laying the case on its side. Most case manufacturers use a plastic frame with rails to easily slide the filter out, but this is not the situation here. Nearer to the front of the chassis, you can see four thumbscrews. This holds the drive cage inside, as you will see later on. Finally at the front, you might notice a cutout of the Antec logo, except in reverse. Like the SilverStone Primera PM02, the Antec P6 features a bottom-firing white LED to show off the logo. I really like this way of branding as it makes for a subtle effect.
---
Page Index
1.
Introduction, Packaging, Specifications
2. Physical Look - Outside
3.
Physical Look - Inside
4.
Installation and Conclusion