By: Aaron Lai
February 2, 2018
I was recently discussing with a friend about the things we look for in a significant other. It was pretty interesting to compare and contrast the things we valued, especially when we talked about our essential and our "nice to have" list. This topic has been discussed in the past, and referenced to the LPSE formula. As for myself, I think I have a few things that are required, as well as a short list of things that are nice to have. Some of these originated from before I started dating, while others have become requirements along the way. For example, I have always wanted someone who is encouraging, but I have also learned someone who speaks her mind is also pretty important. On the other hand, some nice to haves are things like being able to deal with my jokes and puns and someone who can stand my video gaming tendencies. These last points obviously do not make or break a person in my mind, but they play a role in my decision. In the same way, when I look for my main computer case, there are the necessities as well as the extras. This is not to say I see picking a girlfriend to be like picking a computer cases with specifications and features, but there are just some crucial things that need to be checked along with some nice to haves. When I look for a case, I want one that is easy to build in, looks clean, and can fit everything I want to throw in it. Having RGB lighting, on the other hand, is not essential but would be neat to see. When SilverStone sent us the Primera PM02, it immediately had the visual appeal I was looking for. But is it a case that meets the rest of my qualifications? And will there be any bonuses along the way? These questions and more will be answered in our review, so read on to find out!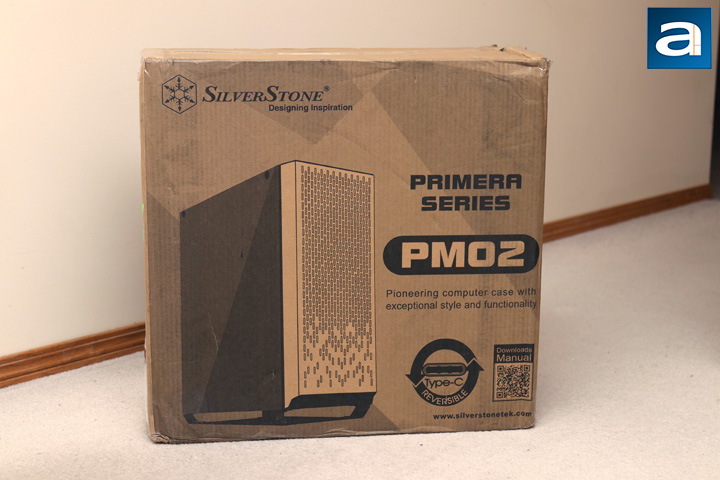 Today's review unit of the SilverStone Primera PM02 arrived from SilverStone's offices in Chino, California, in its retail container. Traveling via UPS and their Standard ground service, the Primera PM02 arrived in pretty good condition with no real exterior blemishes to speak about. There are still some dents and bruises on the edges of the box, however. The outside of the box is not the same full color experience we saw from the previous Primeras, but rather a more standard brown corrugated cardboard with black and white images. From the outside, you can already tell the PM02 has a pretty different styling compared to the last Primera we looked at, but we will get more into this later on. The front and sides of the box show off scaled images of the PM02, as well as some features and specifications.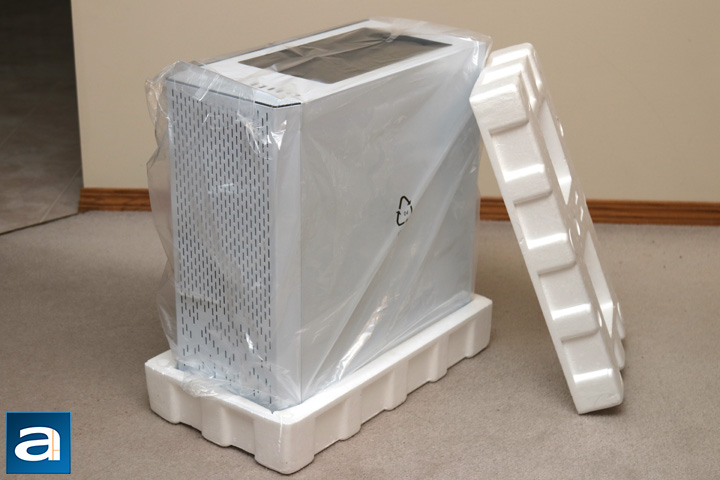 Out of the box, we have a pretty standard state of affairs when it comes to the SilverStone Primera PM02. The computer enclosure is enclosed in a plastic bag to prevent any surface scratches while in transit. Two large foam brackets also are fitted to the Primera PM02 to prevent any damage to the case itself. It is quite clear the shipment sustained some impact, as there are several cracks in the foam bracket. The glass panel also comes sealed with plastic wrap to prevent any smudges or scratches on the panel before the user receives it. Otherwise, inside the case we can find a small plastic bag holding all the screws and a user manual for assembling the case. Unlike typical SilverStone form, this manual is actually just a small fold out and barely covers any details regarding the Primera PM02. However, this is because SilverStone has made some changes to simplify the building process, as we will see later on.
Before we take a closer look, let us peruse the features and specifications of the product, as obtained from the manufacturer's website:
Specifications
Model No.:SST-PM02W-G (white + tempered glass window)
Material: Steel front panel, steel body, tempered glass window
Motherboard: ATX ( up to 12" x 11") , Micro-ATX
Drive Bay: External - None, Internal - 3.5" x 3 (compatible with 2.5") , 2.5" x 3
Cooling System: Front - 3 x 120 / 140mm fan slot (includes 3 x 140mm PWM fan), Rear - 1 x 120mm / 140mm fan slot (includes 1 x 140mm PWM fan), Top - 2 x 120mm / 140mm fan slot
Radiator Support: Front - 1 x 120mm, 1 x 240mm / 280mm / 360mm; Rear - 1 x 120mm / 140mm; Top - 2 x 120mm, 1 x 240mm / 280mm
Expansion Slot: 7
Front I/O Port: USB 3.0 Type-A x 3, USB 3.1 Gen1 Type-C x 1, Audio x 1, Mic x 1
Power Supply: Optional PS2(ATX)
Expansion Card: Compatible up to 16.3" (415mm) in length, width restriction –6.85" (174mm)
Limitation of CPU cooler: 167mm
Limitation of PSU: 190mm
Net Weight: 8.82kg
Dimension: 220mm (W) x 491mm (H) x 456mm (D), 49.3 Liters
---
Page Index
1. Introduction, Packaging, Specifications
2.
Physical Look - Outside
3.
Physical Look - Inside
4.
Installation and Conclusion