By: Aaron Lai
June 23, 2017
When it comes to hobbies, you may already know I quite enjoy playing on my instruments, video gaming, and watching anime. However, one thing I recently started doing more of is photography. For the longest time, I have been shooting with a basic dSLR in the form of a Canon Rebel T3i, otherwise known as the EOS 600D outside of North America. While it has been a capable shooter, I noticed some things it was holding me back in. This was most apparent in the auto-focus and shutter speed department. As Canon's camera sale comes around once a year, and with the possible prospect of taking on some wedding photography over the summer, I decided it was time to take a step up. I purchased an EOS 80D and then bought a 24-105 f/4L lens to complete the package. I did think about moving to a different system altogether, such as a mirrorless camera, but I decided to stick with Canon. While I think I could have kept working with what I had, I really wanted something that would not hold me back and offer me better endurance and battery life. Hopefully the images you see here on APH Networks will also keep getting better, haha. When it comes to my computer case, I have been using the venerable Phanteks Enthoo EVOLV ATX for almost two years now. While I praised that case for its ease of use to work in and excellent quality overall, I also felt like it was time for a new one. SilverStone recently revealed their Primera PM01-RGB, a rework on the original Primera PM01, with the trending features of tempered glass and RGB lighting. After using the Enthoo EVOLV ATX for so long, is the SilverStone Primera PM01-RGB an upgrade worth moving to, or will I be left a bit disappointed? Read on to find out!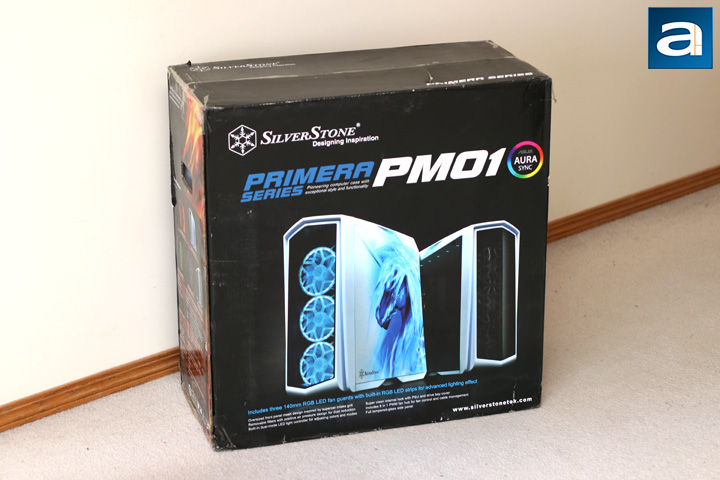 Today's review unit of the SilverStone Primera PM01-RGB arrived from SilverStone's head offices in Chino, California. As this is a computer chassis, it arrived without a secondary cardboard box. Traveling with UPS and their Standard ground service, the Primera PM01-RGB arrived in good condition with no real blemishes to speak about on the outside of the box. You may notice a pretty big difference from the original PM01 Technical Editor Ben Joubert looked at last September, signifying the few things SilverStone has changed in this revision. As majority of the outer and inner structural changes are minor, it is not too surprising we have a similar name here, but you will understand more so later on. Instead of the white box we received, this one comes in a fully black corrugated cardboard box. Several features can be found at the bottom of the box underneath the product image. It should be noted this box is used for both the PM01-RGB and the PM01-FX, so you can find out what actual version of product you have on the side of the box. The only difference between the FX and the RGB is FX includes a stylized right panel as you can see in the image above, while the RGB version has a plain right panel. As for the PM01-RGB, this case comes in three colors, including a glossy white, a glossy black, and a matte black. Today, we have the matte black version.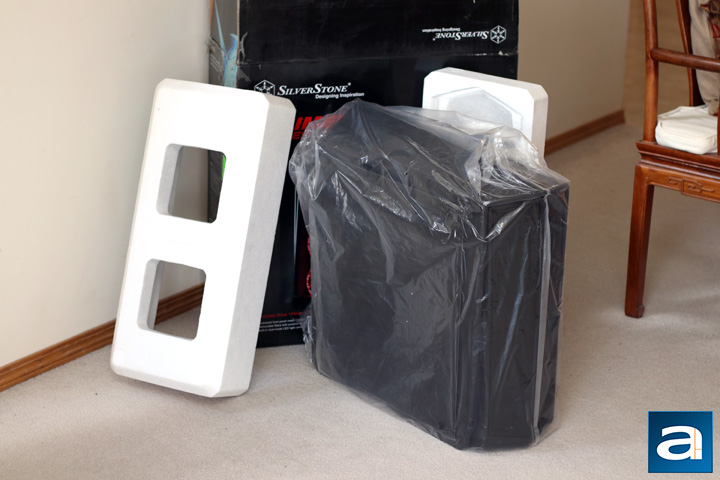 Out of the box, we have a pretty standard state of affairs when it comes to the SilverStone Primera PM01-RGB. The computer enclosure is enclosed in a plastic bag to prevent any surface scratches while in transit. Two large foam brackets also are fitted to the Primera PM01-RGB to prevent any damage to the case itself. The glass panel also comes wrapped in a sticky plastic to prevent any smudges or scratches from appearing on the panel before the user receives it. Otherwise, inside the case we can find a small plastic bag holding all the screws and a user manual for assembling the case. In true SilverStone form, this manual covers practically all aspects of the Primera PM01-RGB, and it is a very thorough read.
Before we take a closer look, let us peruse the features and specifications of the product, as obtained from the manufacturer's website:
Specifications
Model No.: SST-PM01C-RGB (matte black + RGB LED + window)
Material: Plastic outer shell, steel body, tempered glass side panel
Motherboard: ATX (up to 12" x 10.7"), Micro-ATX
Drive Bay: External - None, Internal - 2.5" or 3.5" x 4, 2.5" x 5
Cooling System: Front - 3 x 120mm / 140mm fan slot (includes 3 x 140mm fan + RGB LED fan guards), Rear - 1 x 120mm / 140mm fan slot (includes 1 x 140mm fan), Top - 3 x 120mm fan slot or 2 x 140mm fan slot
Radiator Support: Front - 2 x 120mm; 1 x 240mm / 280mm / 360mm, Rear - 1 x 120mm / 140mm, Top - 2 x 120mm; 1 x 240mm / 280mm / 360mm
Expansion Slot: 7
Front I/O Port: USB 2.0 x 2, USB 3.0 x 2, Audio x 1, MIC x 1
Power Supply: Standard PS2(ATX)
Expansion Card: Support graphics card up to 16.5" (419mm), width restriction - 6.88" (174mm)
Limitation of CPU cooler: 180mm
Limitation of PSU: 240mm
Net Weight: 10.1kg
Dimension: 220mm (W) x 571mm (H) x 560mm (D), 70.3 Liters
Extra: Built-in RGB LED controller
---
Page Index
1. Introduction, Packaging, Specifications
2.
Physical Look - Outside
3.
Physical Look - Inside
4.
Installation and Conclusion