By: Aaron Lai
September 18, 2015
When it comes to computing in general, there is often a distinct line between gaming and professional-grade components. On the gaming side of things, there are peripherals such as keyboards, mice, headsets, and even monitors with specific features targeting those who play more than they work. Of course, some of these features, like RGB lights, are usually more for looks than anything else, unless you are talking about the SteelSeries Apex M800. In addition, the design of the product in question makes it quite clear in distinguishing what market it is meant for. This could include some obnoxious and loud styling, or, as aforementioned, fancy RGB lights. While this is not necessarily true for all gaming peripherals, the general trend is present. On the professional side, the products found here are meant to encourage usage of them at home or in an office environment. They lean towards a clean and sophisticated appearance, with features focused on functionality. These two sides are particularly present in the product lines of monitors. Gaming monitors are nowadays marketed with features like G-Sync, or higher refresh rates, for smoother scrolling. On the other hand, professional monitors may sacrifice these features for color accuracy in reproduction and better viewing angles. However, if we look at a product lineup of computer cases, the lines tend to blur a bit more. Based on design, there are still gamer-centric products, such as the Cooler Master Storm Stryker. More professional chassis like the Fractal Design Define R5 are also present. However, many of the desired features are common between gamers and professionals, including quiet operation, good cooling capabilities, and easy cable management. Today's review of the Phanteks Enthoo EVOLV ATX is a bit of a curious case, no pun intended. Its appearance, while not as fridge-like as the Define R5, is still clean and simple, yet it does not necessarily fall into the professional side of things. How does the Enthoo EVOLV ATX stack up against the competition, and what else is there to it beyond the appearances? Hopefully this review will answer these questions, and more!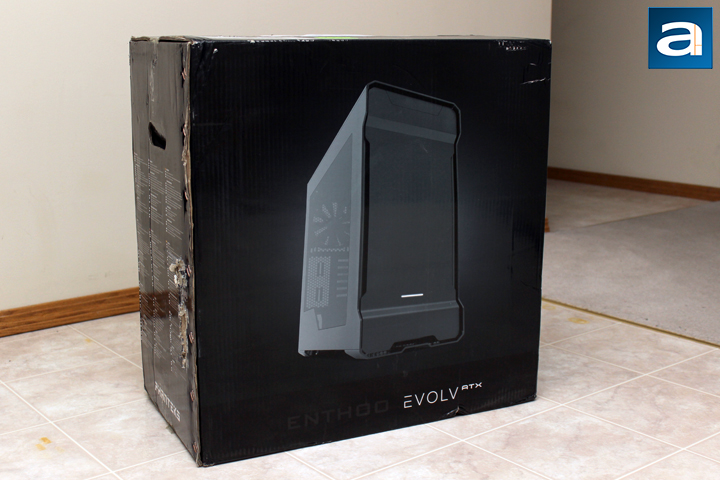 Today's review unit arrived in the Phanteks Enthoo EVOLV ATX retail container, and it was bruised and battered. The photo above only shows two of the sides, and you can observe one edge has faced a lot of friction. The side also shows some sort of rubbing that occurred against the EVOLV ATX's box. On the flip side, there was a large rip on the side too, which was taped over with some packing tape. This is quite unlike what we have seen from United Parcel Service in the past. Traveling from a small suburb called Walnut, in California, this box definitely took a topsy-turvy travel, and I can only hope the product inside was unaffected by the external damage.
Thankfully, Phanteks did their job in protecting the Enthoo EVOLV ATX. Out of the cardboard container, the case can be found wrapped in a large plastic bag, wedged between two foam brackets. The foam brackets took the brunt of the damage, as it was designed to, and there were a few cracks on the foam. Included with the Phanteks Enthoo EVOLV ATX is a small accessory box which contains even more things. Otherwise, there is not much else to explain, so I will shortly take a look at the case.
But first, let us peruse the specifications and features of this product, as obtained from the manufacturer's website:
Features
Enthoo Evolv ATX includes 2 x 140mm fans in front and 1 x 140mm fan in the rear. Ability to upgrade to additional fans is possible. All fans included are Phanteks' new redesigned and better performing SP series fans.
Appearance
- Aluminum body (3mm thick)
- Clean interior - Hidden PSU and HDD's
- Power LED - Changeable to 4 different colors
Cooling
- Optimal airflow - Direct airflow to CPU / GPU
- Comes with 3 Phanteks premium fans: 2x PH-F140SP in front (140mm), 1x PH-F140SP in rear (140mm)
- Phanteks' PWM hub included
- 3 different installation areas for radiators (120mm or 140mm form factor)
- Reservoir mounting locations
- Pump Bracket with vibration dampers
Functionality
- 2x Drop-N-Lock SSD brackets included
- 3x Modular HDD Brackets
- Removable HDD cage for installation of long PSU's (>180mm) / waterpump
- Equipped with removable dustfilters (1x front, 1x bottom, top integrated)
- Clean cable management using Phanteks' preinstalled Hoop-N-Loop cable ties
- Quick release panels for easy access to fans and dustfilters
- Tool less sidepanel with swing door
Specifications
- Dimension: 235 mm x 495 mm x 510 mm (W x H x D)
- Form Factor: Midtower Chassis
- Material(s): Aluminum (3mm) Exterior, Steel Chassis
- Motherboard Support: E-ATX *(up to 264mm wide), ATX, Micro ATX, Mini ITX
- Front I/O: 2x USB 3.0, Mic, Headphone, Reset
- Side Window: Yes
- Expansion & Drive Bays: 7x Expansion slots; 8x (5x included) Internal 3.5"; 3x (2x included) Internal 2.5" (dedicated)
- Front Fans: 2x 140mm included (supports 2x 140mm or 3x 120mm)
- Top Fans: Supports 2x 140mm or 3x 120mm
- Rear Fans: 1x 140mm (supports 1x 140mm or 1x 120mm)
- Liquid Cooling Front: supports up to 360mm or 280mm radiator
- Liquid Cooling Top: supports up to 360mm or 280mm radiator
- Liquid Cooling Rear: supports up to 120mm or 140mm radiator
- Graphics Card Clearance: 420mm (No HDD brackets); 300mm (HDD brackets installed)
- CPU Cooler Clearance: 194mm
- Cable Management Clearance: 35mm
- Memory Clearance (motherboard - fan): 68mm (120mm); 48mm (140mm)
- PH-F140SP (included fans): 1200±250 rpm, 82.1 CFM max airflow, 1.33mm H2O static pressure, 19 dB
- Net Weight: 10.2 kg
- Warranty: Limited 5 Years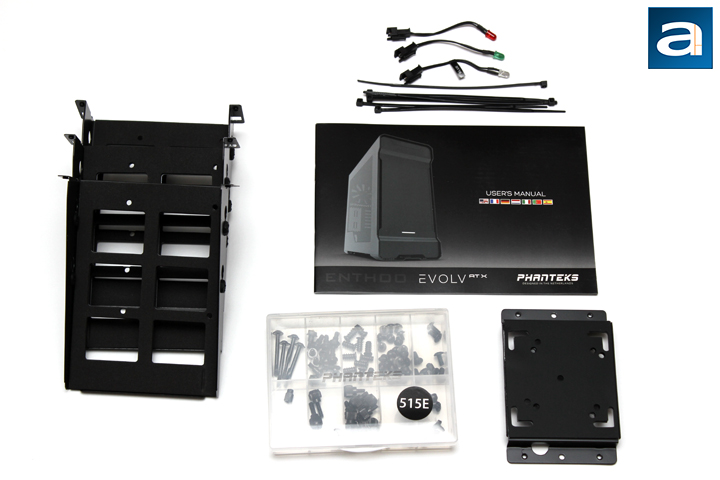 For case reviews, I do not normally look at the included accessories, but with the Phanteks Enthoo EVOLV ATX, I had to make the exception. I have praised Noctua in the past for their exceptional packaging skills, and I think Phanteks deserves some of this too, even if it is only for their accessory kit. Included in the small cardboard box are three hard drive brackets for mounting your storage drives, one metal plate for a pump mount, some zip ties, three additional LEDs for front panel lights, user manual, and a very neatly compartmentalized screws box. Each of the parts I have mentioned are either individually bagged or wrapped in a foam bag to ensure nothing gets scratched or broken. But I am most truly impressed with the tidy screws container. This is much better than everything else other manufacturers have provided, and everyone should learn from Phanteks in this regard in my opinion. Otherwise, let us move onto the Enthoo EVOLV ATX itself.
---
Page Index
1. Introduction, Packaging, Specifications
2.
Physical Look - Outside
3.
Physical Look - Inside
4.
Installation and Conclusion