By: Aaron Lai
February 15, 2013
When Cooler Master sent us the CM Storm Stryker, the first thing I thought of was the good ol' elementary days. Every day during recess, a group of friends and I used to play soccer. It would practically be a race out to the field to challenge all the older kids. Of course, when you play any team sport at that age, majority of the time is spent running around as a large clump chasing after the ball. As for me, I would play in various positions, ranging from defense to the striker. These positions mainly depended on the location of the ball. Now, as an electrical engineering student, the closest we get to soccer is foosball. While every position has its purpose and importance, I always think the striker is one of the most important of them all. Why? Because strikers are responsible for a majority of the goals. They must be able to handle the ball around the defenders in order to make shots past the goaltender. Famous soccer strikers include players like Fernando Torres, Ronaldo, and Wayne Rooney. In general, the striker must be a strong player statistically. Without goals, a soccer team cannot win games. Of course, today's review unit of the Stryker is definitely not like a soccer player. While its specifications boast the ability to hold up to an XL-ATX motherboard, these seem "strikingly" familiar to the CM Storm Trooper. In fact, the CM Storm Stryker is the exact same case as the CM Storm Trooper, except for the fact that Cooler Master has decided to add a large window on the side. While the Trooper was praised for its large size and toughness, there were minor issues with internal specifications. Will the Stryker bring any differences to the game? Read on to find out!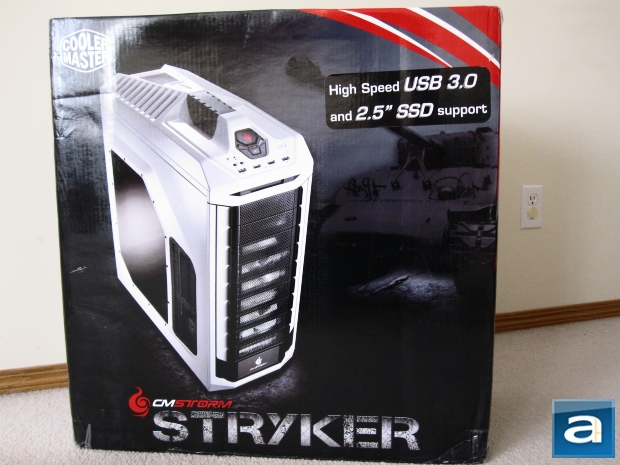 Our review unit of the Cooler Master Storm Stryker came in its retail box from the company's American offices in California, USA. Using UPS Standard, everything arrived in tip-top condition. As you can see in our photo above, the box looks practically the same as the Cooler Master Storm Trooper, except with the updated chassis panel (Of course). The only other difference is a picture of a tank, which I did not see at first glance. Other than that, the box itself is pretty much the same old, same old. Sure, it kind of is a bit lazy with the box design, but a box is just a box. It does make a nice impression of "military toughness."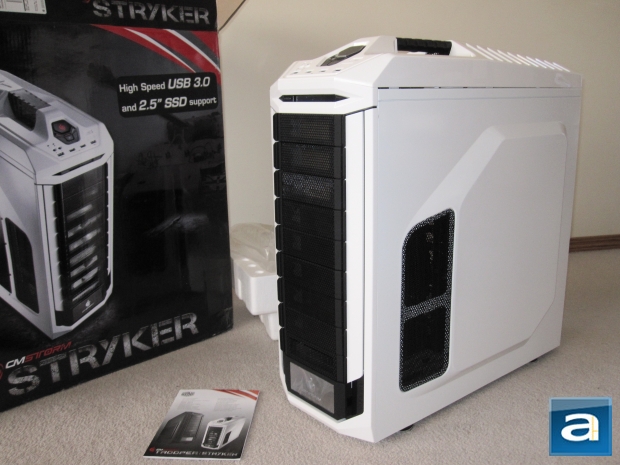 Opening up the box reveals the CM Storm Stryker computer case sandwiched between two large marshmallows of Styrofoam blocks. This packaging is very standard, as the brackets are used to absorb shocks and/or drops while shipping the chassis. Pulling off the brackets, as well as a plastic bag, reveals the Stryker in its snow white beauty. All of the panels, including the large window, are covered with protective plastic tape to remove the chances of scratches. At first look, I must say it is already living up to the impression: This is a tank of a case. I'll get to the looks more in depth later. I am quite pleased with all the packaging that was put into the box to make sure there were no cosmetic damages.
Before we continue on, listed below are features and specifications of the CM Storm Stryker, as obtained from Cooler Master's website:
Features:
- Stylish black and white design with mesh front panel provides constant cooling
- Top ultra-strong carrying handle with rubber coated
- The unique 90 degree rotatable 5.25"/3.5" Combo Cages offer flexibility for installation
- Rich I/O support with two USB 3.0 super speed ports (int.) and 9+1 expansion slots for great expandability
- The fan speed can be adjusted by top control panel
- The internal tool box and Storm Guard secure gamers peripherals
- Supports the latest long graphics cards, including AMD Radeon HD 7970 and NVIDIA GTX 690
Specifications:
- Model Number: SGC-5000W-KWN1
- Available Color: Black and White
- Materials: Appearance: Synthetic, Mesh front bezel; Case body: Steel
- Dimensions (W x H x D): 250.0 x 605.6 x 578.5 mm (9.8 x 23.8 x 22.8 inch)
- Net Weight: 13.7 kg / 30.2 lb
- Motherboard Type: Micro-ATX, ATX, XL-ATX
- 5.25" Drive Bays: 9
- 3.5" Driver Bays: 8 (converted from 5.25" bays by 5.25"/3.5" Combo Cages)
- 2.5" Drive Bays: 13 (converted from 5.25" bays by 5.25"/3.5" Combo Cages)
- I/O Panel: USB 3.0 x 2 (internal), USB 2.0 x 2, Audio In and Out (supports HD Audio)
- Expansion Slots: 9+1
- Cooling System: Front: 120mm LED fan x 2, 1200 RPM, 17 dBA; Top: 200mm fan x 1, 1000 RPM, 23 dBA (converted to 120/140mm fan x 2); Rear: 140mm fan x 1, 1200 RPM, 19 dBA (converted to 120mm fan x 1); Bottom: 120mm fan x 2 (optional)
- Power Supply Type: ATX PS2 / EPS 12V
- Maximum Compatibility: VGA card length: 322.0 mm / 12.7 inch
- CPU cooler height: 186.0 mm / 7.3 inch
---
Page Index
1. Introduction, Packaging, Specifications
2.
Physical Look - Outside
3.
Physical Look - Inside
4.
Installation and Conclusion