By: Jonathan Kwan
April 14, 2023
I often play foosball with my friends at a public table at the university, and you probably have an idea of what a public table is like if anyone can walk by and play on it -- they get abused. The foosball men get broken more often than they should, and while there are supposed to be people in facilities management who take care of it, nothing usually gets done. At some point, so many foosball men on one table were broken that I decided to take matters into my own hands. While my friend and I were working on the repairs, a person from facilities management came up and strongly told us to immediately stop what we were doing. As the conversation progressed, he asked me whether I was a student, which I told him I was not. He was agitated and asked why I was even here, and I eventually revealed I am actually a professor in the department. Instantly, there was a change in attitude. Not only did he become extremely nice and polite, but he also even told me he could help if he was not in a hurry to a meeting and told us to just carry on. Why was there a literally instantaneous change in attitude? Maybe it was because he found out we were not random kids that we appeared to be at first glance. In a similar way, if you were to take a look at the be quiet! Dark Power 13 850W, what you will find is a power supply that has four +12V rails and up to 24A on both the +3.3V and +5V rails. If this sounds like something circa 2009, I do not blame you. But if I tell you the same PSU is ATX 3.0 and PCIe 5.0 compliant, 80 Plus Titanium certified, has Cybenetics ratings of ETA Titanium and LAMBDA A++ for efficiency and noise, respectively, and features a bridgeless APFC design on the inside, will this make you instantly change how you see this like our facilities management friend? And importantly, is this PSU any good? We took one in and disassembled it to find out.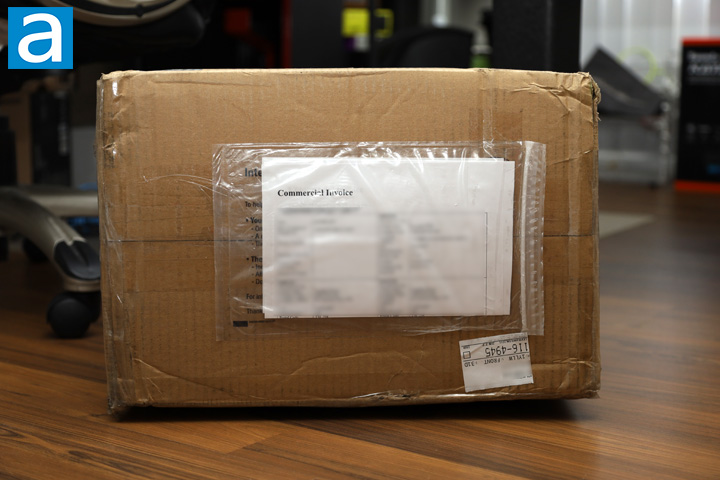 Our review unit of the be quiet! Dark Power 13 850W came in a medium-sized brown corrugated cardboard box from Walnut, California, USA alongside the Pure Power 12 M 1000W recently reviewed by my colleague Aaron Lai. Using UPS Standard, everything arrived in excellent condition to us here in Calgary, Alberta, Canada for our review today.
The retail packaging of the be quiet! Dark Power 13 850W has a consistent color selection with the rest of the company's products I have seen in the past. The predominantly black color scheme is contrasted by white text. A photo of the power supply in three-quarters view occupies majority of the real estate in front. At the top right corner, you will find be quiet!'s logo. The name and description of the product is printed at the bottom, which is "Dark Power 13", "No Compromise Silence and Performance", and the 850W rating. There is also an 80 Plus Titanium and PCIe 5.0 badge at the top left corner, next to a gray band that has the word "High-End". More information about the brand, specifications, and certifications is found at the back of the box.
Before we move on, let us take a look at the specifications of the be quiet! Dark Power 13 850W, as obtained from the manufacturer's website:
Model: Dark Power 13 850W
Continuous power (W): 850
Peak power (W): 950
Form factor: Version 3.0
Form factor EPS 12V: Version 2.92
Topology: Active Rectifier + Full bridge + LLC + SR + DC/DC
Digitally controlled: -
Voltage (Vac): 100 - 240
Frequency (Hz): 50 - 60
Input current (A): 10 / 5
Power factor at 100% load: >0.98
Modern standby: ✓
Power consumption in standby (W): <0.13
Average life time (h / 25°C): >100,000
Operating temperature up to (°C): 40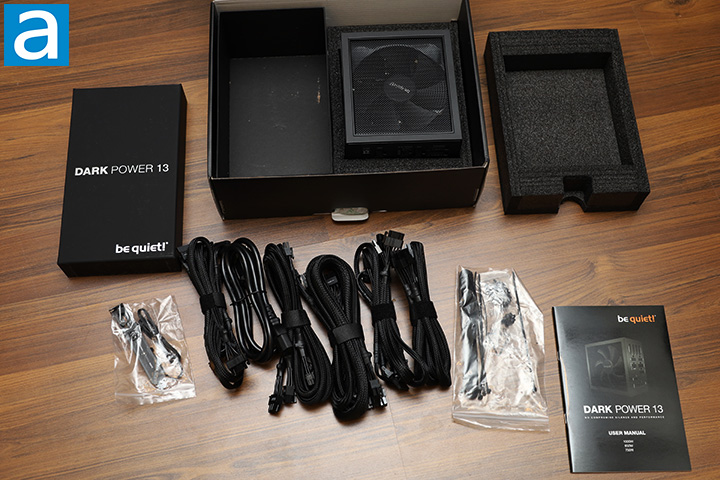 The be quiet! Dark Power 13 850W's retail package can be opened by a flap along the bottom. Upon opening the box, you will find the bundle is reasonable with few extras. What you will get is the be quiet! Dark Power 13 850W itself between two foam brackets, modular cables, AC power cable, Overclocking Key jumper, Overclocking Key expansion slot switch panel, five thumbscrews, four standard screws, six zip ties, five Velcro straps, and a product manual.
---
Page Index
1. Introduction, Packaging, Specifications
2.
Physical Look - Outside
3.
Physical Look - Inside
4.
Minor Tests and Conclusion