Page 2 - Physical Look - Outside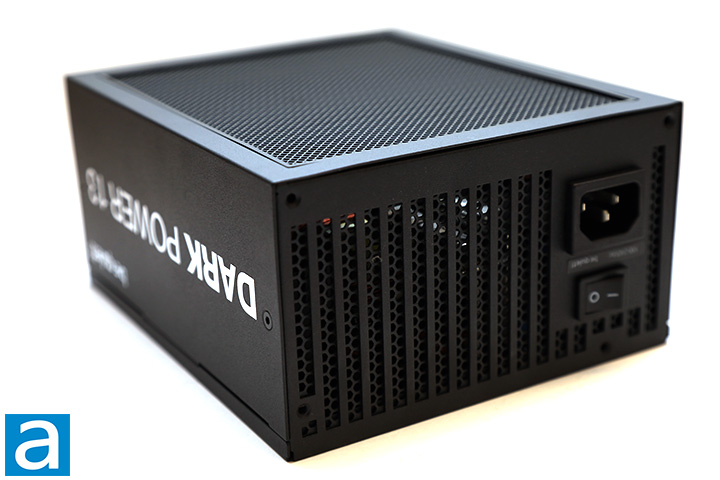 The Dark Power series is be quiet!'s flagship lineup, and the Dark Power 13 850W we are reviewing today is the latest and greatest from the company. The Dark Power 13 series has a higher wattage model at 1000W and a lower wattage model at 750W. The 850W variant I am reviewing today has a depth of 17.5cm, which is not necessarily long for its wattage and efficiency grade, but it is not short either. It is about half a centimeter longer than the Seasonic PRIME Ultra Titanium 850W. Most modular power supplies are longer than non-modular units by a centimeter or two, as the extra length is needed to accommodate its connector board at the back. We will take a look inside the PSU on the next page. For most ATX or eATX chassis, length should not be much of a problem, if at all. However, if you have an mATX or mITX case that takes standard power supplies, the shorter length will definitely serve as an advantage, especially considering the fact the Dark Power 13 is fully modular.
From our view above, you can see the branding is implemented on one side, where be quiet!'s logo and Dark Power 13 branding is embossed in shiny silver text. The other side is the specifications label, which we will examine in just a moment. The orientation of it is the same on both sides, so the side facing the user after installation will not be correct if you plan to install the PSU with the fan facing up. It will be correct if you plan to install it with the fan facing down, which is the traditional method. The rest of the Dark Power 13 850W is standard SECC construction.
At the top, a fixed mesh fan grille guards the primary and only cooling fan installed. The mesh looks not too different than the bug screen on your window, so it looks great and air resistance should be reasonable. The 135mm fan generates airflow by drawing air from the bottom of the power supply over its internal components to keep the temperatures in check. Exhaust heat is allowed to leave at the back of the power supply through the secondary honeycomb mesh opening. Meanwhile, four hex screws secure the power supply case together. A warranty seal extends over one of the screws on the power supply, but you do not necessarily need to remove that one to take a peek inside, so you can open the Dark Power 13 850W without voiding its 10-year warranty.
Starting from the back part of the power supply, we have the same familiar honeycomb mesh design as most PSUs with a bottom mounted fan. What is different here is there are additional vertical bars in front of the honeycomb mesh grille. I am not sure what the purpose of them is. While it may improve the aesthetics to some people, these extra bars will reduce airflow and therefore increase air resistance. While this design will probably not cause any overheating issues, it is important for heat to leave the power supply as easily and efficiently as possible, because the Dark Power 13 850W incorporates only one 135mm fan at the bottom.
As always, there is a horizontally aligned male connector for power input on the western edge along with an on/off switch next to it. Between the two is a sticker with be quiet!'s logo and the input voltage range. The connector could be implemented in a more efficient manner in my opinion, as the power input connector and switch took up a bit more room than average at the back. As with all active PFC power supplies, the be quiet! Dark Power 13 850W has automatic full range 100V to 240V AC line voltage selection, so the user does not have to worry about manually selecting input voltage.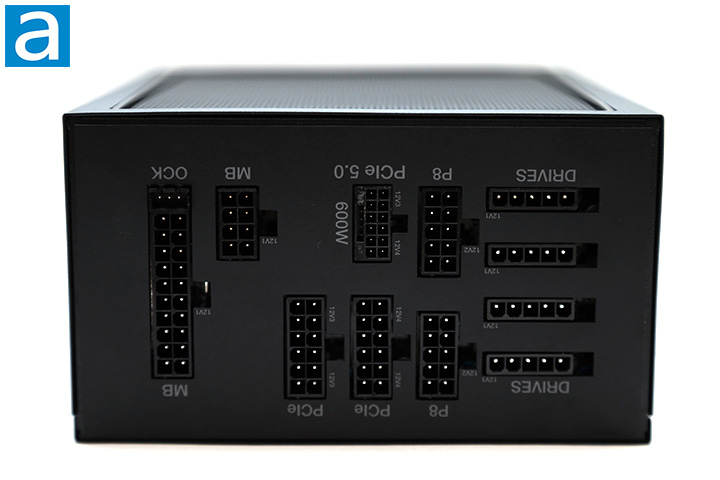 Like many power supplies we cover here at APH Networks, the Dark Power 13 850W is a fully modular power supply. This means all cables are completely detachable from the main unit. While it is somewhat questionable with regards to why this is necessary, since cables such as the ATX 24-pin and ATX 4-pin/EPS 8-pin have practically an 100% chance of being always connected, it may prove to be beneficial to an extent when building your computer initially.
The rear cable connection panel is done nicely. be quiet! has also made the labels right side up in standard orientation. Similar connectors are grouped together and are laid out in a very logical manner. To ensure you know what is going on, they are all grouped and clearly labeled for minimal ambiguity. The +12V rail the connectors draw from is also stated. Starting from the top and left side of our photo, we have the motherboard 24-pin split into two blocks next to each other, one 16-pin 600W 12VHPWR PCIe 5.0, two PCI Express connectors, two ATX/EPS 4+4 pin outputs, and four peripheral headers for Molex and SATA. Incompatible outputs will not physically fit into each other, so be quiet! has done a great job in this regard. This is a reasonable array of outputs in correspondence number of connectors on each modular cable, which should be sufficient for casual users and power enthusiasts alike.
The external build quality of be quiet!'s Dark Power 13 850W power supply is excellent as always; a good indication the company is serious about the product they are selling. We will take it apart in just a moment. Fit is done well with minimal panel gaps, and all edges are nicely finished off. The level of refinement with regards to the external build quality is right up there with all the other high-quality PSUs I have used in the past. As aforementioned, we will crack open the power supply to see what components are inside in the following section.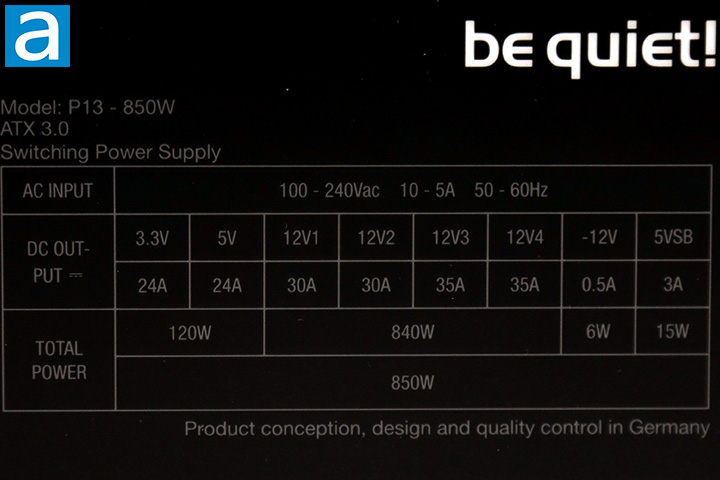 The voltage specification label is located on the inner panel of the be quiet! Dark Power 13 850W. There are two main virtual rails. Up to 24A can be delivered via the +3.3V rail for a total of 79.2W, while the 24A on the +5V rail brings the output to 120W in this area. The total combined output for the +3.3V and +5V rail is 120W. In other words, your power allocation combination must fall within the limits of the listed specifications. Meanwhile, four +12V rails, with the first two up to 30A each and the last two up to 35A each, delivers up to 70A combined for a total of 840W. I have not seen a power supply with more than one +12V rail, never mind four, since 2011 save for other be quiet! models, which I find very strange. Having a single +12V rail is important to maximize power delivery flexibility compared to multiple rails. Thankfully, you can combine all the +12V rails into one by attaching a jumper or connecting an expansion slot switch panel, both included, to the Overclocking Key or OCK header shown above. I will show a photo of these accessories in just a moment. According to the manual, it is recommended to only combine the rails if necessary, otherwise just leave it operating in separate rails instead. To be honest, I think there should only be one +12V rail like pretty much every power supply on the market today. I am not sure why this is a thing in 2023.
Overall, the combined power output for the whole be quiet! Dark Power 13 850W is 850W, as its name suggests. It does sound a bit confusing to understand how this works at first, but generally speaking, this configuration is reasonable and should be sufficient to accommodate most users. Interestingly, the power outputs in the +3.3V and 5V rails is a bit higher than the average, as most PSUs in this wattage range released in the last five years usually has them between 20A and 22A. This is because modern systems do not have a lot of need in this area.
The be quiet! Dark Power 13 850W is 80 Plus Titanium and Cybenetics ETA Titanium certified. The 80 Plus Titanium certification means that it is at least 90%, 92%, 94%, 90% efficient at 10%, 20%, 50%, and 100% load, respectively. Cybenetics ETA Titanium means at 115V input, it is certified to be between 91% and 93% overall efficiency, power factor above 0.980, greater than 77% 5VSB efficiency, and less than 0.13W vampire power. There is no higher 80 Plus certification for power supplies of this type at press time, but Cybenetics ETA Diamond is available.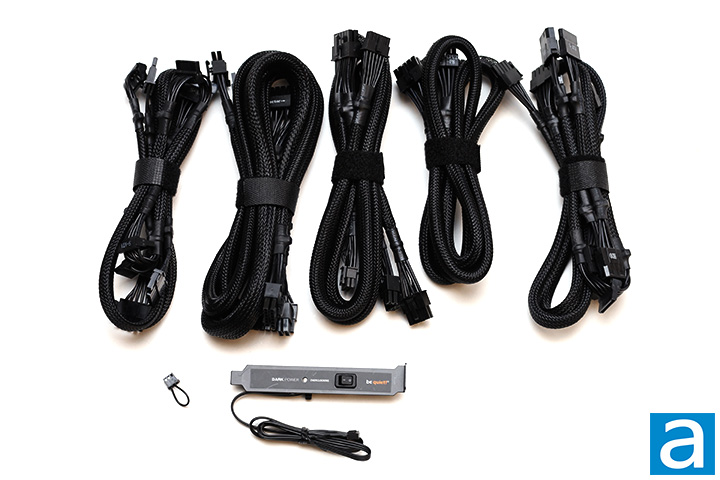 A total of ten modular power cables are included out of the box. All modular cables are sleeved and easy to bend, making them extremely easy to work with. 16 AWG wires are found on the ATX 4+4 pin, EPS 8 pin, 12VHPWR PCIe 12+4 pin, and PCIe 6+2 pin bundles. Everything else is 18 AWG, which is standard and to be expected.
The following modular cables are included out of the box:
- 1x ATX 20+4 pin, 60.0cm
- 1x ATX 4+4 pin, 70.0cm
- 1x EPS 8 pin, 70.0cm
- 1x 12VHPWR PCIe 12+4 pin, 60.0cm
- 2x PCIe 6+2 pin, 2 connectors each, 60.0cm to both connectors
- 2x SATA, 3 connectors each, 60.0cm to first connector, 15.0cm spacing thereafter
- 1x SATA, 4 connectors, 60.0cm to first connector, 15.0cm spacing thereafter
- 1x SATA/Molex, 4 connectors, 60.0cm to first connector, 15.0cm spacing thereafter
These are specified measurements from the manufacturer. Most users should have no problems with be quiet!'s Dark Power 13 850W in modern cases. 50cm to the first connector is the general standard, and this power supply met or exceeded this recommendation in all counts. Cables like the peripheral cable with a shorter length to the first connector may be advantageous for cable routing and management though.
Other interesting accessories include a jumper and an expansion slot switch panel. As aforementioned, attaching the jumper or connecting the expansion slot switch panel to the OCK header on the Dark Power 13 850W will allow you to combine the four +12V rails into one. There is an LED on the expansion slot bracket to show that Overclocking mode -- be quiet!'s term for combined +12V rails -- is enabled. The manual shows the switch should only be toggled when the PC is off. To me, this is a rather poor design considering it is externally accessible, seems a little bit too easy to be toggled during use, and nobody really reads the manual.
---
Page Index
1.
Introduction, Packaging, Specifications
2. Physical Look - Outside
3.
Physical Look - Inside
4.
Minor Tests and Conclusion