By: Aaron Lai
March 31, 2023
I have never really considered myself a handyman, especially when it comes to fixes around the house or for the car. Part of it comes from the fact I do not have many tools for the job. I remember having to call my parents over because I did not have a wrench or pair of pliers to change my shower head. In my mind, I think I should go get a good set of tools, but I also do not have the use for them until the moment I need it. However, I was recently reminded of the need to change the cabin and engine air filters in my car. I was a bit nervous about doing so, but I was reassured about how easy it was to do so. After watching several short YouTube videos, I decided it was time and I went to do it myself. Thankfully, this was a mostly tool-less job. I probably could have used a longer screwdriver to help with the engine air filter replacement, but the replacement took about ten minutes for each filter. After finishing the job, I washed my hands and sat down feeling quite satisfied like I had gained some sort of level in life. In reality, this is probably going to be one of my easier fixes, but I was still happy I was able to do it on my own. On the other hand, I think it is easy to be intimidated when it comes to reporting on power supplies. This is because there are so many components, both small and big, that go into making up a power supply, and finding all of their details can be a monumental task. Today, we have yet another be quiet! unit in the form of the Pure Power 12 M 1000W. We have taken a look at previous power supplies in this lineup, including the Pure Power 11 FM 1000W. Now renewed with ATX 3.0 and PCIe 5.0 support, how will this unit fare in our inspections? Let us read on to find out!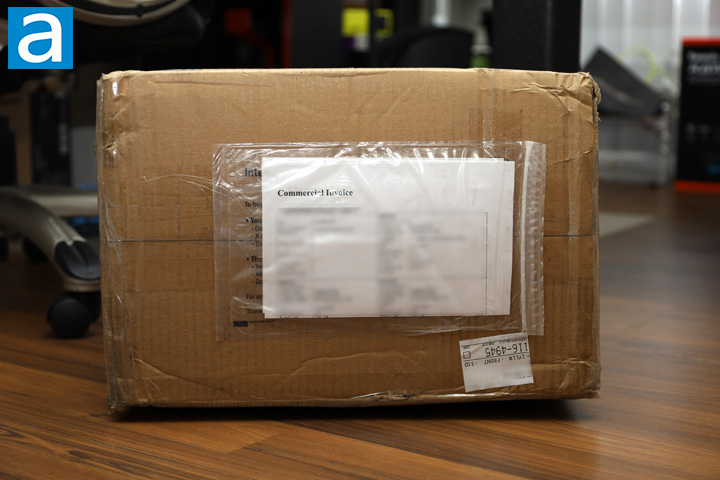 Today's review of the be quiet! Pure Power 12 M 1000W arrived from the American offices of be quiet! in Walnut, California. Traveling with UPS and their Standard ground service, this box arrived in relatively good condition, with no bumps or bruises to be too concerned about. Along with the Pure Power 12 M, we also received the Dark Power 13 850W, which will be reviewed by my colleague Jonathan Kwan. Otherwise, let us take a closer look at the contents of this box.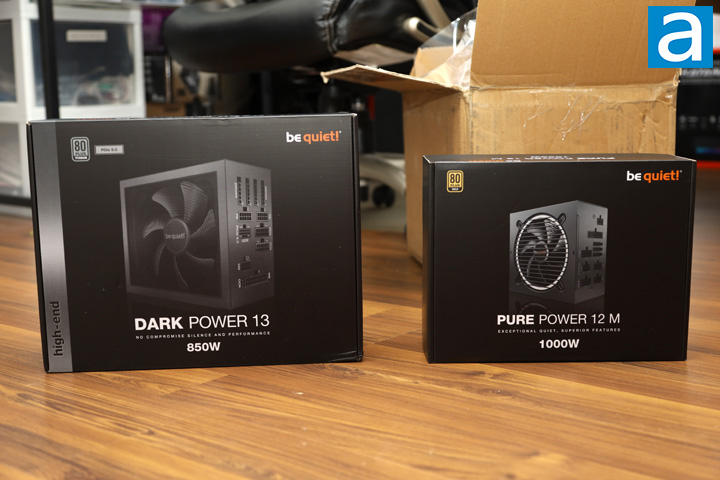 The be quiet! Pure Power 12 M 1000W comes in a relatively unassuming box with a black background and white text on top. An image of the PSU can be found in the middle, albeit scaled down to fit on the corrugated cardboard box. The company name can be found on the top right corner, while the product name can be found in the middle along with the wattage. The 80 Plus Gold rating can be found on the top left corner. Finally, a tagline of "Exceptional Quiet, Superior Features" can be found here. It is interesting that they have removed their "Essential" label they would usually show on their products in the "Pure" lineup, but that might just be to clean up the box design.
Before we continue on, I have grabbed the specifications from the manufacturer's website for your perusal:
Model: Pure Power 12 M 1000W
Continuous power (W): 1000
Peak power (W): 1050
Form factor: Version 3.0
Form factor EPS 12V: Version 2.92
Topology: LLC + SR + DC/DC
Voltage (Vac): 100 - 240
Frequency (Hz): 50 - 60
Input current (A): 12 / 6
Power factor at 100% load: >0.98
Modern standby: ✓
Power consumption in standby (W): <0.1
Average life time (h / 25°C): >100,000
Operating temperature up to (°C): 40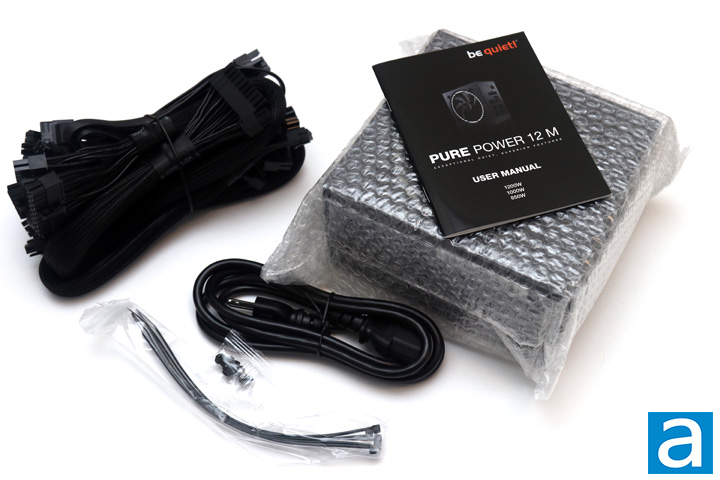 The be quiet! Pure Power 12 M 1000W's retail package can be opened with the flap along the bottom. Once open, you can find the bundle of modular cables wrapped in a twist tie. The power supply is situated in a bubble wrap bag and separated from the rest of the box with another cardboard divider. Otherwise, you will also get four screws for mounting your power supply, an AC power cable, some zip ties for cable management, and a product manual. This is the exact same set of accessories we have seen from their Pure Power 11 FM 1000W.
---
Page Index
1. Introduction, Packaging, Specifications
2.
Physical Look - Outside
3.
Physical Look - Inside
4.
Minor Tests and Conclusion