By: Hai Wang
March 16, 2018
Thanks to the cryptocurrency miners, gamers are having really hard time finding graphic cards now. If you think the shortage of graphic cards only affects gamers, you are only half right. As a researcher in university, I also suffered from the short supply of graphic cards. It was not because I wanted to play games, because frankly I do not have many to play. Video cards are also be useful for scientific simulations, thanks to the general purpose computing features of GPUs. By using parallel computing, GPU-based simulations are significantly faster than CPU-based simulations. Therefore, I really wanted a NVIDIA GeForce GTX 1080 for my research recently. However, it was impossible to find a local retailer that had one decent graphics card in stock. I also noticed online retailers were selling the GTX 1080 at very high prices. It is clear it is not a good time to buy graphic cards now. For my application, it is also possible to use two CPUs for parallel computing. Like many power supplies on the market today, today's review unit, the FSP Hydro PTM 750W, has two ATX 4+4 pin sockets, which means it can be used for two-CPU scenario. Whether you just want a nice PSU for general use, or you are interested in trying out the two-CPU parallel computing thing, the FSP Hydro PTM 750W can be a nice choice. Is it a good power supply unit? Let us read on and find out.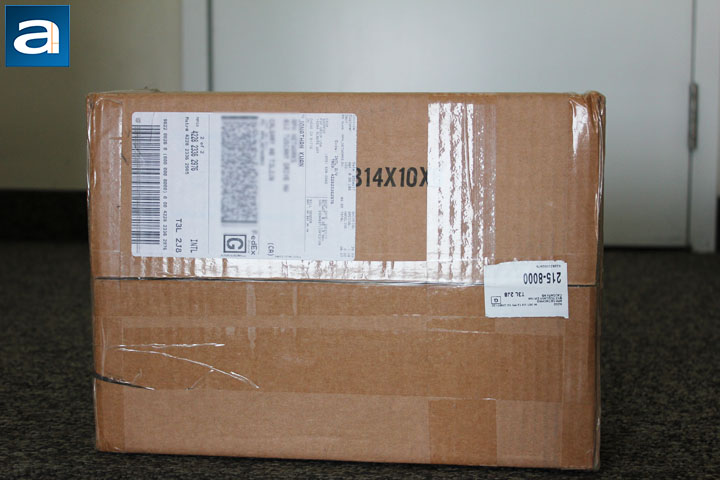 Today's review unit was shipped from Chino, California, USA to us here in Calgary, Alberta, Canada. Chino is the location of FSP's office in North America. You can see the parcel is generally in good shape, therefore there is no need to be nervous about the safety of whatever is inside the box. After more than a thousand miles of transportation, I can only see a small dent on the top left corner, so well done, FedEx Ground!
After pulling the review unit out of the shipping box, we can get a closer looker at the retail package. The overall design of the package is quite standard. You can see the FSP name and logo printed on the top left side of the box. A photo of the power supply unit is shown in the middle of the box. By looking at the retail package, you can get the idea it is a fully modular power supply unit thanks to the sockets in the picture. Right below the product photo, there is the "Hydro PTM 750W", which indicates how much power it can deliver. The product's name, Hydro PTM, is clearly printed at the lower half of the package, and an 80 Plus Platinum certified label is on the left side of the box. All the important features of this power supply unit are located by the right hand side of the 80 Plus Platinum certification label. Generally speaking, the retail package design does its job. By just glancing at the package shortly, customers can easily find the most important information about this product, its form factor, and supported power output.
Before digging into details, let us take a look at the specifications of the FSP Hydro PTM 750W, as obtained from the manufacturer's website:
Model: HPT750M
Rated Output Power: 750W
Form Factor: ATX
80 PLUS Certification: Platinum
Input Voltage: 100-240Vac
Input Current: 10-5A
Input Frequency: 60/50Hz
PFC: Active PFC
Efficiency: >92%
Fan Type: FDB Fan, 135mm
Dimensions(L x W x H): 150 x 170 x 86 mm
Weight: 1.68kg
Protection: OCP, OVP, SCP, OPP, UVP, OTP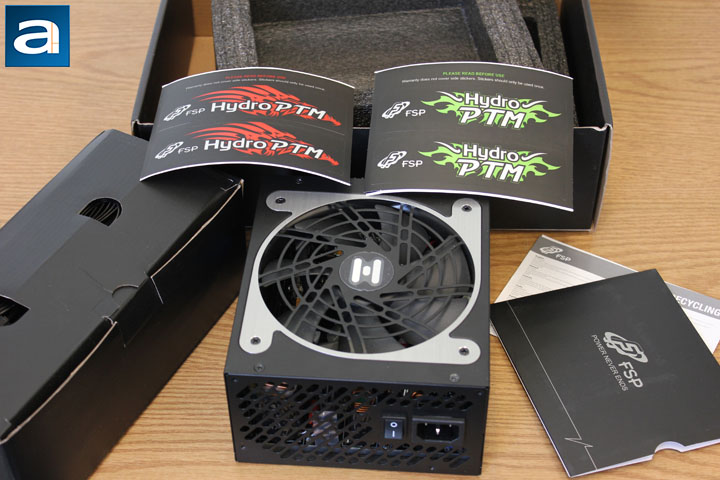 Opening the box, you can see all the things you would expect from a power supply unit package. There is a power supply unit itself and a set of accessories. It is worth mentioning inside of the box, the power supply unit is protected by two pieces of foam brackets. Since it is a fully modular power supply unit, the cables are provided. The cables are held inside of a black box. The box is pretty heavy, which means there are quite a few cables inside. There is an envelope provided; the installation instructions and some stickers are contained in the envelope. You can also find a bag of screws for you to install it in your computer case.
---
Page Index
1. Introduction, Packaging, Specifications
2.
Physical Look - Outside
3.
Physical Look - Inside
4.
Minor Tests and Conclusion