By: Jonathan Kwan
November 25, 2008
A few weeks ago, I ordered a Lenovo T400 laptop -- and from what I had read, it was one of the best laptops in the market. With excellent battery life (9+ hours with a 9-cell, switchable integrated/dedicated on specific models, and LED screen), generally excellent reputation for ThinkPad laptop's excellent reliability, it was really hard to resist this purchase -- considering the fact that my Dell Inspiron 6400 recently died. The Lenovo T-series' features, performance, weight, you name it -- are as perfect as a laptop would be. The funny thing is, many of these customer service articles that I've been writing here on APH Networks started off with a couple negative reviews, balanced with another handful of positive ones from manufacturers such as BenQ, NEC, and Shaw Cable. And then it all stopped, with the amount of reviews that we've been putting out every week for the last couple years. Well, while I'll still write this week's review (Hopefully!) despite spending time to write this article, here's a new one for you: and right off the bat, I hate to say it but -- it's more than negative. To clarify, I'm not trying to "get back" at Lenovo or anything, but for accurate consumer reference only -- and be as objective as possible. After all, Lenovo's laptops are attractive, that's why I bought one. Hello, my first impression of Lenovo.
I. The Ordering Experience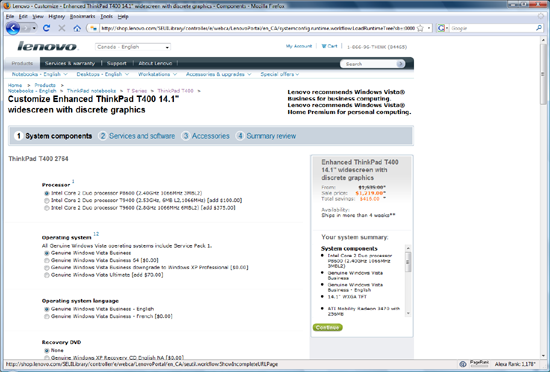 Here's one part that I can be real positive about. Earlier this year, Lenovo Canada had tons of ordering problems with the implementation of their new IT infrastructure, leaving users without their ThinkPad for over a month. The customer service representatives weren't any help either. When I ordered my T400 on a Wednesday night, after I certified the death of my Dell Inspiron 6400 (Although I might be able to revive it during the Christmas break haha), it states on Lenovo's website that the laptop would ship in "four weeks". To my surprise, the laptop was built and shipped two days later to Toronto, where it would be distributed to independent locations. I got my T400 exactly eight days after it was shipped from Lenovo's manufacturing plants half way across the world, in which I was very impressed.
Additionally, I discovered that my laptop can be purchased for almost $100 CAD less the weekend after I've ordered my Lenovo T400. I learned about their 21-day price protection policy on various forums, so I called in, and the customer support representative gladly refunded the difference -- in less than ten minutes from the time I dialed the number. I was led to believe that their customer service has definitely made the turn for the better.
I ordered my Lenovo ThinkPad T400 laptop with the following specifications:
- Intel Core 2 Duo processor P8600 (2.40GHz, 1066MHz FSB, 3MB L2 Cache)
- Microsoft Windows Vista Business x64
- 14.1 WXGA+ TFT w/ LED BL and Integrated Camera
- ATI Mobility Radeon 3470 with 256MB / Switchable with integrated Intel X4500HD
- 2 GB PC3-8500 DDR3 (2 DIMM)
- Hitachi 250GB Hard Disk Drive, 5400RPM
- DVD Recordable, Ultrabay Slim
- 9 cell Li-Ion Battery
- 4-in-1 Media Card Reader
- Intel WiFi Link 5300A/G/N
- 1 Year Depot/Express Warranty
II. Background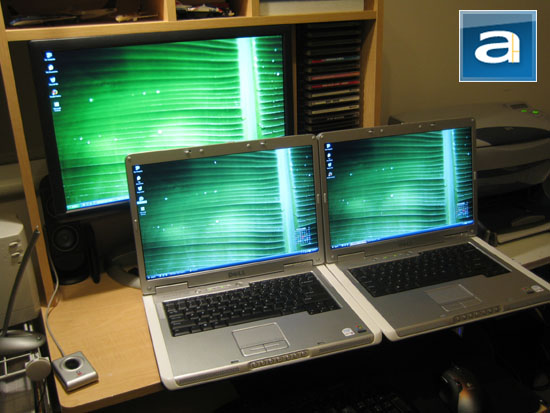 File photo: Taken December 2006, when my Inspiron 6400 was replaced by Dell with a brand new unit. Notice how the color compared to my S-IPS Dell 2005FPW in the background is noticeably different. I didn't complain about that, because it at least appears to be good. Matte or glossy, I actually prefer matte, which my Dell Inspiron 6400 clearly wasn't.
I used to buy mainly Dell monitors and laptops, and recommended them to many mostly due to my positive experience with their customer service every single time, zero exceptions. Let's put it this way -- I've been buying only Dell monitors since 2005. Competitive pricing, excellent monitors, and along with the excellent customer service as aforementioned brought me on the Dell boat every single time. When my Dell 2005FPW went bust last year (With a five centimeter grey line near the top of the screen), they expedited me a refurbished Dell 2007FP with Saturday delivery. Return shipping to them is free and convenient. I ended up buying a Dell SP2008WFP, and recently, a Dell UltraSharp 2408WFP. And I'll probably keep buying them down the road.
As far as laptops goes, my experience with Dell has also been very positive. Sure, there were some not-quite-understandable accents on the other hand a few times. Other than that, with regards to accommodating my requests, there were absolutely no problems at all, and the technical support representatives were as helpful as they could. For example, when I didn't like the Philips burner that came with my Dell Inspiron 6400, I requested Dell to replace it with another one. There was a damaged pin in one of the USB ports as well on my first machine. They were more than glad to do so. And as such, they quickly got the sales department to build me a new laptop (This is their standard policy for laptops in their first warranty month), and I received it within 13 days. The entire process was quick and painless. Later on, when I broke a few keyboard keys and the monitor clips, the warranty process was processed quickly and efficiently, phone call and all. As always, courier shipping both ways were covered both Dell.
I bought the Lenovo ThinkPad T400 for its excellent battery life, and its ability to do so without sacrificing performance -- things like the switchable graphics is a big one for me. By the way, the Power Manager Battery Gauge doesn't work, after hours of research and problem fixing attempts, I finally gave up, and since I don't switch all that often, I decided to just do it in the BIOS. Realistically, I've been getting over 9 hours at ~60% brightness (At times it's reporting over 10 hours with low loads), switched from dedicated to integrated graphics, and with the LED screen. But this is where the problem starts.
III. The Samsung TN Panel Problem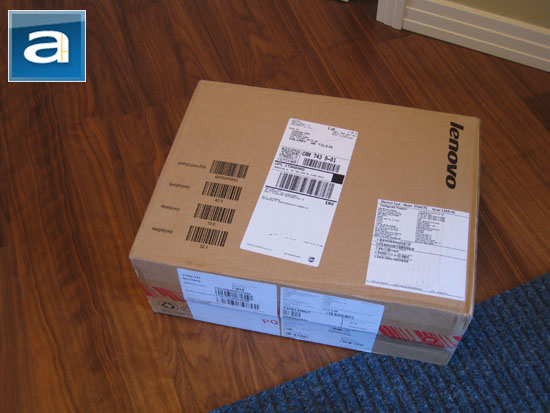 On the day that my Lenovo T400 was delivered (Exactly a week ago from now), I was at home, not doing what I'm really supposed to do, and just casually pulling up some information about my Lenovo T400. There were many great guides out there, especially the fresh install optimization documents which I've used to get my T400's battery life to 9-10 hours with 60% brightness and wireless networking turned on. Along the line, I came across many Lenovo T400 owners discussing problems with the LCD panel lottery. Where the Samsung LCD available on the T400 is poor, I've only heard great things about the LG unit, as it is very well regarded.
Then the UPS driver rang my doorbell with a cardboard box, printed across the side in big, bold letters, "Lenovo".
Let's sidetrack a bit. When I turned on my brand new Lenovo T400 laptop, it took over ten minutes to fully load into Windows Vista Business -- for some reason, it was unable to detect one of my DDR3 SODIMMs, and the amount of junk Lenovo managed to install out of the box is quite impressive. Upon initial boot, there were nearly 100 processes (!) just by looking at the desktop. I ended up uninstalling some of them as a temporary fix, so I could at least use my laptop before I have the time to reformat. Oh yeah, a quick reseat of the RAM fixed the problem -- something makes me wonder about their quality control. After a reformat, the performance is very decent, and I am not even remotely disappointed in this area.
Anyways, while looking at the desktop, I can't help but notice how poor the LCD screen is. The colors look washed out from any viewing angle, to say the least. The long description is that, it has unsaturated and washed out color reproduction, everything looks unnatural on the screen, poor (no) viewing angle, harsh and uneven backlight, practically everything bad you can say about a display, this one has it all -- even after my calibration attempts. Try viewing a photo on it, I can't believe how bad it is. Even an untrained eye could tell how poor the screen is, especially when viewing photos. The sad thing is, it could barely display the light grey lines on APH Networks, and the orange bar at the top looked real weird. For all the years I've been in the computer review industry, this is by far the worst display I've ever seen on anything. My Asus Eee PC has a better screen. My six year old Canon camera has a better screen. Heck, even my TAO Photo Keychains almost has a better screen.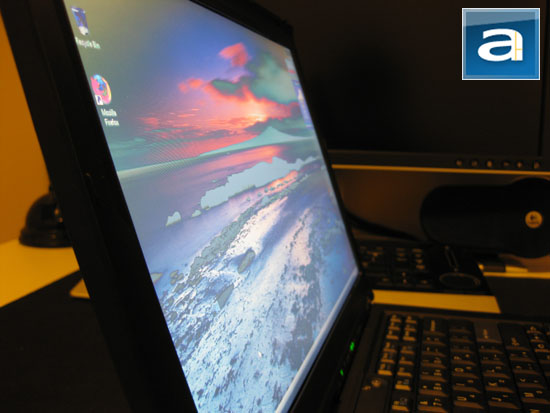 And that's not because it's a matte screen compared to my previous laptop's glossy displays; the Dell 2408WFP and Dell 2007FP I'm looking at both have a matte finish. Yes, they are both 8-bit S-PVA panels made by Samsung, which are technically and visually superior to the one TN unit on the Lenovo. But then, as I've said earlier, my matte $400 Asus Eee PC's screen is leaps and bounds ahead of my ~$1250 Lenovo T400.
I fired up EVEREST Ultimate Edition, and as I had predicted, I was one of the unfortunate ones who received the Lenovo T400 with a Samsung screen. This can be identified by the identification number beginning with LTN, and Lenovo part number 42T0503. The LG panel (the good one) is identified by model LP141WP2-TLB1, with Lenovo part number 42T0497.
But seriously, Samsung knows how to make great LCD displays -- even if they were 6-bit TN panels, and I don't expect super duper nice monitors on laptops. All I'm asking for is that it appears easy on the eyes, and does its job for everyday usage. Why is this one so bad? The Samsung on my Lenovo T400 is, literally, an epic failure of LCDs. Words cannot describe how bad it is, this is simply by far the worse screen I've ever seen. 1993 wants its Lenovo T400 Samsung LCD screen back. It's not only a shame that Lenovo would use such poor products for their well regarded ThinkPads, but it's also a shame that Samsung would manufacture such poor LCD displays.
I've read various cases of which Lenovo did replace their poor Samsung displays for the LG unit, so I called in, and for how bad this LCD is, that they would replace it for me. I paid around $1280 CAD with tax for this laptop, and for the amount of money I pay, I would expect it to be better than my $499 Dell Inspiron 1501 I purchased in December 2007, and it's especially embarrassing even next to my Asus Eee PC 4G for 1/3 the price.
IV. Customer Service Hell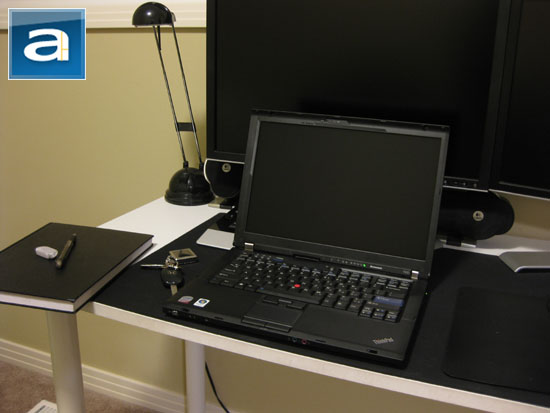 Lenovo has got to be kidding me on the area of customer service. Is it a joke? (A really bad one!)
Remember when I mentioned that I buy Dell laptops and monitors because of their impeccable customer service? If I need a reason to not buy a Lenovo laptop again, and steer everyone away from them, this, again, is the reason why.
It started off well initially, and I thought and hoped that it would end well too. The Lenovo T400 is a great laptop, but the poor screen, and unhelpful customer service representatives makes the overall experience more than poor. The only thing I can say positively about their customer support is that they do speak proper English. I'm not using my job as the Editor-in-Chief here on APH Networks to abuse my media power against Lenovo, and this is not a rant, please take this as a reference article only. I'm using my real life experience, and if you had a better Lenovo experience (Which I don't doubt, as I've read about before), please do let me know, and I'll gladly post it if deemed appropriate!
Again, let's begin with the sort of positive aspects. I called in the night I received my Lenovo T400 to technical support, complaining about my poor Lenovo T400's Samsung screen. There are very short wait times before someone picks up the phone, every single time, which I can definitely commend Lenovo for that. Anyways, my point is, the quality of the person on the other end is pretty rubbish, every single time. Either they don't do their job as promised, or are just explicitly unhelpful. Let's separate the details into its respective calls. Note that these calls were not recorded, and I did not record their names, because I respect their privacy, and in light of today's poor economy, I don't want to make a person lose another job as much as I would like them to. Some aspects are paraphrased, and as my representation being a secondary source, there may be slight inaccuracies with regards to the paraphrased and interpreted information.
Call 1: Lenovo Technical Support; Tuesday, November 18, 2008, Night
This call lasted duration of approximately 2 minutes. I called in, and someone picked up the call quickly on the other end, as did their customer service as mentioned earlier. I explained my LCD problem to the person on the other end, and the person just told me to "call customer service, and they will gladly replace your laptop for you". He gave me the toll-free number and option number, I said "thanks", as usual, and hung up. For all the years I've been dealing with customer service of companies, I found this procedure quite surprising. But hey -- I've never dealt with Lenovo before, so what can I do, right?
By the way, the sad thing is, the phone number that the tech support gave me is valid, but there's no such thing as option 6 on the menu. Sigh.
Call 2: Lenovo Customer Service; Wednesday, November 19, 2008, Afternoon
An enthusiastic customer service representative picked up the call, and after a quick exchange, he said that he needed a case number from tech support before he can do anything for me, but that they will 'gladly replace the laptop for me' once they have the case number. He quoted that there may be some 'miscommunications' between departments, and the above procedure is definitely required. That's what Dell would have done, and in line with what I am accustomed to. Sounds reasonable enough, as I've guessed earlier -- the person I called from the night before is probably just lazy.
Basically, it went like this: the tech support referred me to customer service, and customer service referred me back to tech support. Very efficient company and great customer service, right?
Inconsistency is the key.
Call 3: Lenovo Technical Support; Wednesday, November 19, 2008, Afternoon
A technical support representative picked up the phone quickly again, as per expected. This call lasted around twenty minutes, which was quite decent in my opinion -- matching what I would expect from Dell themselves. The representative was polite and speaks fluent English, and I carefully described my problem, precisely and politely. He noted that Lenovo "ships whatever that is available at the factory at that time". After a quick exchange, the representative told me that if I provided them with the part number of the replacement LCD, they would gladly replace it for me. I told the representative that the part number for the LG LED LCD was 42T0497. He entered in into his computer, and said that the "part is not in stock and currently on backorder", and that I would receive my replacement in approximately two to three weeks. I'm in no hurry, as long as the ridiculously poor Samsung LCD is going to be replaced some time soon.
For one thing, the representative mentioned that I have two options -- either I would send it to depot for screen replacement, which would take around a week, or have the screen sent to me. In comparison, what Dell would have done is that they would replace the entire laptop. There were similar instances reported by a user on a forum on well known online laptop review/publication's website, and that is, after an exchange with a "very helpful representative", a brand new laptop is built to the original order's specifications, except with my requested changes, in this case, swap the Samsung for a LG panel. This is generally acceptable because both were available for the same order option. When I asked the representative if this laptop exchange is possible, he simply said that this was not available with Lenovo (!) -- I was led to believe that they would send me the LG panel once available, and that I would install it myself. Oh well, it's not hard anyways, as I mentioned to the tech that I am experienced in fixing computers. He gave me the case number, and the call ends here.
Call 4: Local Service Tech for Lenovo; Monday, November 24, 2008, Afternoon
I missed a call from a local service tech for Lenovo, so I called back a few hours later. The person said that she was the local tech called by Lenovo to do repairs for my laptop, and that she would replace the LCD screen for me. She confirmed my address and asked when an appropriate time to come is, and that was that.
To be honest, I was quite pleasantly surprised on how fast the replacement screen arrived -- while the representative mentioned that it would come in more than a couple weeks, this came in less than a week. It's nothing too odd though, because my laptop was shipped in two days, despite the website's quote of four weeks. The good thing is that I don't even need to install it myself, and it would be a same day repair service.
Call 5: Local Service Tech for Lenovo; Tuesday, November 25, 2008, Afternoon
The next day, a local courier picked up my laptop with excellent communication, and promptly delivered it to the repair technician half an hour later. She quickly called back, stating that she received a Samsung panel, and not the LG panel that I have requested from Lenovo themselves. After some discussion, she put me on hold and called up Lenovo in regards to my Samsung/LG LCD issue. After a couple minutes on hold, she got back to me, stating that I should contact Lenovo myself. I agreed to her request of not exchanging the screen, as it would not make a difference anyway, and a waste of her time. I got the laptop back a couple hours later. I definitely appreciate the local tech doing their job in a very timely fashion.
I thought the tech before said that it would be replaced by the LG panel? There are definitely some serious communication issues here.
Call 6: Lenovo Technical Support; Tuesday, November 25, 2008, Late Afternoon
I quickly got my phone back ok, and called the Lenovo technical support toll-free number. Navigating the ever-so-familiar menu quickly, someone picked up the phone, again, very quickly.
"Thank you for calling Lenovo Technical Support call center from Atlanta, Georgia. Is this a new or existing case?"
It's definitely an existing case, so I provided the Lenovo technical support representative with my case number. I explained my situation, calmly and professionally, as I've done before to the representative a week ago -- describing my issue of how they promised to replace my LCD with an LG unit, but failed to do so in return. The person pulled up the file from his computer, and said that in the note, the previous tech "only mentioned about the LG panel in the beginning, but other than that, there was nothing else in the entire note". He placed me on hold for several minutes, and returned to me saying that he talked to the previous representative, but said that "he did not promise anything" because, as he said earlier, they "can do nothing" and "cannot promise anything in this regard". Well, I'm pretty sure the previous support did -- as he explicitly mentioned that he could get me a replacement as long as I can get him the part number (which I did), and wait several weeks until they come in (which I agreed to). I don't know what happened in between, but that's how it went.
I restated my request to this representative of replacing the poor Samsung LCD for an LG LCD, and told him that others were treated this way, or even better in some cases, with their Lenovo T400 on the exact same issue. He repeatedly explained to me that he has "never heard of such replacements before" as he's been there "for quite a while", and that they "cannot promise me anything", as mentioned earlier. That went on for a few more minutes, paraphrased on both ends. I informed him that there were cases of the Samsung/LG screen swap being possible, and the panel lottery issue of being two different displays for the same option; Lenovo ships whatever that's available at the time the laptop is manufactured -- in this case, only the Samsung unit is available in their parts bin at the factory. He did not directly address my question, and interrupted me occasionally. Then I went on with my request with classic ways of how "this is my first Lenovo laptop, I've always bought Dell" (It's true) and "Dell was able to do so" (It's true as well), and that I am "extremely disappointed in this product" (Definitely true) to see if this approach makes a different. It did not work, so I requested to talk to his supervisor. He said that he would "gladly do so" with a happy and positive tone. The person was polite, but didn't really try their best to help in my personal opinion. A lot of these cases, really depend on who you are dealing with. Some are more helpful than others.
After waiting five to ten minutes on hold, my call was elevated to the person's supervisor. This time, the supervisor sounds unenthusiastic, unhelpful, not polite, and very negative to my case. I explained to him my problem, for the third time to Lenovo support representatives. He continued on with similar replies as the representative before. Both of them avoided my statement of how others were able to get their display replaced appropriately due to their dissatisfaction with the product. I'm one of them.
I repeated the things I've said to the first representative, and again, remaining calm, but firmer this time. The supervisor again stated that the LG panels were not in stock, and refused to answer appropriately when I asked him if they could send one out when they are in stock -- he simply said that he "cannot do so". I explained to him about the panel lottery, and that this is not an option change -- both the Samsung and LG screens are both 14.1" LED 1440x900 displays, and that they're both available for the same option -- just whatever that is convenient to install for Lenovo at the time of manufacturing. Later on, the supervisor went to say that they are only able to "replace parts with the same part number", in which I have personally never heard of this policy before in any company, and I very much doubt it's true. I again discussed the poor attributes of the Samsung display, and how this is unacceptable -- but this time, he went as far as "they look bad to you, but it's just you. The display is not defective, and we will not replace it." He repeats that several times, in various negative tones. The supervisor continues to interrupt me, eliminating many opportunities for me to talk. Yep, I'm sure this display looks poor only to me. That's totally it.
Okay, I could acknowledge one thing though, is that the Samsung screen may not matter to everyone that receives it; people will obviously notice the difference when compared to other displays, but on its own, they should be able to get away with it with a good quantity of customers. I'm not one of them, and I am explicitly complaining about this problem. I most strongly dislike the way I was treated by the supervisor though.
The above discussion occurred several times with different approaches by both parties, which some aspects are described above -- which to end with only the same result. It's hard to recapture the call on paper, but I can tell you one thing: Both of them simply don't care, and they expressed it explicitly in the conversations. For technical/customer support, I'm sure this is no good for Lenovo as a company. With the current economic recession, with this kind of support quality, good luck getting more people to buy your products!
I mentioned that I am extremely disappointed in the product's display and customer service to the supervisor, and that this is practically the most unhelpful customer service/technical support I've ever encountered in any company -- which is definitely true as far as I am concerned. He just said "okay", answering as if he simply does not care, and we mutually agreed to hang up -- as this is going nowhere, and purely a waste of time. I admit that I made an error at the very end of the call for being emotional (Note: I did not use any strong language nor any threats, just a strong statement), but I'd like to apologize to the Lenovo representative for such, publicly, right here.
V. Conclusion
The main problem with Lenovo's customer support, from my experience and observation, is that there are many "bad" representatives out there -- some of those representing this company on the technical support area to the consumer are only giving this company a poor reputation. They need to improve their attitude. The ones I've encountered are generally unreliable, unhelpful, and give me the feeling that they simply don't care about the customer. The last person explicitly stated that it's my problem, not their's. Use whatever terms you want -- Lenovo support sucks, Lenovo support is terrible, Lenovo support is bad, unfortunately, any negative term is suitable 95% of the time. Lenovo desperately needs better staff training, more clear and better policies, and maybe better staff quality in general. What kind of company is this? You say this is one of the largest personal computer manufacturers in the world? With support as described? This is by far the worst customer support experience that I have ever gone through from any company. Representatives that are simply unhelpful and couldn't care less about you and your legitimate concerns. Representatives that is impolite. Lenovo representatives.
I just wanted my Samsung LCD screen on my Lenovo T400 replaced by a LG LCD screen, and the story ends right there. It's a simple request. I just can't stand this poor display. There were cases where this has been done for others by no other than Lenovo support themselves, at least by helpful Lenovo representatives that actually cares about the customer. This is not an unreasonable request, as other manufacturers would do so, for even smaller items. I don't understand what's so hard about just replacing my T400's poor Samsung LCD, as this has been done before to other lucky customers. They would ship out a new (Samsung) LCD quickly, they would hire local technicians for repair, but they simply won't replace my Samsung screen for an LG screen in my situation. It would cost less than going though all these useless procedures. Seriously, I don't get it. They're one of the largest computer manufacturers in the world, and while Dell would accommodate all my requests to exchange something as simple as a DVD burner and defective USB port for an entire new replacement laptop, they can't do something as replacing a poor LCD screen? Herbert, one of our editors here on APH Networks, had his Dell replaced entirely because he complained that it was "unstable". Why can't Lenovo do something as simple as this?
If that's the case, this would probably be my first and my last Lenovo product. Ever. ThinkPads were known to have great battery life, unsurpassed quality and reliability, excellent keyboard and screen, great ownership experience, well, this one damaged its reputation significantly for me. I can't stand this LCD anymore, every minute I look at the screen after being treated by customer service in such fashion, I deeply regret my purchase. If I need to keep this laptop for 2-3 years down the road, it would be absolutely painful. I really don't have the budget for another laptop, and I really like the ThinkPad T400, all besides the poor screen. It's sad how such an innovative and great product is ruined by very poor customer service and unacceptable Samsung LCD TFT display. I just want my Samsung swapped for an LG. That's it! Why won't anyone do that for me?
Giving customers the feeling that Lenovo don't value nor really care about them in their support department, definitely is not a good thing for the company, especially with the current economy. Hopefully, you will get better luck when you purchase your Lenovo ThinkPad, especially in the customer support area, or what Lenovo themselves wants to clarify upon, in the section below.
IV. Lenovo's Response
Updated December 20, 2008: Lenovo has then called us and spoke to me personally (While denying to use written forms such as email) claiming that due to manufacturing facilities limitations, they are unable to accommodate such requests like Dell -- and that because the Samsung panel has 'met Lenovo's standards', the representative claims that it is not economically justifiable to make changes for all customers. It is unfortunate that an otherwise excellent company with excellent products that are inhibited by the performance of one of the most important things in computing experience -- the monitor.
-----------------------------------------
Due to poor customer service experience and their limited ability to accommodate requests of customers like Dell, I would throw Lenovo into a mixed bag. Yes, they make truly excellent, world class products that compete very well in both consumer and business markets. But I would not count on them for personal service when you need it, in which other companies are able to far exceed the level provided by Lenovo.