By: Jonathan Kwan
March 3, 2023
What does it take to be a fashion icon? Recently, a friend came up to me and told me he learned from my fashion style. I was a bit confused, since I am not known to be exactly stylish -- unless there is a reason otherwise, I wear hoodies and joggers on most days during the winter months. My friend then followed up, telling me he has been stocking up on Costco and Kirkland Signature-branded apparel, which he had seen me wearing around. For those who know me, I am known to be a big fan of Costco, and wearing clothing branded as such simply fits the image. I actually own a Kirkland Signature T-shirt and hoodie as well as a Costco-branded crew neck sweater and joggers. As it turns out, being a fashion icon is not just about being stylish -- it could simply be making a statement. In today's power supply market, what differentiates between one manufacturer and model to the next is not too much. As long as a PSU is from a reputable manufacturer, an average person's comparison is usually not much more than just looking at the price if the wattage and efficiency rating is the same. But SilverStone often likes to make a statement when it comes to their PSUs like how wearing Costco clothes can be making a statement. The company likes to do so by advertising wattage per liter in addition to standard performance metrics. The HELA 1300R Platinum 1300W, as its name suggests, is a Platinum-grade unit rated at a solid 1300W output. But what it special is its 140mm depth, making its power density a whopping 720W per liter and about the same size as an average power supply half the wattage rating or less. Yes, it is still fully modular. How is that for making a statement and are there any catches? Read on to find out!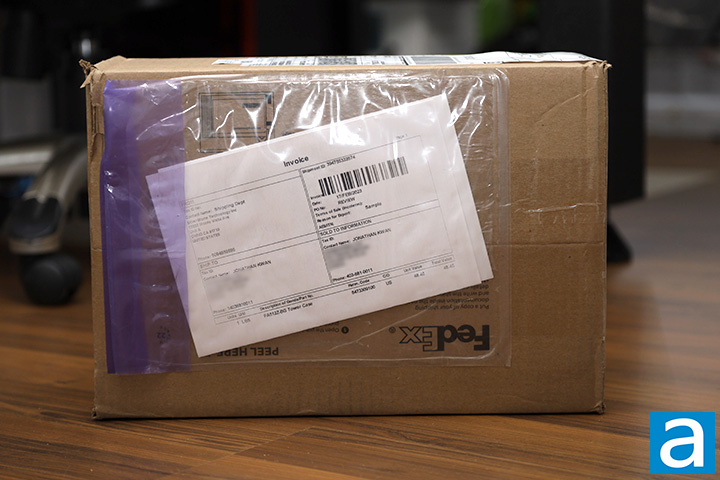 It has been a long time since I have reviewed a 1300W power supply from SilverStone, that being the SilverStone Strider Titanium ST1300-TI 1300W in January 2018 -- how time flies. Our SilverStone HELA 1300R Platinum 1300W came in a medium-sized brown corrugated cardboard box from the company's American headquarters in Chino, California, USA using UPS Standard. It arrived safely and in great condition to us here in Calgary, Alberta, Canada for our review today.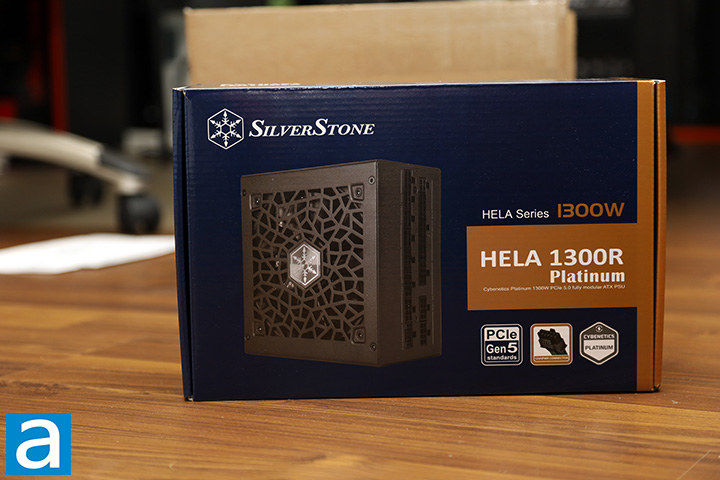 The HELA 1300R Platinum 1300W's retail box is designed to look quintessentially SilverStone, so those who are familiar with the company's products will immediately recognize the style. The box design uses a primarily blue and brown color scheme with white text, which I found kind of strange, since this is a Platinum-grade PSU and shades of gray rather than brown would make more sense. Another interesting design choice is the wildly inconsistent and interesting font selection, which I can imagine all my friends in design will be screaming in horror right now with how there are at least four different fonts used in the front alone. That aside, across the center, a photo of the power supply in three-quarters angle can be seen on the left with everything else on the right. These include the model name and the description, "Cybenetics Platinum 1300W PCIe 5.0 fully modular ATX PSU". At the top left corner, we can see SilverStone's logo and slogan. On the opposite side, an array of three badges show off its PCIe 5.0 compatibility, 12VHPWR connector, and Cybenetics ETA Platinum certification. Specifications, feature highlights, and certifications expressed in tables, graphs, and images can be found on the remaining sides of the box.
Before we move on, let us take a look at the specifications of the SilverStone HELA 1300R Platinum 1300W, as obtained from the manufacturer's website:
Product No.: SST-HA1300R-PM
Model (safety certification): SST-AX1300MCPT-A
Color: Black (lead-free paint)
Max. DC Output: 1300W
Power density: 720W per liter
Combined +3.3V & +5V: 120W
Combined +12V: 1300W
Input Voltage: 90 ~ 264 Vrms
Input Frequency Range: 47Hz ~ 63Hz
PFC: Active PFC (PF>0.9 at full load)
Efficiency: ≥89% & <91% overall efficiency
MTBF: 100,000 hours
Operating temperature: 0°C ~ 50°C
Protection: Over Current Protection, Over Power Protection, Over Voltage Protection, Over Temperature Protection, Short Circuit Protection, Under Voltage Protection, No load operation
Connectors:
- 1 x 24 / 20-Pin motherboard connector
- 2 x 4-Pin + 4-Pin ATX 12V connector
- 1 x 12+4-Pin 12VHPWR connector
- 8 x 8 / 6-Pin PCIe connectors
- 8 x SATA connectors
- 6 x 4-Pin Peripheral connectors
- 2 x 4-Pin Floppy connectors
Cooling System: Silent 120mm FDB fan
Noise Level: 0 dBA minimum
Certification: Cybenetics Platinum
Form factor: ATX (PS2)
Dimension: 150mm (W) x 86mm (H) x 140mm (D)
Weight: 2.93 kg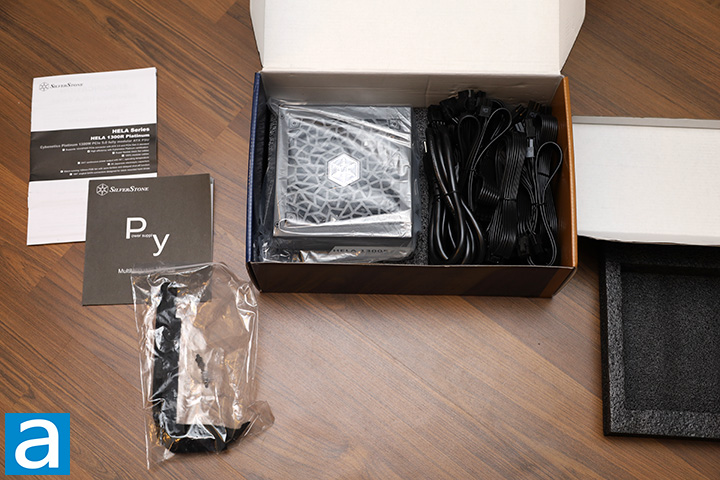 The SilverStone HELA 1300R Platinum 1300W's retail packaging can be opened by a flap attached at the bottom. Upon opening the box, you will find everything neatly organized. The power supply is located on the left sandwiched between two Styrofoam brackets, cables on the right, and everything else in a resealable plastic bag. There is also an instruction manual as well as a specifications booklet out in the open. The instruction manual is highlighted with the letters "PY" in front, which is a generic booklet in multiple languages that comes with all SilverStone power supplies.. Out of the box, you will receive the HELA 1300R Platinum power supply itself, two pieces of literature as aforementioned, modular cables, AC power cable, and a bag that contains four Velcro straps and four standard screws.
---
Page Index
1. Introduction, Packaging, Specifications
2.
Physical Look - Outside
3.
Physical Look - Inside
4.
Minor Tests and Conclusion