Page 2 - Physical Look - Outside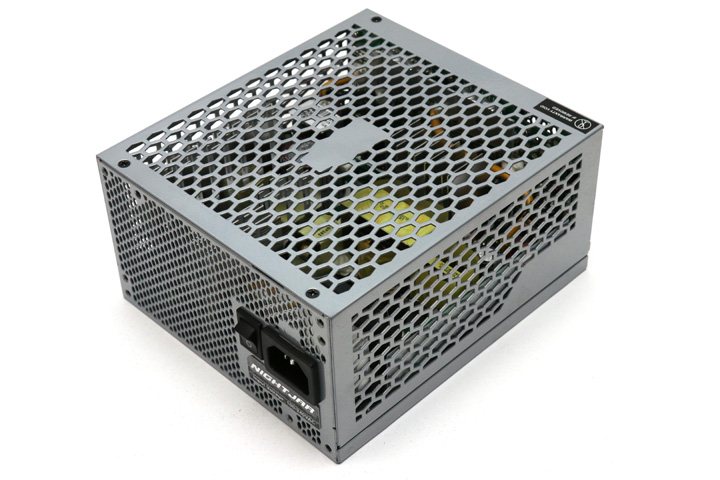 If you somehow skipped the first page and landed here, you can make an accurate guess of the platform of the SilverStone Nightjar NJ600 600W, especially since it bears a very clear resemblance to the Seasonic PRIME 600 Titanium Fanless 600W. It does not take much of a detective to see the physical outside is exactly the same with a few differences. The biggest difference of the SilverStone Nightjar NJ600 is its silver glossy exterior. While this will leave fingerprints showing, the whole power supply still looks really nice. You can also see all of the areas that were once labeled with Seasonic branding have either been cleared off or replaced with a "Nightjar" badge for the backside. Otherwise, the same open honeycomb pattern can be found on almost all of the exterior shell to allow air to freely flow in and out. With this being a fanless power supply, you probably want as much passive cooling as you can get for this unit. This may be affected by dust, but hopefully this is not too much of a problem. The external casing of the power supply is held with four screws at the top. One screw has a warranty seal over it and the only way to get inside the unit is to void the five-year warranty.
As for measurements, the SilverStone Nightjar NJ600 600W measures 17cm in length, which is the same as the PRIME 600 Titanium Fanless unit. This is awesome, albeit unsurprising, considering it is an 80 Plus Titanium unit. Most fully modular power supplies generally take up more room compared to their semi-modular or non-modular counterparts by a centimeter or two, as this extra real estate is used for the connector board at the back. We will explore what this looks like later when we delve inside. For most mid-tower ATX chassis, this sort of length will be almost a non-issue. Even for smaller mATX or mITX cases, you probably will only be concerned when you are using a media PC style of case, as even a few centimeters could affect your build. In the end, it is very much based on your build, so your mileage will vary.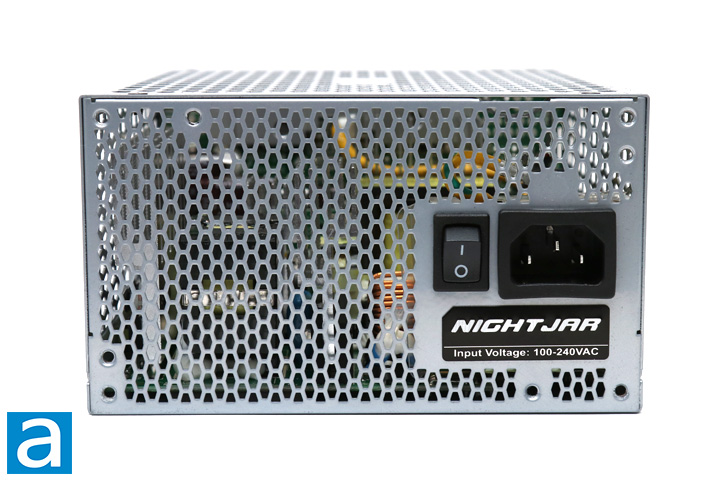 Once again, the back shows off a similar elongated honeycomb pattern. This follows the same aesthetics at the top. Traditionally, the back vents play an essential role in allowing heat to flow out the back. For a unit lacking any fan, we want just as much ventilation. Most modern power supplies have an automatic full range (110V to 240V) AC line voltage selection, so you will not need to manually flip an additional switch, and this product is no exception. Therefore, the back has a single power switch and a standard power input. This is not a C20 receptacle, like the ones we have seen on some other power supply units, though this is quite standard for most of the units we see.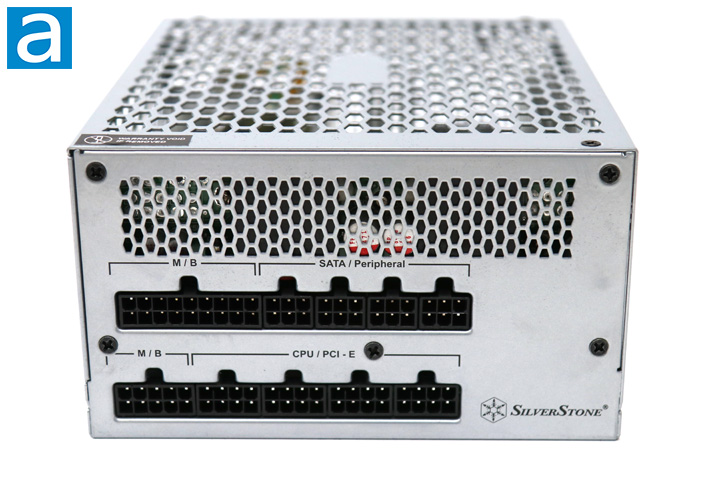 As expected, the SilverStone Nightjar NJ600 600W is a fully modular power supply. This means all cables are completely detachable from the main unit. While some users may question the necessity of this for essential cables like the ATX 24-pin and the ATX 4-pin/EPS 8-pin, there still are benefits to having this. For example, I would argue this makes cabling easier, since users can pre-route the cables without needing the power supply installed right away. Secondly, there are manufacturers including SilverStone themselves who provide sleeved cables for power supplies and this is only made possible by fully modular units. On the other hand, there is a higher, but very negligible, electrical contact loss at the connectors compared to permanently fixed cables. At the end of the day, your preference will make the final call, but I prefer fully modular units.
The rear cable connection panel is clean, with similar connectors grouped together and laid out logically. Each plug is clearly labeled so you know where to plug your cables in. On the top row, we have the larger part of the motherboard pins. Next to these are four sets of six pin connections, used for the peripheral outputs like SATA or Molex connections. At the bottom row we have the smaller half of the motherboard pins plus the CPU or PCI Express connectors. I will say I do like that the CPU and PCI-E power connectors are the same, as it means either output can be used for both purposes and users can vary between needing more or less of each. At this wattage rating, I think there are a good number and variety of connections.
The external build quality of the SilverStone Nightjar NJ600 600W is solid, which is as expected for an OEM like Seasonic. The spacing between the panels is quite minimal and everything fits together nicely. The edges are finished and smoothed off to prevent people from injuring themselves while handling the unit. What matters is the inside and we will see what it is like soon enough.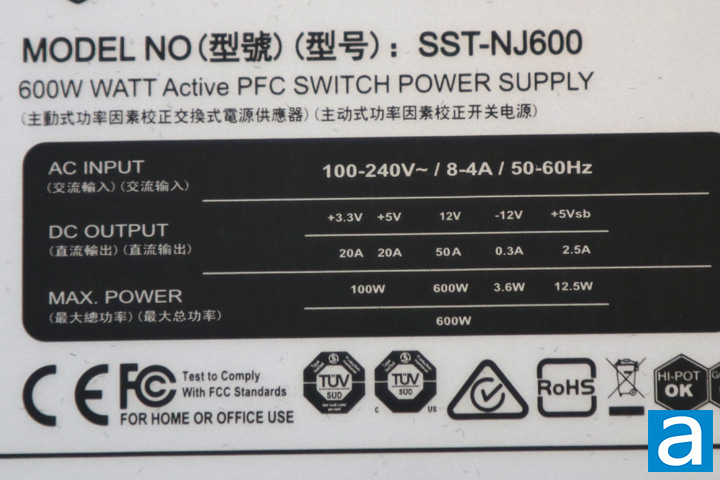 The voltage specification label for the SilverStone Nightjar NJ600 600W is on the bottom side of the unit. There are two main virtual rails. Up to 20A can be delivered via the +3.3V rail for a total of 66W. The +5V rail can deliver 20A too, bringing the output to 100W in this area. The total combined output for the +3.3V and +5V rail is 100W. In other words, your power allocation combination must fall within the limits of the listed specifications. Meanwhile, a single powerful +12V rail delivers up to 50A (600W) to reduce operating overhead compared to multiple +12V rails. Overall, the combined power output for the whole Nightjar NJ600 600W is an unsurprising 600W. Again, your power distribution in your system must fall within the limits provided -- it must not exceed 66W on the +3.3V rail, 100W on the +5V rail and 100W combined for both, 600W on the +12V rail, and 600W combined between the positive rails. All these confusing numbers aside, this configuration allows for flexible power demands. It should be sufficient to accommodate most users and the overall distribution is pretty reasonable for a 600W power supply.
The SilverStone Nightjar NJ600 600W is 80 Plus Titanium certified, which means that it is certified to be at least 90%, 92%, 94%, 90% efficient at 10%, 20%, 50%, and 100% load, respectively. There is no higher certification for 115V internal non-redundant power supplies at press time.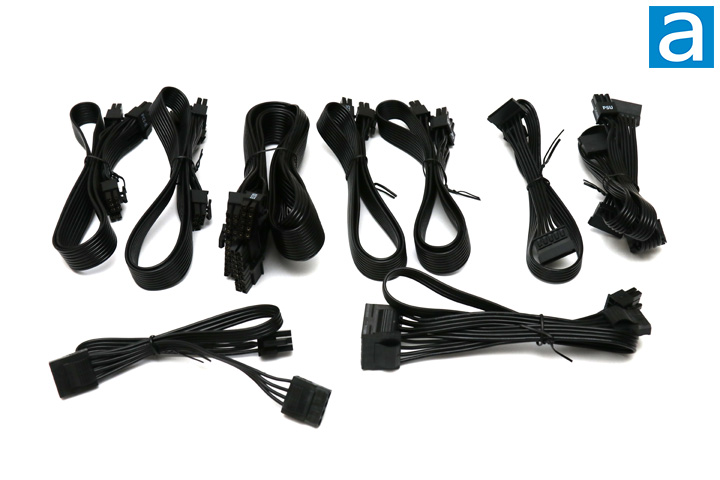 A total of nine modular cables are included out of the box. All modular cables are flat and easy to bend, with the exception of the ATX cable, making them extremely easy to work with. Surprisingly, all wires are 18 AWG, including high current PCI Express and ATX/EPS connectors. Usually, manufacturers will fatten cables up to 16 AWG, but we also have been seeing less of this in modern power supplies.
The following modular cables are included out of the box:
- 1x ATX 20+4 pin, 61.0cm
- 2x ATX/EPS 4+4 pin, 65.0cm
- 2x PCIe 6+2 pin, 2 connectors each, 67.5cm to first connector, 7.5cm spacing thereafter
- 1x SATA, 4 connectors, 45.0cm to first connector, 12.0cm spacing thereafter
- 1x SATA, 2 connectors, 35.0cm to first connector, 12.0cm spacing thereafter
- 1x Molex, 3 connectors, 45.0cm to first connector, 12.0cm spacing thereafter
- 1x Molex, 2 connectors, 35.0cm to first connector, 12.0cm spacing thereafter
For those observant ones, you will see the ATX cable is actually a flat cable rather than the thicker bundle they included with the original Seasonic unit. A 10cm long Molex to Floppy adapter is included for those who find it useful. Most users should have no problems with routing the cables included with SilverStone Nightjar NJ600 600W, even if your case has a bottom power supply mount. 50cm is the general standard, but the shorter peripheral cables may actually be advantageous in routing management with modern cases. At 12.0cm between each peripheral connector, this should be adequate for chaining peripherals.
---
Page Index
1.
Introduction, Packaging, Specifications
2. Physical Look - Outside
3.
Physical Look - Inside
4.
Minor Tests and Conclusion