By: Aaron Lai
February 22, 2019
In addition to the writing I do for reviews and reports here at APH Networks, I started a personal blog to write about some hobbies I have taken up, including learning the cello and my baking and cooking adventures. Recently, I tried my hand at making cornbread for the first time, but the result was a bit lackluster. For one, I really only thought I needed to get cornmeal, as I expected to have the rest of the necessary ingredients in my possession. However, I was actually missing one notable ingredient, which was milk. Most of the recipes I found actually required buttermilk, but I knew I could easily make buttermilk by combining of milk and an acid like vinegar or lemon juice. As I had a full meal planned around having cornbread, I decided to find a recipe without milk and I landed on one that used plain yogurt. Unfortunately, the end result tasted quite a bit different than expected. This taught me that if I wanted to make something for the first time, I should start with a recipe that is proven to work rather than trying to use alternative ingredients. Today, we have the SilverStone Nightjar NJ600 600W, which was made off the platform that produced the proven Seasonic PRIME 600 Titanium Fanless. However, SilverStone has told us they made improvements to further reduce electrical noise. What is the outcome and is the SilverStone Nightjar NJ600 600W a recipe for success? Let us read on to find out!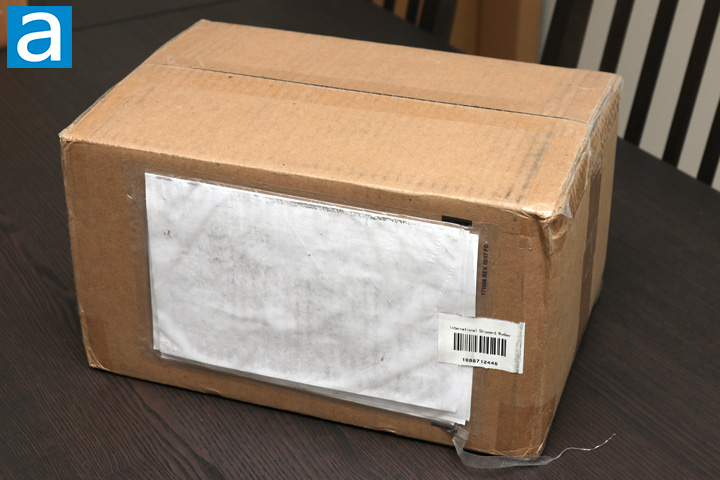 Today's review unit of the Nightjar NJ600 600W arrived to our APH Networks location in Calgary from SilverStone's offices in Chino, California. Traveling via FedEx and their ground service, this brown corrugated cardboard box arrived without any real damage to the box to be concerned about. Inside, SilverStone has used a lot of packing peanuts to keep the contents of the shipping container safe. This power supply arrived by itself, which is not too surprising considering the size of the retail container.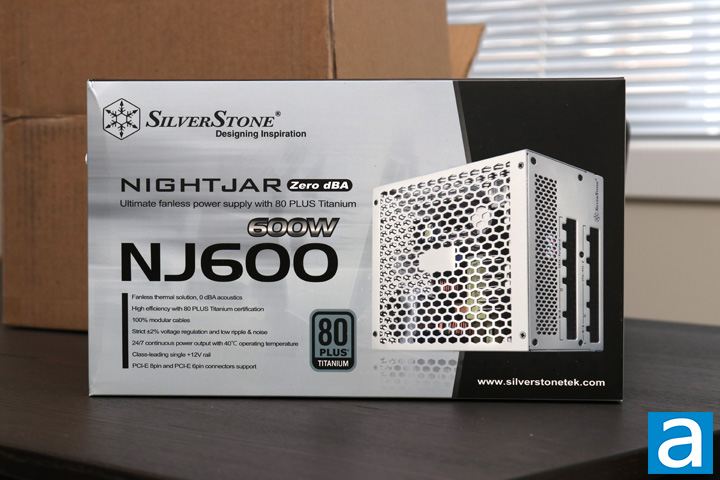 SilverStone does not usually followed much of a trend for how they design their power supply retail containers, as even units in the same lineup have come in different boxes. The unit of the Nightjar NJ600 600W comes in a grey and black box that resembles the last ATX Nightjar we reviewed, the Nightjar NJ520 520W. This is the third unit SilverStone has released under the Nightjar moniker, but only the second ATX unit. On the front, you will see a scaled down image of the unit on the right side. The name and product description of "Ultimate fanless power supply with 80 PLUS Titanium" is on the left side. Some features can be found under the large NJ600 label, emphasizing this is a fanless power supply with the 0dBA marking. Other details, such as the given cables and power distribution chart, can be found around the box.
Before we continue on, I have obtained the specifications from the manufacturer's website for your perusal:
Model No.: SST-NJ600
Max. DC Output: 600W
Power density: 274W per liter
Color: Silver
combined +3.3, +5V: 100W
combined +12V: 600W
Input Voltage: 90V ~ 264V
Input Frequency Range: 47Hz ~ 63Hz
PFC: Active PFC (PF>0.95 at full load)
Efficiency: 90%~94% @ 10% ~ 100% loading
MTBF: 100,000 hours
Operating temperature: 0°C ~ 40°C
Protection:
- Over Current Protection
- Over Power Protection
- Over Voltage Protection
- Over Temperature Protection
- Short Circuit Protection
- Under Voltage Protection
Connectors:
- 1 x 24 / 20 -Pin motherboard connector (610mm)
- 2 x 8 / 4-Pin EPS / ATX 12V connector (650mm x 2)
- 4 x 8 / 6-Pin PCIE connector ("675mm / 75mm" x 2)
- 4 x SATA connector ("450mm /120mm / 120mm /120mm")
- 2 x SATA connector (350mm / 120mm)
- 3 x 4-Pin Peripheral connector (450mm / 120mm / 120mm)
- 2 x 4-Pin Peripheral connector (350mm / 120mm)
- 1 x 4-Pin Floppy connector (100mm)
Cooling System: Fan Less thermal solution
Form factor: ATX / PS2
Noise Level: 0 dBA
Dimension:
150 mm (W) x 86 mm (H) x 170 mm (D), 5.91" (W) x 3.39" (H) x 6.69" (D)
Weight: 1.78 kg
Certification: 80 PLUS Titanium
Other: Compatible with ATX12V v2.4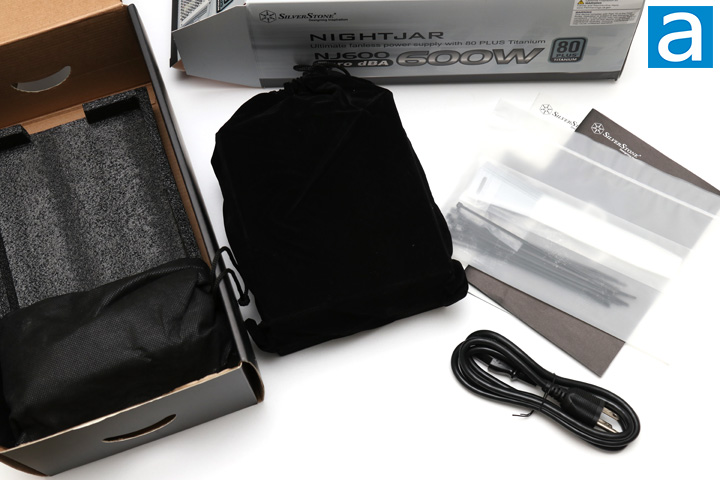 The SilverStone Nightjar NJ600 600W's retail packaging can be opened by a flap attached on the right. The power supply is in a drawstring suede bag and held between two foam brackets. The cables are bundled in a nylon bag. As with other SilverStone PSUs, we have two booklets to describe different qualities and limits of the unit, as well as some usage instructions. What is nice to see is a resealable translucent plastic bag that holds some more Velcro straps and zip ties. This unboxing experience reminds me a lot of the way Seasonic packs their units, which is not very surprising considering they are the OEM. In fact, it just looks like they took off the Seasonic branding on the bags to use here. Just to note, this unit comes with a five-year warranty, which is one of the longest we have from SilverStone, but pales in comparison with 10 and 12 year warranty periods directly from Seasonic.
---
Page Index
1. Introduction, Packaging, Specifications
2.
Physical Look - Outside
3.
Physical Look - Inside
4.
Minor Tests and Conclusion