By: Jonathan Kwan
October 10, 2014
Although no reasonably sane and moral person will look up to notorious historical figures such as Adolf Hitler or Joseph Stalin as the source of inspiration for their life, you will have to admit they do have some sort of brilliance -- albeit seriously misguided -- that brought them such infamy we recognize them for today. To pull one of the famous quotes of the latter, Joseph Stalin once said, "Death solves all problems -- no man, no problem." As harsh as it sounds, he really has a point. Basically, he is suggesting rather than dealing with the problem itself, if you cut straight to the source of the problem, you will not have the problem to begin with. As such, there are many ways to deal with the problem of noise generated by your computer. The first method is to cancel out some of the sound generated by the components inside by investing in a chassis with lots of good acoustic insulation like the Fractal Design Define R4. You can also buy components that are optimized for quiet computing, such as the Noctua NH-D15, which is a big cooler with a big fan that does not generate a whole lot of noise in the first place. But if we apply the Joseph Stalin principle to power supplies, and simply eliminate the fan altogether, what do we get? The answer: SilverStone's 0dBA, completely fanless Nightjar NJ520 power supply. No fan, no noise. Built by Seasonic and 80 PLUS Platinum certified for maximum efficiency, let us see if we have found the real deal!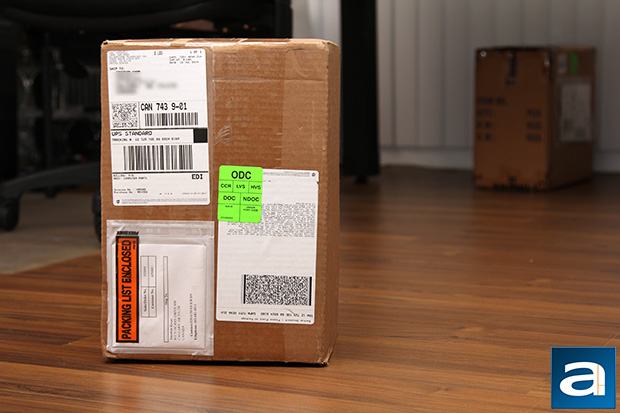 Our review unit of the SilverStone Nightjar NJ520 520W came in a compact, brown corrugated cardboard box from SilverStone's American headquarters in Chino, California, USA. The box is so small this time compared to other shipments we have received from the company, mainly because the only item in this package is the power supply in question only. Furthermore, rather than the usual FedEx Ground, SilverStone switched to UPS Standard to carry it to us here in Calgary, Alberta, Canada. As always, the guys in the brown uniforms did a fine job at keeping everything safe and sound to the destination. With that all said and done, I took out my camera, cracked open the package, and got to work.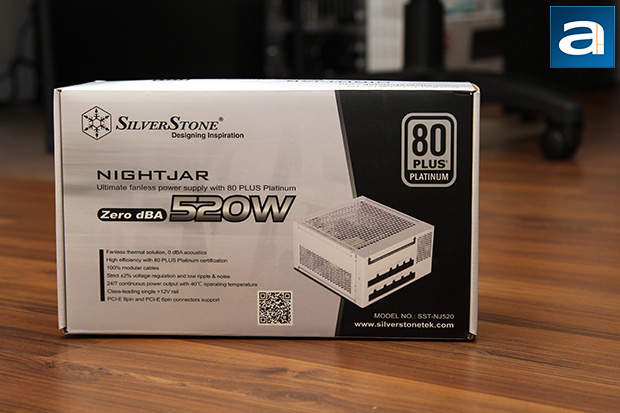 The SilverStone Nightjar NJ520 520W continues the tradition of a practically black and white retail box since the original ST30NF back in 2004. At first, I thought this color scheme had to do with its 80 PLUS Platinum certification, but the company assured me it has nothing to do with it. A proper coincidence? Anyway, at the top, we can see SilverStone's logo and slogan, while the lines "Nightjar" and "Ultimate fanless power supply with 80 PLUS Platinum" occupies a prominent region in the center. Its wattage capacity is written in super large font, along with the zero dBA badge. A photo of the power supply at 3/4 angle can be seen adjacent to the list of feature highlights. On the right, a large 80 PLUS Platinum badge ensures you know this is an 80 PLUS Platinum certified power supply, just in case you could not tell by everything else on the box already. Specifications, performance graphs, and features can be found on remaining sides of the box.
Before we move on, let's take a look at the specifications of the SilverStone Nightjar NJ520 520W, as obtained from the manufacturer's website:
Model No.: SST-NJ520
Max. DC Output: 520W
combined +3.3, +5V: 100W
combined +12V: 516W
Input Voltage: 90V ~ 264V
Input Frequency Range: 47Hz ~ 63Hz
PFC: Active PFC (PF>0.99 at full load)
Efficiency: 89%~92% at 20%~100% loading
MTBF: 100,000 hours
Operating temperature: 0 ~ 40°C
Protection: Over Current Protection, Over Power Protection, Over Voltage Protection, Over Temperature Protection
Short Circuit Protection, No Load Situation
Color: Silver
Cooling System: Fan Less thermal solution
Noise Level: 0 dBA
Dimension: 150 mm (W) x 86 mm (H) x 160 mm (D)
Weight: 2.3 kg
Form factor: ATX
Certification: 80 PLUS Platinum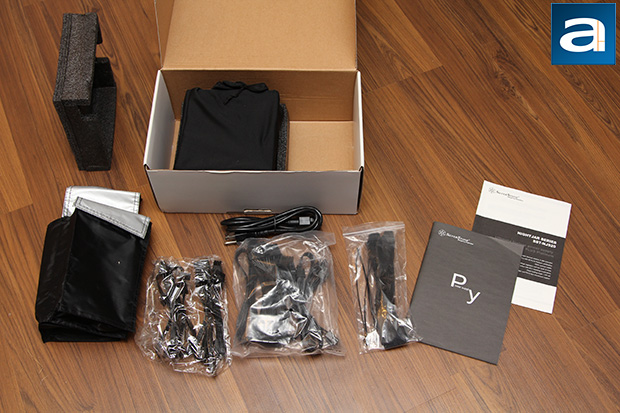 The SilverStone Nightjar NJ520 520W's retail packaging can be opened by two notches attached in front. Upon opening the flap top box, you will find everything neatly organized. The power supply is located on the left between two Styrofoam brackets held inside a soft drawstring bag, and almost everything else inside a double pocket, Velcro sealed nylon bag. There is also an instruction manual as well as a specifications booklet out in the open. The instruction manual is highlighted with the letters "PY" in front, just like the SilverStone Strider Gold S ST85F-GS 850W and SilverStone Strider Essential Gold ST70F-ESG 700W; as if my colleague Preston Yuen has initialed yet another one from the factory. (It is really a stylized presentation of the words "power supply", maximizing its first and last letters.) Out of the box, you will receive the NJ520 power supply itself, two pieces of literature as aforementioned, modular cables, AC power cable, and a bag that contains some zip ties, Velcro straps, and five standard Philips head screws.
---
Page Index
1. Introduction, Packaging, Specifications
2.
Physical Look - Outside
3.
Physical Look - Inside
4.
Minor Tests and Conclusion