By: Aaron Lai
August 5, 2022
Two weeks ago, if I were to rate the Calgary Flames fan offseason experience, I would have said something like, "0/10, worst time ever". If you consider the Calgary Flames went from finally being able to break through the first round of playoffs and having two 100+ point scorers in the regular season to practically losing both of them, you will see the disappointment is real. When Johnny Gaudreau decided to take his talents to a place closer to home, or at least not in Calgary, I was frustrated but not surprised. When Matthew Tkachuk said he would reject any long term offer by the Flames, I was expecting to enter a full rebuild mode. Even some part of me was excited to see what returns we would get on our players. So, when I heard that evening the Flames traded Tkachuk for an elite playmaker, top-four defenseman, prospect, and a first-round draft pick, the news hit me like a refreshing winter blast. The dread that filled the air was gone and all my friends were suddenly feeling a little more excited about the season to come. This trade had way more return than expected, and while there are still some things to work out, it was definitely the kick Flames fans needed. In a similar way, we have seen the power supply lineup of Thermaltake's Toughpower in the form of the GF1 1000W, and it is a well performing unit with excellent build and warranty. When Thermaltake sent us their new "Snow Edition" one in the form of the Thermaltake Toughpower GF1 Snow 750W, I had to wonder if there was anything refreshingly changed with this new unit. Even if it is just a new paint job, will this be a breath of fresh air for the lineup? Let us read on to find out!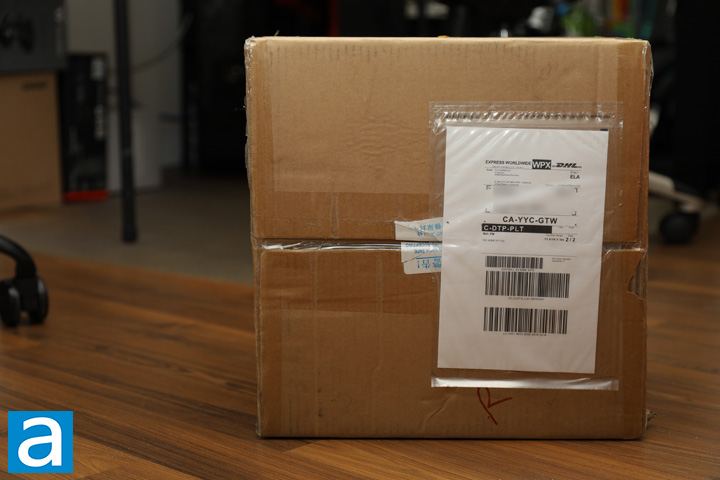 Today's review unit of the Thermaltake Toughpower GF1 Snow 750W arrived from their offices in City of Industry, California. Traveling with DHL and their Worldwide Express service, this box arrived at our APH Networks offices in Calgary, Alberta, Canada, in excellent condition with no real marks or dents on the box to be worried about. Along with our power supply, we also received the UX200 SE, which was reviewed by my colleague Hai Wang.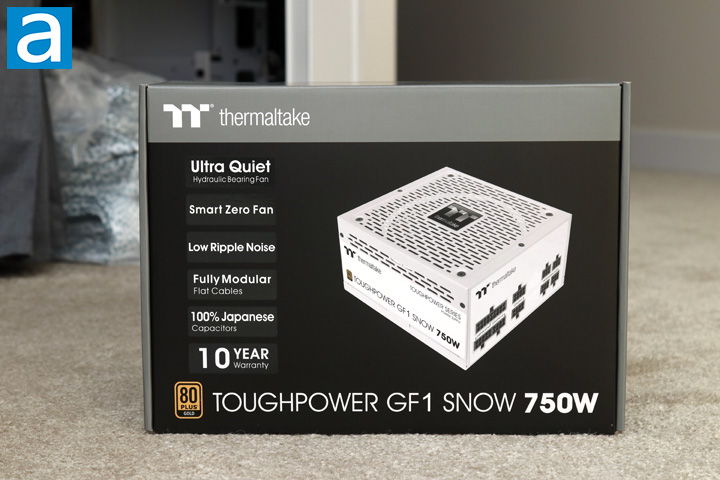 Taking a closer look at the retail container of the Thermaltake Toughpower GF1 Snow 750W, it is no surprise our box looks very similar to the Toughpower GF1 1000W that we previously reviewed. With the power supply on the front and a list of features down the left side, the only main difference is the fact this is the Snow edition, and thus we have white font. Obviously, the wattage is also different. Just to note, Thermaltake only has the 750W and 850W units available for this white version. All of the units in this lineup are 80 Plus Gold units, as referenced by the "G" in GF1. Around the box, we have a few more specifications and features for users to read.
Before we continue on, I have obtained the specifications from the manufacturer's website for your viewing pleasure:
P/N: PS-TPD-0750FNFAGU-W
watts: 750W
RGB Fan: No
Form Factor: ATX
Model: TTP-750AH3FCG
Max. Output Capacity: 750W
Peak Output Capacity: 900W
Color: White
Dimension ( W / H / D ): 150mm(W) x 86mm(H) x 160mm(D)
PFC (Power Factor Correction): Active PFC
Power Good Signal: 100-500 msec
Hold Up Time: > 16msec at 100% of full load
Input Current: 10A max
Input Frequency Range: 47Hz - 63Hz
Input Voltage: 100V – 240V~
Operating Temperature: 0°C to + 50°C
Operating Humidity: 20% to 90%,non-condensing
Storage Temperature: -20°C to + 70°C
Storage Humidity: 5% to 95%, non-condensing
Cooling System: 14cm hydraulic bearing fan
Efficiency: Meet 80 PLUS®Gold at 115Vac input.
MTBF: 120,000 hrs minimum
Safety Approval: CE/cTUVus/TÜV/FCC/BSMI/CCC/EAC
PCI-E 6+2pin: 4
Protection: OCP, OVP, UVP, OPP, SCP, OTP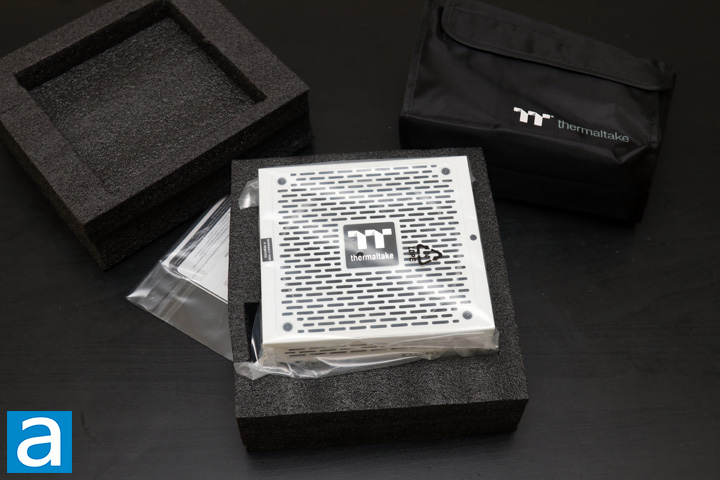 Out of the box, we have the power supply wrapped in a clear plastic bag and held between two black foam pieces for cushioning. A separate Velcro nylon bag holds all of the modular cables, AC power cable, and mounting screws. We also have a clear bag that holds documentation and warranty information for the Thermaltake Toughpower GF1 Snow 750W.
---
Page Index
1. Introduction, Packaging, Specifications
2.
Physical Look - Outside
3.
Physical Look - Inside
4.
Minor Tests and Conclusion