By: Hai Wang
August 5, 2022
Summertime is a good time. It is the season we can temporarily put our study or work aside and go to beaches, lakes, or mountains for vacation. It does not matter whether you are going to travel to somewhere warmer or cooler than where you are from or even stay in town for a staycation, one important summer aspect is to deal with the heat. I asked several of my friends and colleagues what their favorite ways to deal with heat in summer were. I got normal answers like using air conditioners, drinking lots of ice water, and going to outdoor swimming pools. One interesting answer was to eat hotpot. The reason was the heat you experience from eating hotpot could make the normal hot summer weather feel like early spring. I like this answer, since it feels very philosophical. Think about this, feeling cool is a relative thing. If you are so used to air conditioning or iced drinks, your standard of "feeling cool" is relatively high, and eventually you will find it becoming harder and harder to tolerate the summer heat in situations where air conditioning or ice is not available. On the other hand, if your standard of "feeling cool" is relatively low, then you will find the summer heat everybody is struggling with is actually not that bad. In general, I think for most non-life-threatening heat, to use some thermal tolerance training may be a good idea to make you feeling cool in an ecological manner. For cooling of computer hardware, "training" is definitely not the correct idea, haha. To this end, we have to rely on a good cooling product. For today's review unit, the Thermaltake UX200 SE, it is a CPU cooler with a single 120mm fan. Is it a good CPU cooler that can make the CPU feeling cool while gaming? Let us read on and find out!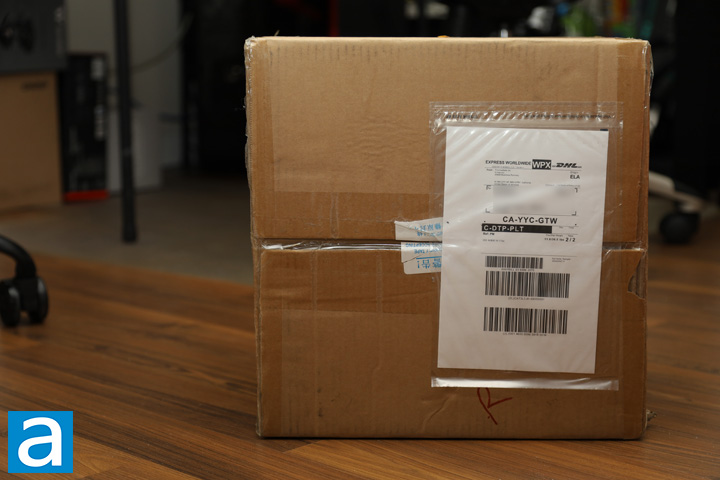 Today's review unit was shipped to us here in Calgary, Alberta, Canada via the DHL Worldwide Express service from City of Industry, California, USA. The shipping box was mostly in good condition. There was no sign of unacceptable damage on the shipping box itself. Aside from the CPU cooler, we also received the Thermaltake Toughpower GF1 Snow 750W reviewed by my colleague Aaron Lai.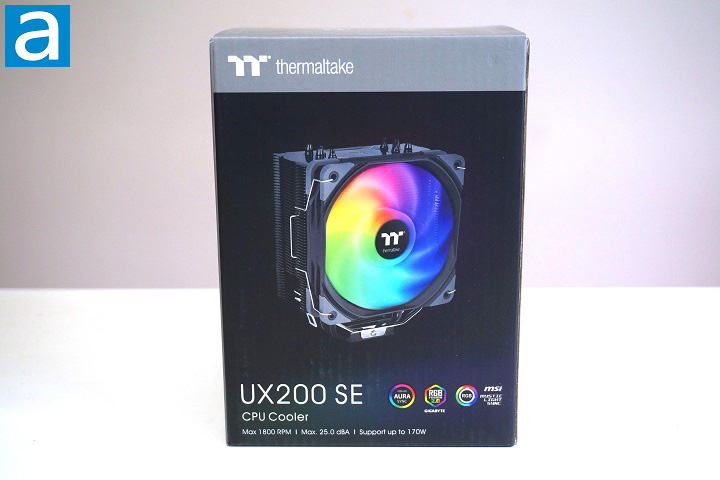 On a well-designed retail package, you can always find a nice photo of the product. The box of the Thermaltake UX200 SE is no exception. The picture of the CPU cooler is located in the front of the container with a dark background. From the picture, you can roughly know what you will get from Thermaltake -- a CPU heatsink and an ARGB LED fan. Of course, you will also get the installation kits for various Intel and AMD sockets. They are just not shown in the front cover of the retail box. Thermaltake's company logo is printed at the top left corner, while the product's name, UX200 SE, is printed right below the product photo. To the right side of the product's name, the logos that show motherboard ARGB control standards are provided. In terms of fan size , this time we get a 120mm fan from Thermaltake. If you turn to the side panels of the retail package, more information about the product is presented, such as the dimensions and key features of this product. Overall speaking, the retail package design of the Thermaltake UX200 SE is good. Customers will be able to find the useful information about this product without any trouble.
For you to know the Thermaltake UX200 SE a little bit more, the specifications of the cooler from the official website are listed below:
P/N: CL-P105-AL12SW-A
COMPATIBILITY: Intel LGA 1700/1200/1156/1155/1151/1150; AMD: AM4/FM2/FM1/AM3+/AM3/AM2+/AM2 (CPU Socket)
DIMENSIONS: 122 x 61 x 156.2 mm ( L x W x H)
HEATSINK MATERIAL: Aluminum Fins and Copper Heatpipes
HEATPIPE: Φ6mm x 4 pcs
FAN DIMENSION: 120 x 120 x 25 mm ( L x W x H)
FAN QUANTITY: 1pcs
FAN SPEED: PWM 800~1800 RPM
RATED VOLTAGE: 12V
START VOLTAGE: 6.0 V
RATED CURRENT: 0.3 A
POWER INPUT: 4.32W
AIR FLOW: 62.72 CFM
AIR PRESSURE: 1.47 mm-H2O
ACOUSTICAL NOISE: 25.0 dBA
LIFE TIME/FAN LIFE TIME: 30,000 hours
PIN CONNECT: 5V RGB header and 2510 - 4Pin
COOLING POWER: 170 W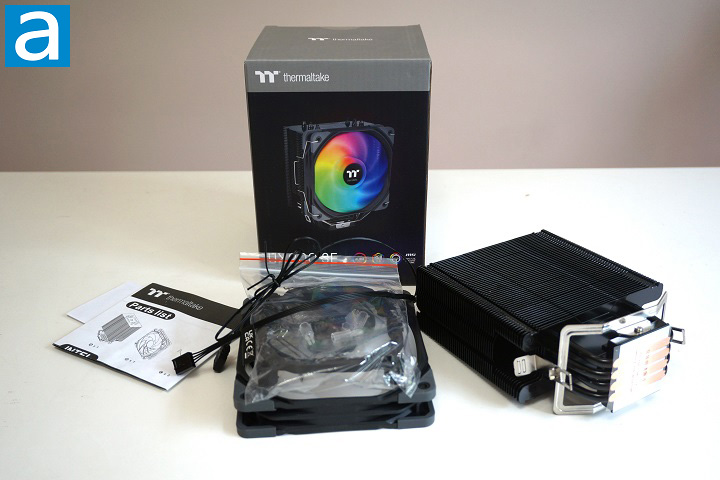 Upon opening the retail box, you will see the heatsink protected by several pieces of foam pads. I did not find any damage on the fins, meaning the protection of the foam pads is a big win. Aside from the heatsink, an ARGB LED fan is another major component you can find, although it is not pre-installed onto the heatsink. The Thermaltake UX200 SE can theoretically take two fans, but only one is included. If you want two fans on your heatsink, you will have to buy your own, but a second set of wire clips is not included. As for smaller accessories, they are all contained in a zip bag. A bunch of wire clips, bag of thermal paste, and mounting bracket kit for Intel socket are found in this bag. The paper-based installation guide is a thoughtful addition from Thermaltake. Sometimes it is just easier to read a physical manual than a PDF document on a computer or phone screen.
---
Page Index
1. Introduction, Packaging, Specifications
2.
Physical Look - Hardware; Installation
3.
Test Results
4.
Conclusion