Page 2 - Physical Look - Outside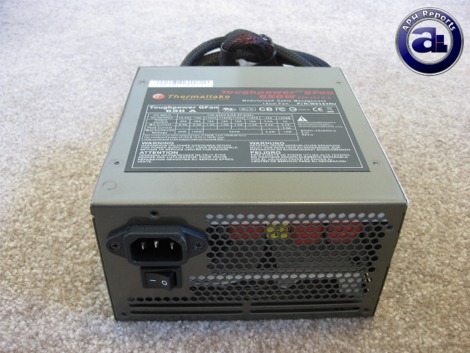 The gunmetal gray colored Thermaltake Toughpower Cable Management 650W actually looks really sweet. It retains the simplicity with the good ol' matte black finish units, but unique in a sense that it's not the good ol' matte black finish. The Toughpower 650W has no decorative LEDs onboard either. At the back is an open honeycomb mesh design to maximize airflow and minimize air resistance internally, as trapped heat could be a problem. Therefore, it's done as heat needs to leave the power supply as easily and efficiently as possible, because this power supply incorporates only one 140mm fan at the bottom and incorporates no other fans. While the fan is large, it does not directly exhaust air out the back. Interestingly, with the included rubber mounting bracket, it is shaped to accommodate a 80mm rear fan -- but there's actually no rear fan on the Toughpower 650W. Gotta love generically designed accessories!
The honeycomb is completely cut off at the top left corner at the back, where its power input connector and switch is located. As with most new power supplies, the Thermaltake 650W has an automatic full range (100V-240V) AC line voltage selection, so the user does not have to worry about manually selecting input voltage.
Dimensionally, the Toughpower Cable Management is 16cm x 15cm x 8.5cm, which is only 2cm longer than the 'standard' 14cm specification -- of course, most power supplies I've came across lately are 16cm in length and, to be honest, is quite a good size. I've seen much longer in other performance units.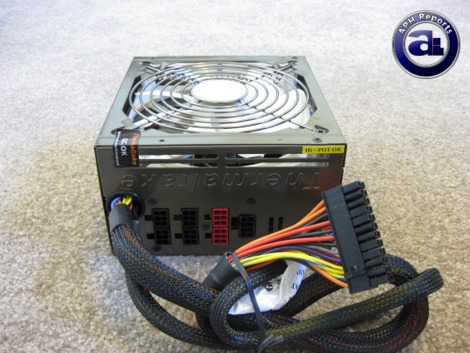 Flipping the Thermaltake Toughpower Cable Management 650W over and turning it around reveals the bottom mounted 140mm fan, and the cable lead-out and modular cable connectors at the back. The 140mm fan (We'll take a closer look at later, when we open the power supply up) resides behind a large, low air resistance 7-ring fan grille, which is fairly standard for keeping fingers away from the fan while maximizing airflow. A Thermaltake logo is placed at the center of the grille. There are four screws attaching the fan grille to the power supply housing, as well as four screws holding the housing together.
A warranty seal is placed over one of the screws holding the housing together. I tried removing it 'very carefully', but trust me, it doesn't work that way. ;) Generally speaking, if you want to open the power supply, you will inevitably damage the warranty seal.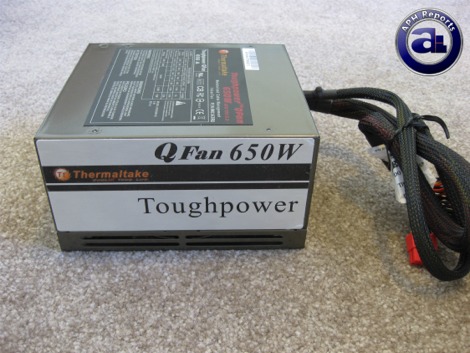 The right side of the power supply unit is a huge Thermaltake Toughpower badge to tell the world you have a Thermaltake Toughpower QFan 650W power supply inside your computer, if you have a windowed case that shows the power supply, that is. I am not a big fan of this, simply because I don't think I'll ever want big bold letters that attracts that much attention to the power supply.
That aside, small air vents are placed on all four sides of the power supply; at the bottom right next to the 140mm cooling fan. This further improves ventilation and better exchange with the environment. I have to admit I am not an expert on airflow physics, but while these vents may improve air exchange and reduce heat congestion, it may cause air pressure downfalls over the critical components because the air brought in could be lost immediately out the side.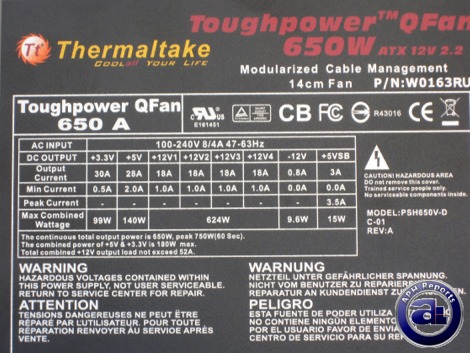 The DC power output table is placed at the top of the unit. The maximum combined power output, as rated by the manufacturer, is 650W continuous (As suggested by the model of this power supply, heh) and 750W burst over 60 seconds. That's plenty of overhead; as some computers may require more power during its initial boot -- for example, hard drives take a lot more power to start than they are in their constant running state. That said, the Thermaltake Toughpower Cable Management 650W is capable of pushing 30A (99W) out its +3.3V rail, 28A at +5V (140W), and total of 624W combined maximum from its virtual quad +12V (18A maximum each for combined 52A). The maximum combined output for the +3.3V and +5V rail is 180W. Again, the maximum continuous output is 650W in total.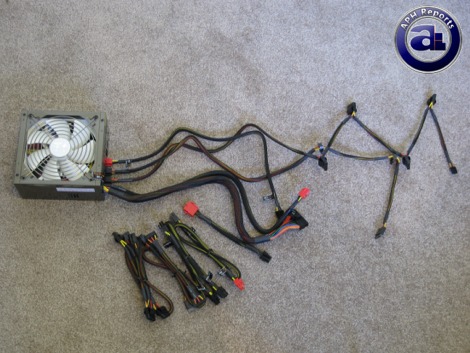 The cables are acceptable in length. There are two cables that are not modular; one is the ATX 24-pin connector, while the second one is, surprisingly, a PCIe 8-pin connector. I didn't quite understand the logic behind this, because all users would have to use the ATX 24-pin and EPS 8-pin/ATX 4-pin connector in a standard configuration, but not all standard configurations require an 8-pin PCIe. Of course, those who purchases this power supply probably has a PCI Express graphics card, but I am pretty sure that they would have a motherboard too (It's rare to see dual power supply configurations). Anyways, as mentioned earlier, the following modular cables are included:
- 1x Motherboard (EPS 8-pin and ATX 4-pin)
- 1x Molex (5 connectors)
- 1x Molex + Floppy (3 Molex connectors and 1 Floppy connector)
- 1x SATA (3 connectors)
- 2x PCIe 6-pin
- 1x PCIe 8-pin to 6-pin adapter
All cables are fully sleeved, which is really good.
---
Page Index
1.
Introduction, Packaging, Specifications
2. Physical Look - Outside
3.
Physical Look - Inside
4.
Minor Tests and Conclusion