By: Jonathan Kwan
July 27, 2008
Wow, time sure flies by. Precisely two months ago, I was still sitting in a classroom, scribbling down notes and preparing for exams. Then there's the excitement of the stuff I have planned for the summer after exams. And of course, I was often found at various car dealerships checking out the latest releases (And of course test driving, which is just my excuse to redline cars) -- that aside, what I'm talking about is that I have this Thermaltake Toughpower Cable Management 650W modular power supply sitting here at APH Networks for the last two months before I even started this report. Historically, I haven't been a big fan of Thermaltake power supplies. I owned quite a few of their cases, which were excellent. But the power supplies, at least back in the days, were low in price but not really the 'tier 1' performance that I'd come to expect. Generally speaking, this power supply didn't capture much of my attention either due to my personal impression. When I finally decided to open it and check what was inside over a month later, and did some research online, it seemed to me that the Toughpower Cable Management 650W offered incredible performance across the board. Was I surprised? Well, yes I was. Let's crack open this power supply and take a look at the physical build of this Channel Well Technology built unit in our report today.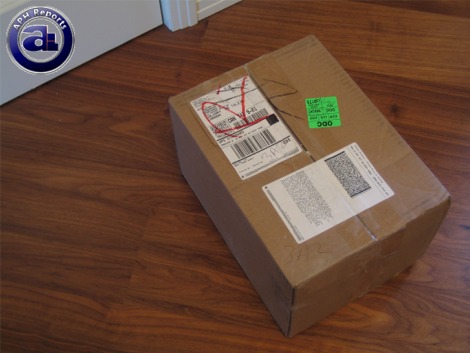 Our unit for examination came in a large brown corrugated cardboard box from Thermaltake's offices in California, USA. Using UPS Standard, everything arrived in perfect condition; thanks to all the foam packing peanuts utilized. Not knowing what to expect in the box at first, a bit of suspense held as I whipped out my knife to cut the packing tape. Then I first laid my eyes on the Thermaltake Toughpower Cable Management 650W power supply.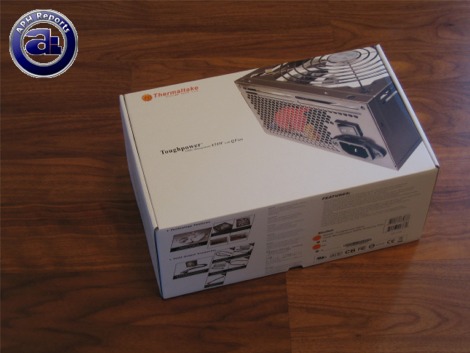 Thermaltake really distinguished itself from the competition with the packaging used. Incorporating one of the cleanest and most modern designs I've seen in a while with a power supply retail box, it's not only visually attractive; but also designed with the end user in mind. Instead of using a small box to cram as much stuff as possible inside, Thermaltake opted for a larger box and allowed tons of spare room for shock protection and laying out the accessories inside. The standard open flap top design compliments the large box and provides convenient access to the contents inside.
Back on the retail box, the clean design incorporates a predominant white background with the Thermaltake logo in the top left corner, model information in the middle, and a large stylistic crop of a stock Toughpower 650W photo. Small images, features, and specifications of this Thermaltake PSU are listed on one of the flaps; while every other side is left mostly blank -- the only thing printed is the model name, and a large Thermaltake logo at the back. I can't say I am not a big fan of the exceptionally clean design.
Before we move on, let's take a look at the specifications of the Thermaltake Toughpower Cable Management 650W power supply, as obtained from Thermaltake's website and edited for clarity:
GENERAL:
- Wattage: 650 Watts
- Fan: 140 mm - Maximum 1900 rpm ± 10%; Air Flow: 82 CFM
- Efficiency : 85% +
- PFC: Active PFC
- Hold-Up Time: 16 ms
- Switches: ATX Logic on-off additional power rocker switch
- Motherboard Connectors: 24-pin Main Connector, 8-pin Power Connector, 4-pin Power Connector
- Power Good Signal: 100-500 ms
- Form Factor: ATX 12V 2.2
- Dimensions: 160 x 150 x 85 mm (L)x(W)x(H)
- Warranty: 5 Years
- Certifications: 80 Plus Certified
AC INPUT:
- Input Voltage: 100 VAC~240 VAC
- Input Current: 115 VAC / 8A max - 230 VAC / 4A max
- Input Frequency Range: 47 ~ 63 Hz
- Inrush Current
- Operating Range
- MTBF: >120,000 hours
- RFI / EMI: CE, CB, TUV, FCC, UL, CUL, BSMI
PROTECTION:
- Over Voltage Protection: +5V trip point @ 7.0 Vmax, +3.3V trip point @ 4.5 Vmax, +12V trip point @15.6 Vmax
- Over Current Protection
- Over Load Protection
- Over Temperature Protection
- Under Voltage Protection
- Short Circuit Protection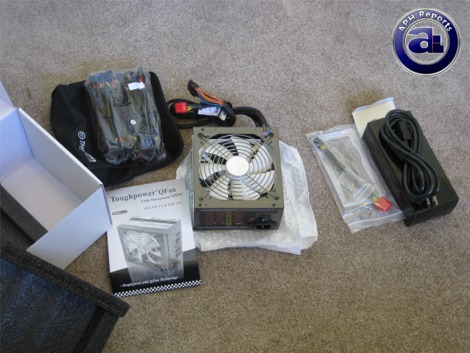 Out of the box, you will receive a Thermaltake Toughpower Cable Management 650W power supply, power cable, anti-vibration rubber bracket, and the following cables for this modular power supply:
- 1x Motherboard (EPS 8-pin and ATX 4-pin)
- 1x Molex (5 connectors)
- 1x Molex + Floppy (3 Molex connectors and 1 Floppy connector)
- 1x SATA (3 connectors)
- 2x PCIe 6-pin
- 1x PCIe 8-pin to 6-pin adapter
Again, everything were very well packaged; and the modular PSU cables are even placed in a nylon pouch with a reusable velcro seal.
---
Page Index
1. Introduction, Packaging, Specifications
2.
Physical Look - Outside
3.
Physical Look - Inside
4.
Minor Tests and Conclusion