By: Jonathan Kwan
January 28, 2022
Ever since the University of Calgary reopened for the fall semester for in-person classes, I would go in a few days a week to work and see some friends. I noticed since the beginning of September there is always a Honda Civic with California license plates that is parked close to where I usually park every day on the way to my office. I told my friends about this, and we collectively and affectionately refer to the supposed owner of the car as "Cali Guy". I got curious as to who Cali Guy actually is at some point, so I printed a friendly greeting note and left it on his windshield with a request for him to respond by also leaving a note on his windshield. Excitingly, I found his car a couple of days later with a note where I expected it to be. Cali Guy seemed amused in his response, and he even included crossword puzzle designed to tell me a bit about who he is upon solving it. The solution to the crossword puzzle revealed enough hints that I was able to find his contact information on the internet. Therefore, I contacted him, and we met up for lunch the week after. He turned out to be a really cool guy, and it was quite a story to tell on how I became friends with him. A lot of times, people ask me how I can meet and have interesting conversations with so many people, and my honest answer is just take the initiative like I did in this story. In the last few years, we have reviewed quite a number of earphones from 1MORE, many of which has received very positive recommendations from us here at APH Networks. One may ask how the company came up with their product portfolio, and their approach may not too different than how I meet friends: Just take the initiative. A little bit over a year ago, I reviewed the 1MORE ColorBuds True Wireless, which I described as a set of "compact and lightweight Bluetooth earphones that deliver great sound and excellent battery life at a very competitive price". Today, we have the ColorBuds 2 True Wireless, which adds active noise canceling to the mix. Will this be an initiative that pays off? Read on to find out!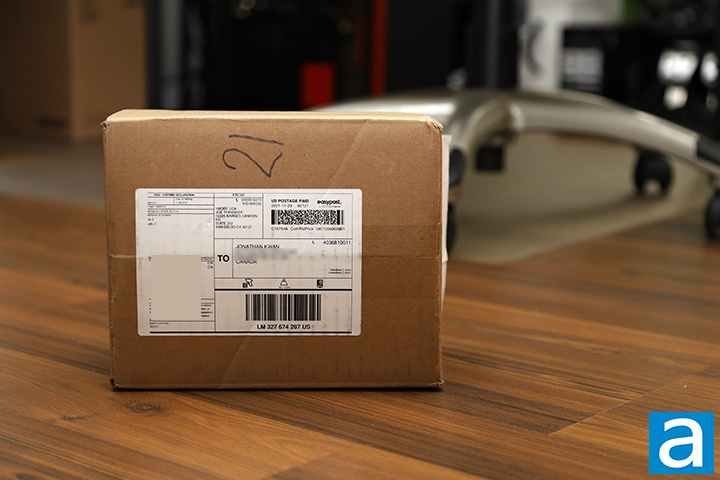 Our review unit of the 1MORE ColorBuds 2 True Wireless came in a small brown corrugated cardboard box from the company's American headquarters in San Diego, California, USA to us here in Calgary, Alberta, Canada. Traveling along with it was the 1MORE ComfoBuds 2 True Wireless reviewed by my colleague Aaron Lai. Using USPS and transferred to Canada Post, everything arrived in perfect condition for our review today.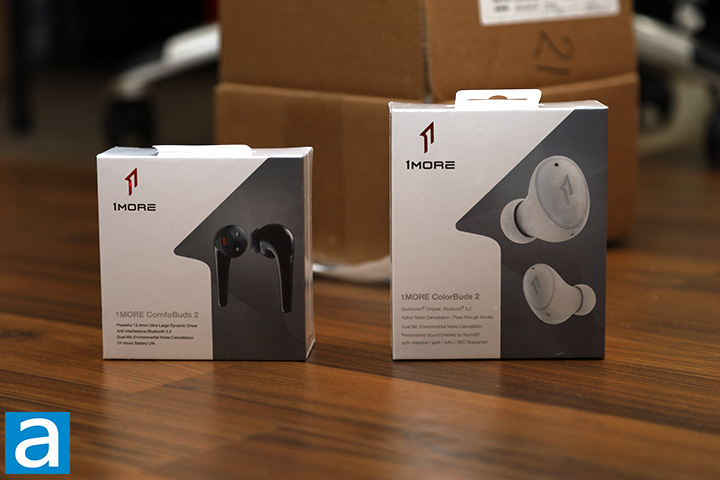 1MORE always had great consumer electronics packaging, and the ColorBuds 2 True Wireless is no exception. The hang packaging looks clean and modern. In the top left corner, you will find 1MORE's logo in the white area. The product name and list of feature highlights can be found at the bottom left corner. A photo of the earbuds in the color it comes in occupies the remaining non-white areas of the box on the right. As you can see, our particular unit is the white version, but you can also get it in black or rose gold. Feature highlights and specifications in multiple languages can be found on the remaining sides of the box.
Before we move on, let us take a look at the specifications of the 1MORE ColorBuds 2 True Wireless, as obtained from the manufacturer's website:
Single Earbud Weight: 4.9g
Charging Case Weight: 34.5g
Gross Weight: 44.3g
Earbud Dimensions: 27 × 21 × 20mm
Charging Case Dimensions: 60 × 30 × 38mm
Single Earbud Battery Capacity: 55 mAh
Charging Case Battery Capacity: 410 mAh
Earbud Charging Time: 70 minutes
Case Charging Time (Wired): aptX / 85 minutes
Playtime (ANC On)
- Earbud Fully Charged: 6 hours
- Case and Earbuds Fully Charged: 18 hours
Playtime (ANC Off)
- Earbud Fully Charged: 8 hours
- Case and Earbuds Fully Charged: 24 hours
Speaker Impedance: 32Ω
Bluetooth Range: 10m (Open Space)
Bluetooth Version: Bluetooth 5.2
Bluetooth Protocols: HFP / A2DP / AVRCP
Input: 5V 1A
Working Temperature: 0 ℃ ~ 45℃
Frequency Range: 2.400 GHz ~ 2.4835 GHz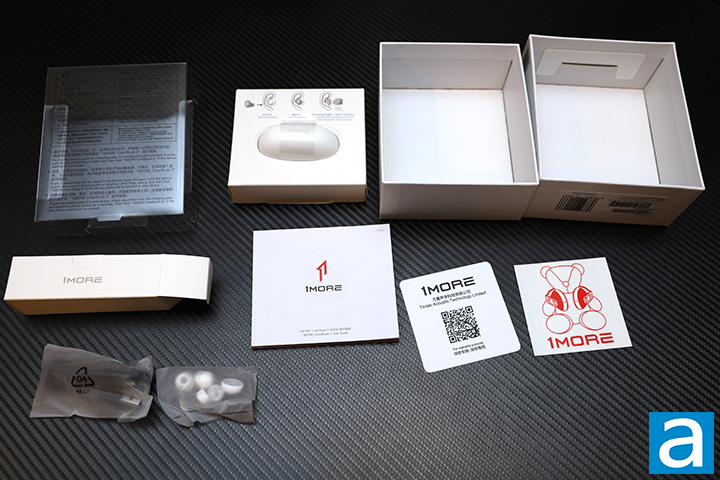 Opening the telescoping box reveals clear plastic cover with usage instructions printed on it. The bundle is quite straightforward as well. What you will get are the earbuds themselves, charging case, three additional earsleeve sizes in addition to the ones already installed, and a USB Type-C to Type-A cable for charging. Product literature included are a user guide in various languages, warranty card, and a sticker. There is no soft microfiber drawstring bag included, which is no different than the original ColorBuds True Wireless, but it is kind of strange because it seems to be a hit-or-miss in terms of which 1MORE products do and which ones do not.
---
Page Index
1. Introduction, Packaging, Specifications
2.
Physical Look - Hardware
3.
Subjective Audio Analysis
4.
Conclusion