By: Aaron Lai
February 4, 2022
I think it is a common saying that you are your harshest critic. This is because people often place a microscope on the things they do, examining and thinking about every detail, while overlooking other people's mistake, whether out of grace or not seeing it. I always notice my own mistakes when playing the electric bass, but most of my friends either do not realize it or disregard it as a big deal. Another example is my girlfriend, who is one of my favorite artists. I will admit I am biased considering our relationship, but I also have grounds for thinking so. For one, I think she is really good at paying attention to the subtle details of what she draws and reproduces these subjects with great precision. I am no art critic, but every time she draws, paints, or works with other mediums, it really amazes me. I also think she is really talented at picking up new forms of art effortlessly. Even with me saying this, she still points out the flaws on things I often have not noticed. Again, this could be the fact that I am biased or not trained in fine arts, but I also think it points back to the fact that we notice our own smallest flaws first and focus on them. When I reviewed the 1MORE ComfoBuds True Wireless last year, there were areas I wanted to see improved, but what really matters is what 1MORE saw as important areas of improvement as well as how they took our criticism. With the second rendition today, how will the 1MORE ComfoBuds 2 True Wireless perform and have they correctly addressed these areas? Let us read on to find out!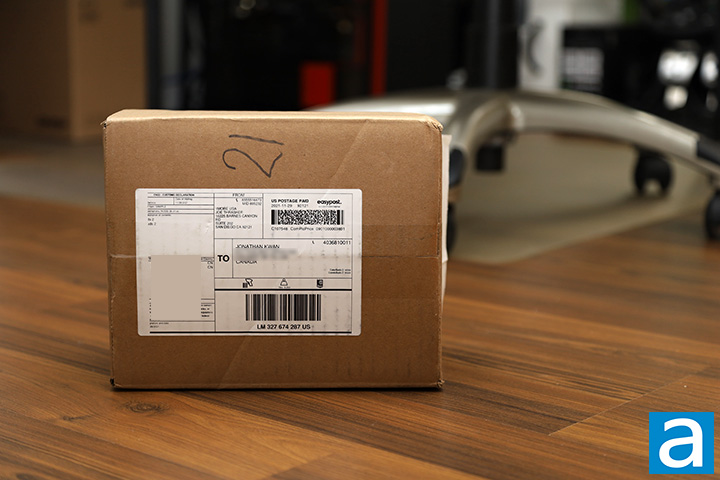 Today's review unit of the 1MORE ComfoBuds 2 True Wireless came from the company's American headquarters in San Diego, California, USA to us here in Calgary, Alberta, Canada. Traveling via USPS and Canada Post, operating in their respective countries, we also received the ColorBuds 2 True Wireless, which was reviewed by my colleague Jonathan Kwan. Otherwise, everything came in a small corrugated cardboard box and arrived in excellent condition for our review.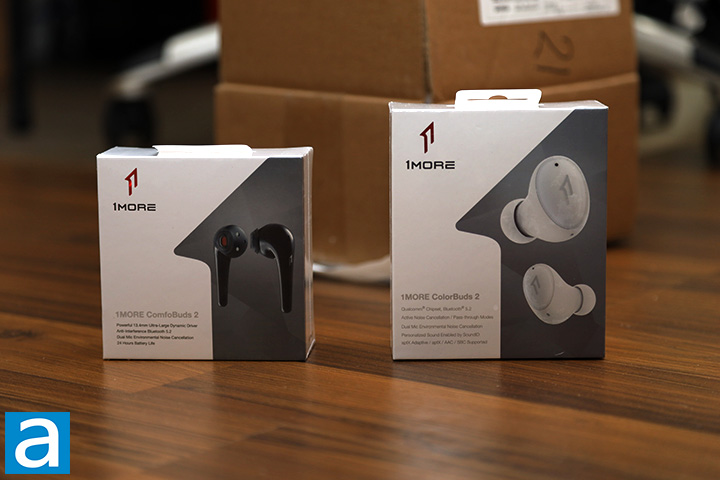 Similar to the last 1MORE true wireless earphones I have reviewed, both of these 1MORE products came in a pretty clean white box. The 1MORE logo can be found on the top left corner, while the product name can be found below. A few features are printed underneath this with the product shown on the right side. You can see our 1MORE ComfoBuds 2 True Wireless are black, but they also come in white. Around the box, we have more features and specifications in other languages as well as some certification information for regulation purposes. Otherwise, the box is simple and opens up by sliding the top off the bottom.
Before we continue on, I have grabbed the specifications from the manufacturer's website for your perusal:
Model: ES303
Earbud Weight (Single): 4.3g
Case Weight: 26.9g
Gross Weight: 36.5g
Earbud Dimensions: 39.36 × 17.96 × 19.2 mm
Case Dimensions: 68.8 × 30 × 26.4 mm
Earbud Battery Capacity (Single): 43mAh
Case Battery Capacity: 410mAh
Earbuds Charging Time: Approx. 40 mins
Case Charging Time: Approx. 80 mins
Playtime
- Earbuds Fully Charged, Music Playback: 6 hours
- Case and Earbuds Fully Charged, Music Playback: 24 hours
Speaker Impedance: 28 Ω
Bluetooth Range: 10m (Open space)
Bluetooth Version: Bluetooth® 5.2
Bluetooth Protocols: HFP / A2DP / AVRCP
Input: 5V 1A
Working Temperature: 0 ℃ ~ 45 ℃
Frequency Range: 2.400 GHz ~ 2.4835 GHz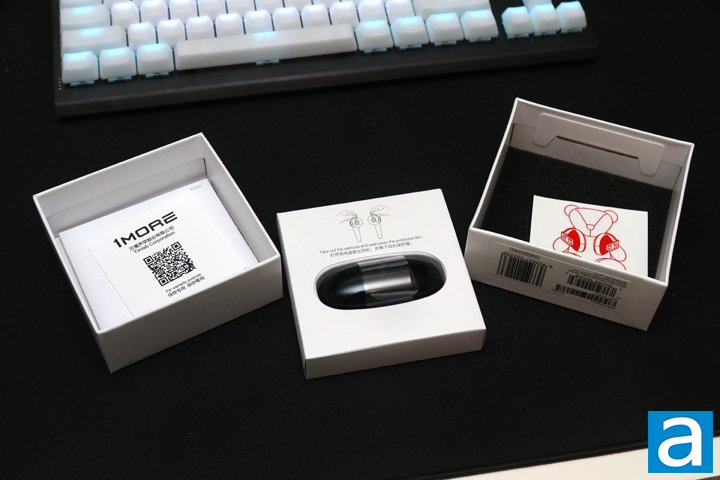 Out of the box, we have the 1MORE ComfoBuds 2 True Wireless held in a white cardboard and plastic frame. Inside this frame, we have a few accessories, including a small USB Type-C to Type-A cable for charging and an extra set of ear tips to swap the size of the ComfoBuds 2. Some additional documentation can be found inside, which includes a quick start guide, warranty information, and a 1MORE sticker. Otherwise, there is not much else to this box, so let us take a closer look at the true wireless earbuds themselves.
---
Page Index
1. Introduction, Packaging, Specifications
2.
A Closer Look - Hardware and Software
3.
Subjective Audio Analysis
4.
Conclusion