By: Aaron Lai
May 28, 2021
With the NHL playoffs in full swing, this year has been pretty interesting. I easily lost track of how teams in other divisions were performing despite the condensed season with less games and localized divisions. Prior to this year, most NHL seasons had every team playing everyone else at least once, which involves quite a bit of traveling for everyone. However, the closure of borders between Canada and United States meant changes were incoming. The result was that every team was divided up into divisions that only played each other. During this season, I learned more than I wanted to know about the Toronto Maple Leafs, although this is par for the course when it comes to any team from the "center of the universe". In the same vein, I could not tell you much about the American teams. In some ways, I sort of like this format of the NHL season, as it featured many long series with one specific team, akin to the playoffs. This sort of perspective switch can be refreshing, but it really is only so because I have seen a more typical regular season, so I now understand the position from both sides. In a similar way, today we have the 1MORE ComfoBuds True Wireless earphones. I have taken a look at my fair share of true wireless earphones, but this is the first one I have reviewed that are not in-ear monitors but instead are regular, non-noise isolating earbuds. How do these 1MORE ComfoBuds perform, and what can I appreciate from this different design? Let us read on to find out!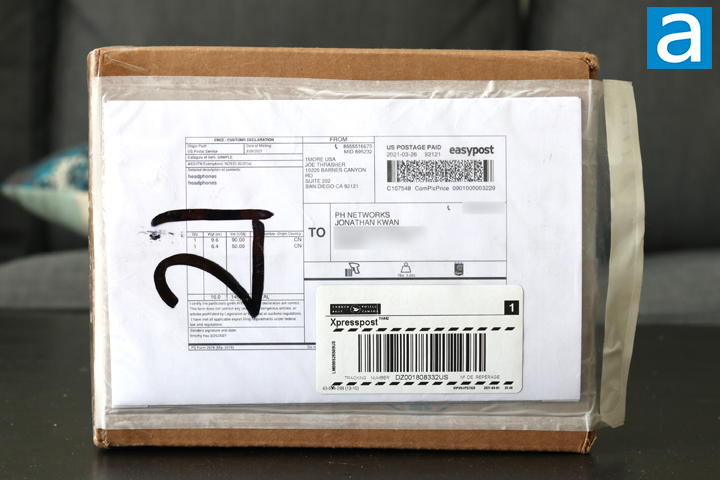 Today's review unit of the 1MORE ComfoBuds True Wireless arrived in a small corrugated cardboard box. Traveling with USPS' First Class International Priority service and Canada Post, operating in their respective countries, this box arrived in great condition with no real issues. Along with the ComfoBuds True Wireless, 1MORE also sent us their Pro version of these earphones. I will be taking a look at those as well in the coming weeks. Otherwise, there was also some packing pockets internally to ensure the products arrived in good condition.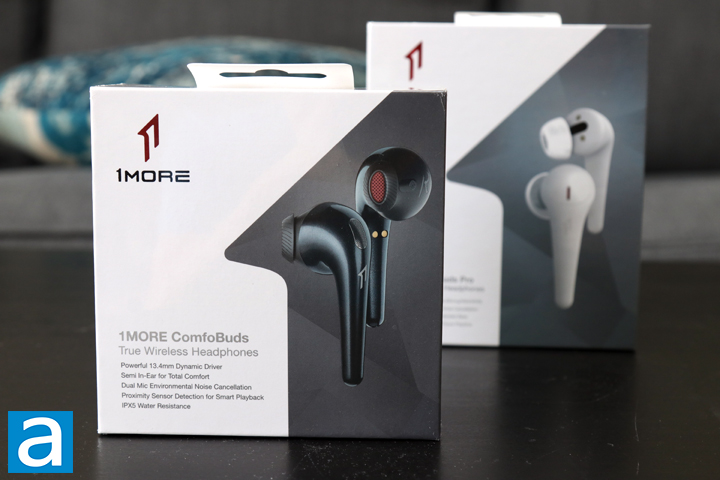 We have reviewed a few of 1MORE's audio products in the past, and the ComfoBuds True Wireless we have today come in a relatively simple packaging. The front shows off the product in a scaled-up size. The white background is contrasted with a gray patterned cutout that matches 1MORE's logo. The front shows off the product name, as well as some important features of the ComfoBuds. Around the box, we have a few other features highlighted in English, Chinese, and other languages. More specifications can be found at the back of the box. While we have received the black version of their ComfoBuds True Wireless, this also comes in white.
If you are interested, I have grabbed the specifications from the manufacturer for your perusal:
Model: ESS3001T
Earbud Weight: 3.8 g
Case Weight: 28.9 g
Gross Weight: 36.5 g
Earbud Dimensions: 39.25 x 17.92 x 18.7 mm
Case Dimensions: 68.7 x 30 x 25 mm
Earbud Battery Capacity: 35 mAh
Case Battery Capacity: 410 mAh
Earbuds Charging Time: 85 Mins
Case Charging Time: 80 Mins
Audio Format: AAC / SBC
Playtime
- Earbuds Fully Charged - Music Playtime: 4 Hours
- Earbuds and Case Fully Charged - Music Playtime: 18 Hours
Speaker Impedance: 30 Ω
Bluetooth Range: 10 m
Bluetooth: Bluetooth® 5.0
Bluetooth Protocols: HFP / A2DP / AVRCP
Input: 5V 0.5A
Working Temperature: 0 ℃ ~ 45 ℃
Frequency Range: 2.400 GHz ~ 2.4835 GHz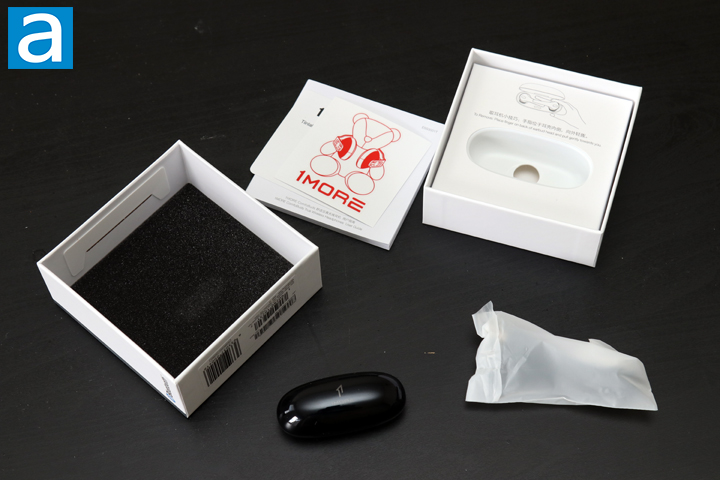 The compact packaging of the 1MORE ComfoBuds True Wireless show how small the product truly is. The ComfoBuds can be found stored inside the carrying case and in the middle of a white plastic shell. Underneath, we have a small USB Type-C to Type-A cable for charging the case, as well as some documentation. We also have a 1MORE bear sticker. Otherwise, let us take a closer look at the 1MORE ComfoBuds True Wireless.
---
Page Index
1. Introduction, Packaging, Specifications
2.
A Closer Look - Hardware and Software
3.
Subjective Audio Analysis
4.
Conclusion