By: Aaron Lai
June 11, 2021
I was perusing Instagram when one ad about a local telecommunications company sponsoring a gaming tournament popped up in my feed. According to their advertisement, this was for Rocket League, a video game that collides racing with football, or soccer for my American friends, in a three-on-three match. The interesting thing to me was the fact they were holding this tournament for both casual and professional gamers. I did not read too much further, but I had to wonder what sort of criteria they use to differentiate between a casual and a professional. I presume it would involve not being linked or signed to any esports team, but there are also many amateur teams that exist. However, if someone has been playing the game for hours on end, like a streamer might, would they still be considered an amateur? I guess the real question at hand is to ask what makes a person a professional at their occupation, whether it involves a designation or not. Similarly, when you place a name like "Pro" on your product, there must be a particular reason. We have seen this with many products from other brands like Apple, ASUS, Microsoft, OnePlus, and more. When 1MORE sent us both their ComfoBuds and ComfoBuds Pro, I had to ask the same question: What makes the latter deserving of the "Pro" name? We will be answering this question and others in our review today, so be sure to read on to find out!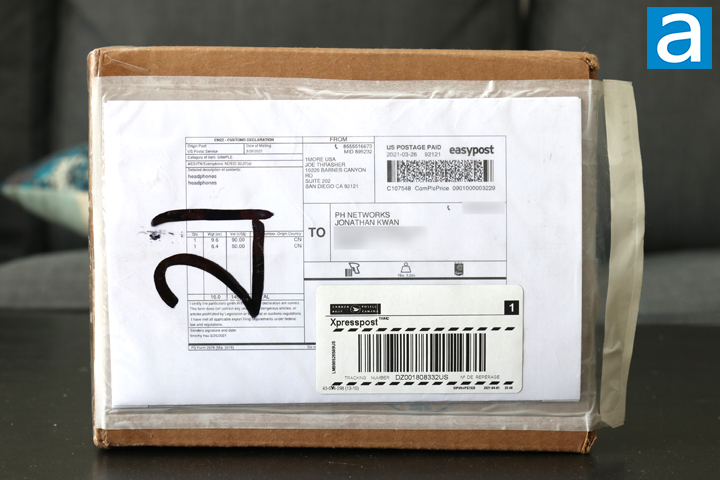 Today's review unit of the 1MORE ComfoBuds Pro True Wireless arrived in a small corrugated cardboard box. This traveled with both USPS' First Class International Priority and Canada Post, operating in their respective countries. It arrived in great condition with no real issues. Along with the ComfoBuds Pro True Wireless, 1MORE also sent us their vanilla ComfoBuds True Wireless, which I have already covered. Otherwise, there was also some packing pockets internally to ensure the products arrived in good condition.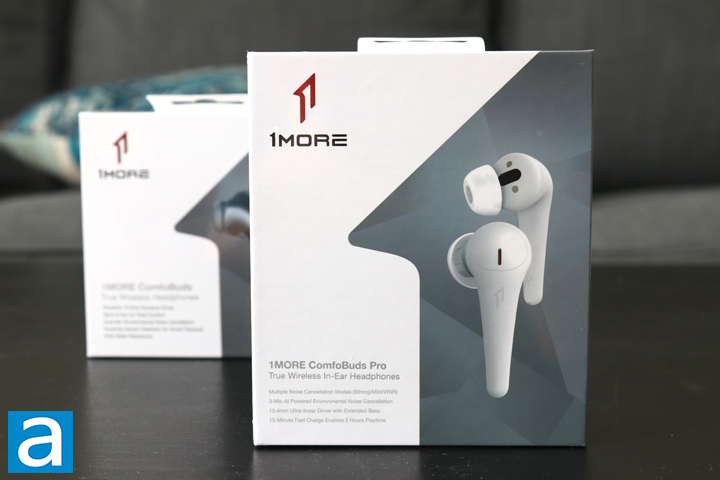 If the 1MORE ComfoBuds Pro True Wireless' retail packaging looks very familiar, it is because it is practically the same as the non-Pro version, at least when it comes to the appearance. The 1MORE logo can be found on the top left corner, while the earphones can be found on the right side in a slightly scaled up image. The product name can be found on the bottom left corner with a few notable features like its three active noise cancellation modes, environmental noise cancellation microphones, 13.4mm drivers, and fast charging capabilities. We will explore these features, and more, later in our review.
If you are interested, I have grabbed the specifications from the manufacturer for your viewing pleasure:
Single Earbud Weight: 5.2 g
Case Weight: 40 g
Gross Weight: 50.4 g
Earbud Dimensions: 42 x 23.95 x 20.93 mm
Case Dimensions: 80 x 37.5 x 30 mm
Single Earbud Battery Capacity: 50 mAh
Case Battery Capacity: 450 mAh
Earbuds Charging Time: 1 Hour
Case Charging Time: 2 Hours
Playtime* (ANC On)
- Earbud Fully Charged: 6Hours
- Case and Earbuds Fully Charged: 20 Hours
Playtime (ANC Off)
- Earbud Fully Charged: 8 Hours
- Case and Earbuds Fully Charged: 28 Hours
Speaker Impedance: 32 Ω
Bluetooth Range: 10 m (Open Space)
Bluetooth Version: Bluetooth® 5.0
Bluetooth Protocols: HFP / A2DP / AVRCP
Input: 5V 1A
Working Temperature: 0 ℃ ~ 45 ℃
Frequency Range: 2.400 GHz ~ 2.4835 GHz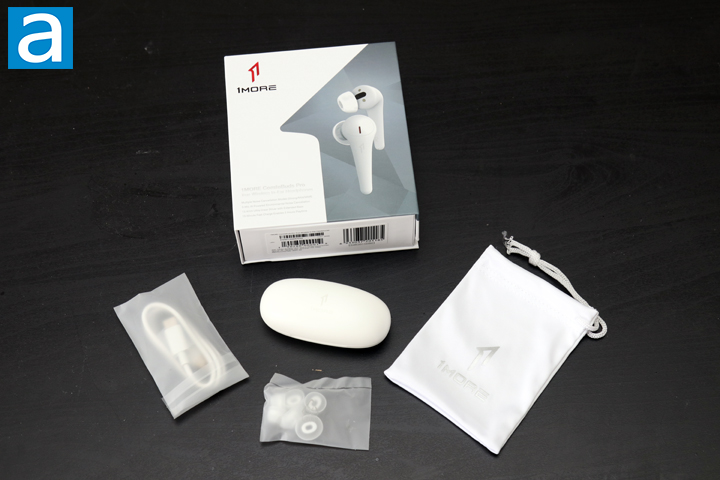 To open up the 1MORE ComfoBuds Pro True Wireless retail container, you can flap open the right side and open it like a book. This flap is held with a magnet inside the box. Once inside, the ComfoBuds Pro can be found in the middle of a white plastic shell. Inside the plastic shell box is a small USB Type-C to Type-A cable for charging, small bag containing extra ear tips, and a white fabric carrying case. Some documentation with a 1MORE bear sticker is available that includes a quick start guide and more information in multiple languages.
---
Page Index
1. Introduction, Packaging, Specifications
2.
Physical Look - Hardware
3.
Subjective Audio Analysis
4.
Conclusion