Page 2 - Physical Look - Hardware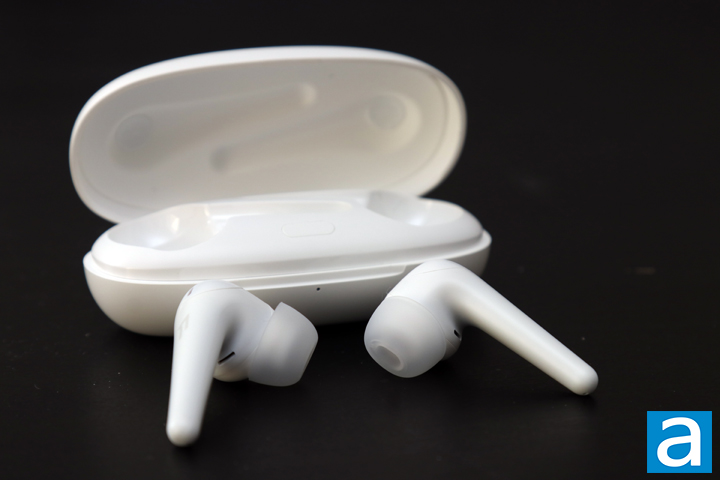 Upon initial inspection of the 1MORE ComfoBuds Pro True Wireless, there are some notable aspects that take it a level above the original ComfoBuds True Wireless. For one, these are notably thicker with its bulkier body and stems. It does come in a similar shape to make its overall body more stretched out compared to other more bean-like in-ear monitors. Secondly, the vanilla ComfoBuds used a glossy plastic around the entire exterior, but the Pro version trades this out for a matte finish. The result is that I did not see any handling marks or fingerprints after use. As a whole, the two earphones weigh approximately 5.2g per side. Even though this is comparable to other true wireless earphones, the elongated body make them feel light. When I wore them, the thicker body was comparatively more noticeable than the original ComfoBuds, but they still felt unobtrusive overall.
When it comes to the controls, the 1MORE ComfoBuds Pro True Wireless use a touch interface with a combination of taps and holds on each side. The whole body, including the stem, responds to touch based on double or triple taps, as well as a tap and hold action. By default, a double tap on both sides is used to play or pause music. These can also be used to accept and hang-up calls. Meanwhile, triple tapping the left side and right side goes to the previous track and next track, respectively. Tapping and holding lets you cycle through the different active noise cancellation modes, including Strong and Passthrough, as well as deactivating it. If you use the 1MORE MUSIC app, you can also change the tap actions and ANC modes, but I will go over these later in our review. Otherwise, these touch controls worked well and much better than the original ComfoBuds. There were less false positives when making actions and better recognition when intentionally executing actions.
Internally, the 1MORE ComfoBuds Pro True Wireless use Bluetooth 5.0 to connect to devices, which is typical for true wireless earphones. Supported codecs of the ComfoBuds Pro True Wireless include SBC and AAC. SBC, or Subband Coding, is the default Bluetooth audio codec with decent audio quality and low processing power requirements. This codec maxes out at 328 kbps. AAC, or Advanced Audio Coding, is preferred by Apple's devices and their iPhones, and maxes out at 250 kbps. Despite having a lower maximum bitrate, AAC is still known to offer better sound quality. We do not have Qualcomm's aptX codec implemented here however, which offers even higher bitrates. While I can forgive this omission from the 1MORE ComfoBuds True Wireless, I think this is less excusable for the Pro edition.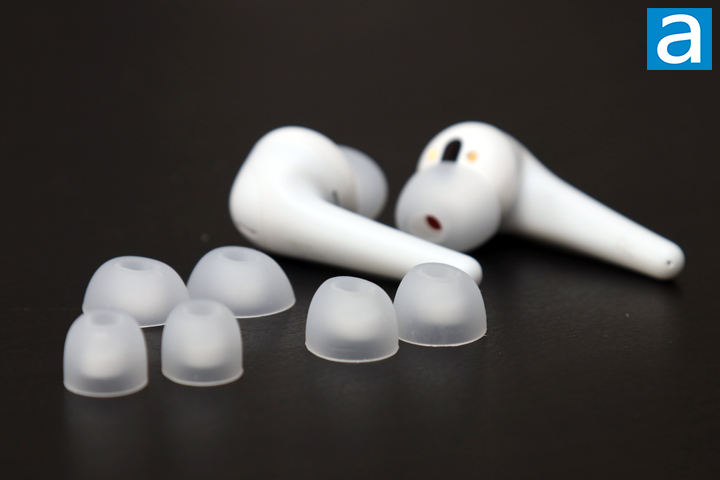 Unsurprisingly, if I said the original ComfoBuds reminded me of Apple AirPods, then the ComfoBuds Pro give me AirPods Pro vibes, primarily because this is an in-ear monitor. This offers greater isolation with a good seal created between the earphones and the ear canal. With the rubber heads and design of the ComfoBuds Pro, you can see this directs the 13.4mm drivers into your ear canal. Unfortunately, 1MORE did not provide frequency response range numbers, but we do know these earphones have an internal impedance of 32 ohms, which is slightly higher than the ComfoBuds True Wireless. Otherwise, 1MORE included a total of four different sized ear tips to provide a better fit for different users. Moving forward, these earphones have an ingress protection of IPX4, which translates into protection from "water splashing against the enclosure from any direction." This is a slightly lower ingress protection than the original ComfoBuds, but they should be sealed off from sweat or rain and be suitable for athletic use, whether indoors or outdoors. However, I would again not recommend any water sports with these earphones.
On each side of the 1MORE ComfoBuds Pro True Wireless are two pogo pins to charge each side. The stem is marked with a L or R to show the intended side. There is a small black glossy pad near the drivers and this is used to detect if users have the earbuds in their ears or not. When they are removed from your ear, you will notice your music will pause until you put the ComfoBuds Pro back in your ear. This automatic play and pause can be disabled in the app if you like, but I used this feature quite a bit. Around each side of the true wireless earphones, we have three microphones for a total of six. The intention is to ensure environmental noises like wind or traffic noises are suppressed while your voice remains clear when you are in a phone call. We will see how the microphone performs later in our review.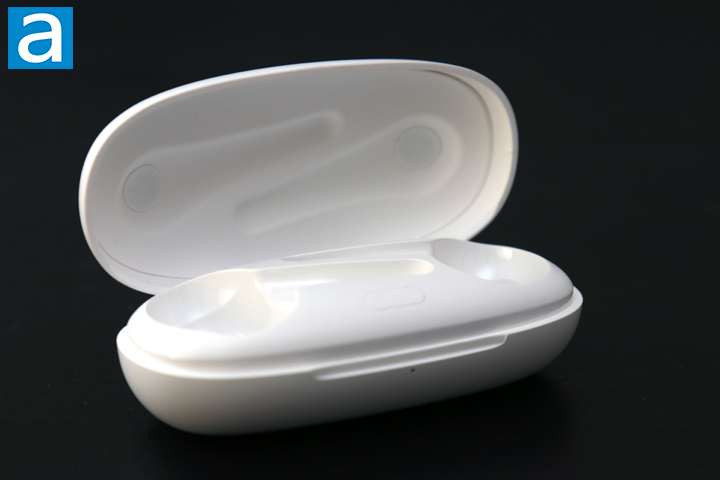 With a matte-like finish on the ComfoBuds Pro True Wireless, it is no surprise the carrying case uses the same finish. This enclosure doubles as a charging place for the headphones. When it is closed, it measures 80mm in length, 37.5mm in width, and 30mm in height. This rounded tube is larger than the original ComfoBuds case, but it still is easy to slip inside your pockets, especially with its contoured curves. With a weight of 40g, this is a light case to throw into your bag and forget about it. The whole shell is held with magnets but opens and closes like a clam. On the front, there is a single multi-color LED to indicate the battery life. This turns on upon opening the case or when it is plugged in. The light is green when you have full battery, yellow in between, and red when it is low. On the back, we have a USB Type-C input for charging purposes. I think it would have been nice to see wireless charging included into the case.
As the 1MORE ComfoBuds Pro have no exposed wires, the case and both sides have internal lithium polymer batteries. Each ear has 50mAh batteries, while the case carries a 450mAh battery. 1MORE provided two estimates of numbers, depending on if the active noise cancellation is active or not. With ANC on, they gave estimates of 6 hours of playback combined with 14 more hours for a total of 20 hours of a fully charged case and headphones. With ANC off, these numbers increased to 8 and 28, respectively. This is still not the longest life we have seen, but it is still a marked improvement over the original ComfoBuds as well as other 1MORE true wireless earphones like the ColorBuds or True Wireless ANC. When you end up running low on energy, the earphones will emit a tone to indicate the low battery life. In addition, my phone reported the battery life of the earphones in the notification settings.
Much like other 1MORE true wireless earbuds, the ComfoBuds Pro True Wireless have a pretty fast pairing process. This starts with a button found inside the carrying case. For initial pairing, both sides must be plugged into the case and you can press the button. Once your phone finds the ComfoBuds Pro and connects, the earphones will always remember the mobile device. Afterwards, every time you open the case, the 1MORE ComfoBuds Pro True Wireless will automatically connect to the last device. There is a bit more of a delay when powering these on compared to the original ComfoBuds, but it still is pretty quick.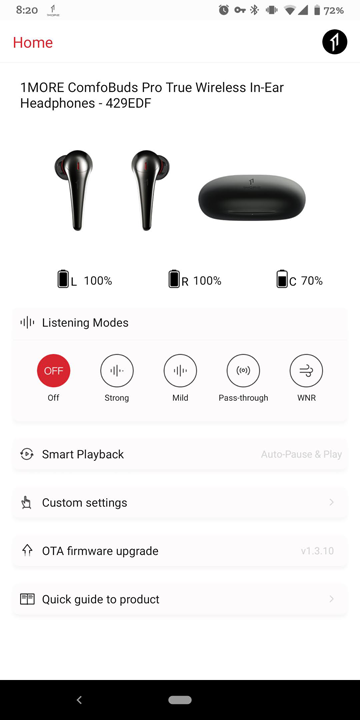 The 1MORE MUSIC application is available on the Google Play Store and the Apple App Store. On the main page, the app reports your battery life for each ear as well as the case. It offers a basic amount of customization. At the top, we have extra noise cancellation modes. With the app, you can also set the noise cancellation to Mild or Wind Noise Reduction, or WNR for short, for varying amounts of noise cancellation. Otherwise, you can modify the automatic play and pause functionality as well as the tap actions. This lets you reassign the actions to change the volume or activate your voice assistant. Furthermore, you can also update the firmware for the earbuds. There were some annoyances with the app, including the fact it needed Location permissions for some reason. In addition, every time I opened the app, it would go through the quick start guide for pairing and using the ComfoBuds Pro True Wireless, which seemed unnecessary. There are also no equalizer settings. Finally, I noticed my phone battery drained faster with the app installed, as 1MORE MUSIC continued to run in the background.
---
Page Index
1.
Introduction, Packaging, Specifications
2. Physical Look - Hardware
3.
Subjective Audio Analysis
4.
Conclusion