Page 2 - A Closer Look - Hardware and Software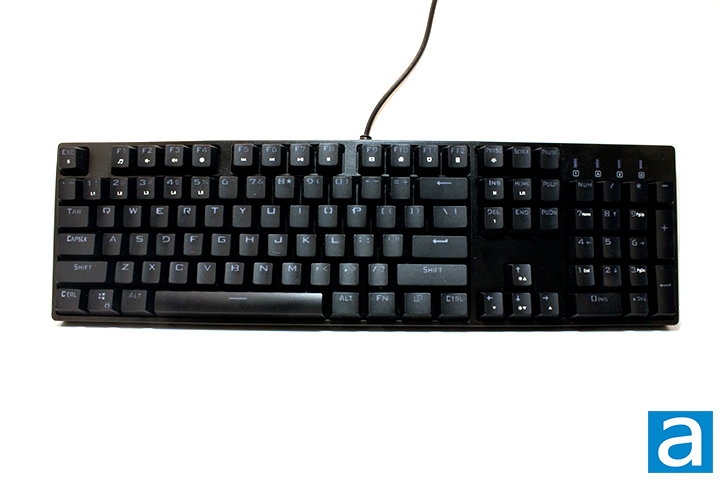 The look of the 1STPLAYER DK 5.0 is fairly standard compared to many other keyboards with a typical all-black exterior and small portion of branding at the bottom right edge. The clean design of the keyboard does not set it apart from other keyboards, which is good in my opinion. Keeping the design likewise to many other keyboards works just fine, as there is no point in fixing something that is not broken. The keyboard generally looks very clean with a minimalist design. I personally love minimalism, as all the space on this keyboard has some form of functionality. Some other keyboards do have a wrist rest to aid and support the typing experience, but unfortunately, the DK 5.0 does not come with a wrist rest. After typing for a long period of time, it would be very handy to have a place to rest my palms.
The 1STPLAYER DK 5.0 measures in at 439 mm width, 128 mm depth, and 38 mm height. Compared to other full-sized keyboards, the DK 5.0 is average in size. In terms of mass, this keyboard weighs in at about 1.1kg, which is also average for a keyboard of this size. Going into the build quality, this keyboard does have a small bit of flex when pressing into the keyboard, but it is not enough to be noticeable in general use. Although the keyboard's exterior is made fully out of plastic, the build is quite rigid. I tried to twist the DK 5.0, but the keyboard would not budge, which is a huge plus when considering the exterior is made entirely out of plastic. The build quality of this keyboard is more than satisfactory for general use and performance, so there are no worries for me in terms of durability.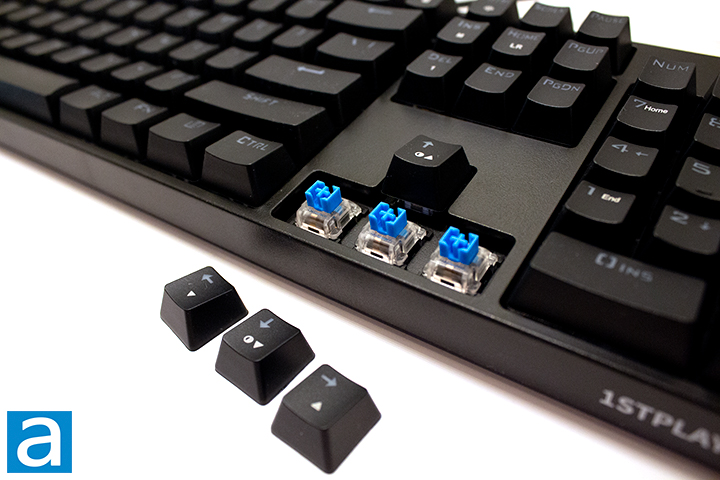 The 1STPLAYER DK 5.0 comes with the standard 104-key QWERTY ANSI layout. The QWERTY ANSI layout is the standard American keyboard layout, which uses the single row Enter key, as seen in the image above. The keyboard has a standard bottom row, meaning that all keys on the bottom row are the same size, excluding the space bar. Moving to the top right side of the keyboard, we find the indicator LEDs. From left to right, there are four indicator LEDs for Number Lock, Caps Lock, Scroll Lock, and Windows lock, respectively. The font looks fairly regular, but some of the letters and numbers look incomplete and leave a small gap as seen on keys like 6, 8, and 9. The font does seem to look intentionally done, but personally I would have preferred having completed letters and numbers.
If you are unfamiliar with different types of keycaps, most keycaps are made out of acrylonitrile butadiene styrene, or ABS, plastic. The 1STPLAYER DK 5.0 is no different. These keycaps are made out of a softer plastic and can get shiny over time, unlike the superior but costlier PBT plastic. As such, these keycaps have a smoother texture to them. Typing on these keycaps feel just fine and will be sufficient for most users, but those who appreciate the hardness of PBT keycaps will need to look elsewhere.
Onward to the secondary functions located on the top Function row, all these functions can be activated using the Fn key positioned next to the right Alt key. Starting from F1, this key opens a music player. F2 to F4 control volume up, volume down, and mute/unmute. F5 to F8 are Previous, Next, Play/Pause, and Stop, in that respective order. F9 to F12 opens different applications like your default E-mail, the Internet browser, File Explorer, and Calculator, respectively. It is good to see controls like media and volume controls as well as some application shortcuts. We will go into how to use the Fn key to change the RGB backlighting settings shortly.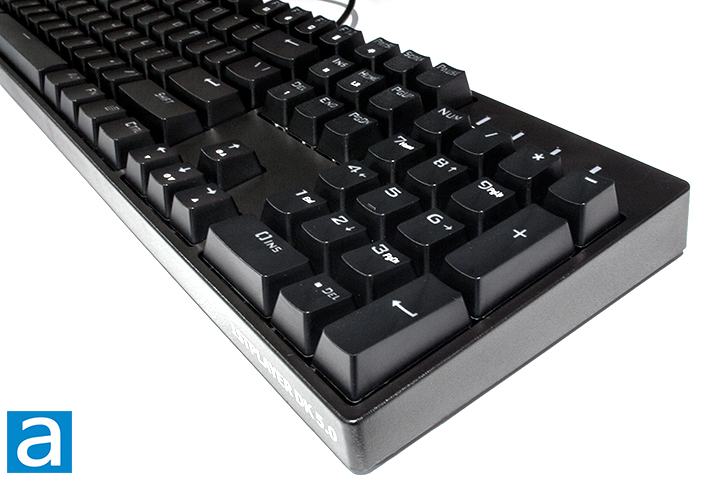 Moving to key rollover, the 1STPLAYER DK 5.0 has full N-key rollover, meaning every single key pressed will register, even if they are all pressed simultaneously. This means there will be no ghosting issues, where some keys may not be registered. Gamers and fast typists who have fast actions per minute or words per minute will benefit from this, as it will allow more keys to be recognized at the same time.
The 1STPLAYER DK 5.0 features Outemu Blue switches, which are designed to be a clone of the Cherry MX Blue switch. I have grown to like them over time, especially if you come from non-mechanical keyboards. These have a 4mm travel distance and a 2.2mm distance to the actuation point. Unlike the real Cherry variant, this switch has an actuation force of 60g. As this keyboard is mechanical, the switches are much more solid compare to membrane keyboards. These Outemu Blue switches have a smoother and more tactile feel to them, letting me know I have pressed a key. Even though this keyboard is being marketed as a gaming keyboard, these switches are much more suitable for a typist as the audible and tactile feedback is useful to them. Gamers generally prefer a lower force, linear switch like the Cherry MX Red, as they can be actuated faster. I had a chance to try other mechanical keyboards here at APH Networks for comparison. Going back to the Outemu Blue switches, there is a small variance between genuine Cherry MX Blue switches that makes the genuine Cherry switches feel better, but these Outemu switches are still a good alternative.
As mentioned previously, this keyboard has a very minimal amount of flex, which is great. During operation, you will be able to clearly hear the Outemu Blue switches with the addition of a spring noise. This noise is not due to the switches, but rather from the inner frame of the keyboard. This high-pitched twang can be replicated by tapping any surface of the keyboard with a bit of force. For me, it felt like once I heard it, I could not unhear it. Depending on the user, this could become quite annoying.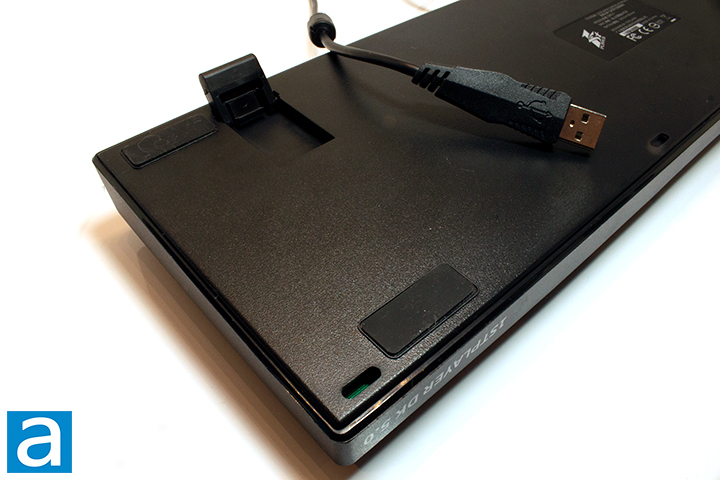 At the back of the 1STPLAYER DK 5.0 is the USB cable. It comes out in the center and is fixed. This rubber cable is very thick and extends to about 1.5m in length to connect to your computer using a regular USB connector. Personally, I would have preferred if the cable was braided as a braided cable adds to the durability and integrity of the cable itself.
On the bottom, there is some additional information about the keyboard as well as the serial number to identify your 1STPLAYER DK 5.0. There are four rubber feet on the corners of the keyboard to help keep the keyboard in place. There are also some extending feet with rubber tips on it to prevent your keyboard from sliding. There is nothing too special about the bottom of this keyboard with no cable guide.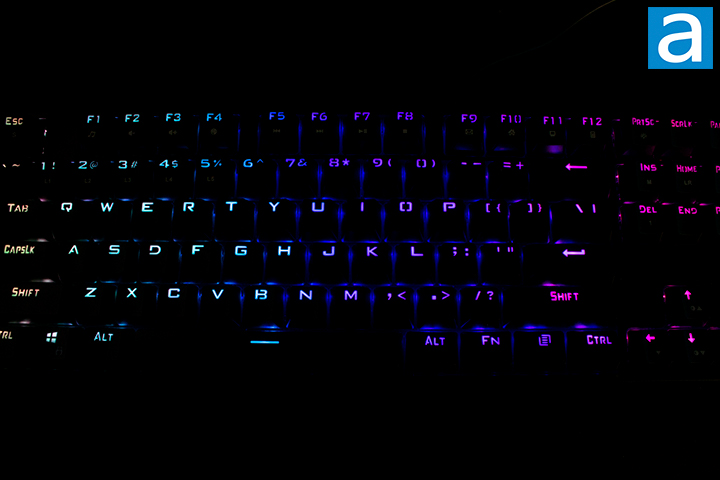 Once you turn off the lights and activate the 1STPLAYER DK 5.0's RGB backlighting, the keyboard shines beautifully. The font is large and bold. Using the Function key with the Insert, Delete, Print Screen, and arrow keys, you can manually control the different patterns, colors, speed, and brightness options. The manual goes into further depths on what each key does. The Insert key combination deals with the RGB patterns. You are able to change between seven colors and an eye sore of randomness by using the Delete key combination. For the people who do not prefer backlighting, you can simply turn it off by using the Function + Print Screen combination.
The backlight can either be turned off completely as previously mentioned or set to one of four different brightness levels. To change the brightness levels, you can press the Fn key and combine it with the up and down arrows. I personally enjoy fully backlit keyboards, as they make working at night a little easier, so I am glad to see the addition of this feature on the 1STPLAYER DK 5.0. The DK 5.0's key illumination distribution is relatively even compared to other keyboards. The area between the keys are also backlit because of the reflections given off of the LEDs, but will go unnoticed at extreme angles, as the DK 5.0 has a low profile design. Generally speaking, the lighting on this keyboard is very pleasant.
---
Page Index
1.
Introduction, Packaging, Specifications
2. A Closer Look - Hardware and Software
3.
Conclusion