By: Jonah Chow
July 8, 2022
A few months ago, in the introduction of the XPG Atom 50 1TB review, my colleague Jonathan Kwan talked about what was unnecessary. But what makes something necessary? When it comes to movies, you could say that there are many sequels out there that are unnecessary and only serve to be cash grabs due to their predecessor's success. I have talked about movies like Terminator 2: Judgement Day in the Corsair 5000D review and why it was a great sequel. Was it a necessary sequel though? Was it a story that needed to be told? The answer, to put it simply, is yes. While the first movie is an excellent thriller about a woman protecting her unborn child who is destined to be mankind's last hope against the Terminator, the second movie addresses simply stopping the first Terminator will not stop their attempts to win the war. The second movie smartly centers around John Connor himself, the man who is actually mankind's last hope. It also deals with the main cast working to stop the Skynet from actually being formed, permanently stopping the Terminators from existing. To summarize, it improves on the first movie by adding content and being a story that was actually worth telling. Today, we have the Antec DF800 FLUX, which is basically a direct sequel to the Antec DF700 FLUX reviewed a year ago by my colleague Jadon Lee. Is the DF800 FLUX a necessary sequel to its predecessor? Let us read on to find out!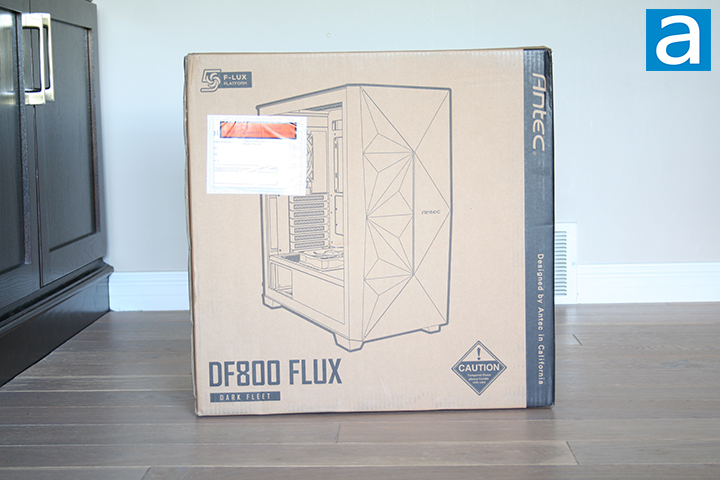 The Antec DF800 FLUX arrived via Purolator Ground from Amazon's distribution warehouse in Vancouver, BC, Canada. This box served its purpose of being both the shipping and retail package. The box arrived in good condition with no significant scratches or scuffs. I think Purolator did a good job as the case made it here in one piece. The front of the box contains an image of the chassis, showing the left and front sides. The Antec logo is printed on the top-right side of the box. while the DF800 FLUX name can be seen on the bottom left side just below the case image. The text "Dark Fleet" is seen just below. A caution label can also be seen on the right side cautioning users to handle the tempered glass with care. Specifications can be found on the side and back for retail customers to view before purchasing.
Speaking of which, here are the manufacturer specifications of the DF800 FLUX from Antec's website:
Case Specification
Dimensions: 479 x 220 x 488 mm (DWH)
Form Factor: Mid tower
Materials: Steel + Plastic
Mainboard Support: ATX, Micro-ATX, Mini-ITX
Front Access & Controls: Power, LED Control Button, 2 x USB3.0, MIC/HD-AUDIO
Side Panel: 4mm Tempered Glass Side Panel
Expansion & Drive Bays
Expansion Slots: 7
3.5" /2.5": 3/2
2.5": 3
Fan
Front: 3 x 120mm / 3 x 140mm
Top: 3 x 120mm / 2 x 140mm
Power Supply Shroud: 2 x 120mm
Rear: 1 x 120mm
Included Fan(s): 3 x 120mm ARGB fans in front, 1 x 120mm fan (Reverse Fan) on PSU shroud & 1 x 120mm fan in rear
Radiator Support
Front Radiator: 120 / 240 / 280 / 360mm
Top Radiator: 120 / 240 / 280 / 360mm
Rear Radiator: 120mm
Clearance
Max GPU Length: ≤ 405mm
Max CPU Cooler Height: ≤ 175mm
Max PSU Length: ≤ 205mm
Miscellaneous
Dust Filter: Top / Bottom / Right Hand Side
Net Weight: 7.58 kg
Gross Weight: 8.70 kg
Warranty: 2
UPC#: 0-761345-80081-5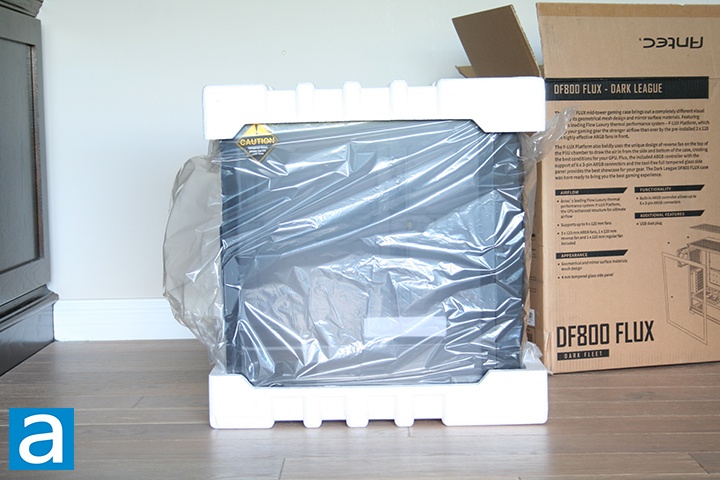 Two Styrofoam blocks are used to pad the case inside the packaging, which I think is always very good practice. Along with the Styrofoam blocks, the case itself is wrapped in plastic to prevent it from experiencing any scratches during shipment. The Antec DF800 FLUX arrived in very good condition when I eventually unwrapped it, showing no signs of physical damage anywhere. The case comes with various screws for mounting all the necessary PC components along with zip ties for cable management. The reverse fan comes inside a white box zip-tied to the PSU shroud. Documentation can also be found inside the case for the user's convenience.
---
Page Index
1. Introduction, Packaging, Specifications
2.
Physical Look - Outside
3.
Physical Look - Inside
4.
Installation and Conclusion