By: Jadon Lee
April 9, 2020
Unless you have been living under a rock, you probably are aware of the current virus going around. If you are unaware, you are probably already participating in social distancing, so all is good. The spread of COVID-19 has led many to shelter themselves inside their homes as we quarantine ourselves for our own safety and the safety of others. I personally have been enjoying this time as I genuinely prefer to stay home; transiting to the university takes away a good portion of my day. The introduction of online courses has been something different to get adjusted to as most of my classes are now mere PowerPoint slides. Something I have found more interesting than school has been how jobs are deemed essential or non-essential. Because the place I work does serve food and beverages, we have been deemed as an essential service. It was sort of unexpected to me, as the store has been as busy as it is usually is despite the current situation. Either people are living in ignorance or I am worrying more than I should, as I do not believe bubble tea is worth leaving the safety of your home. Given how transmissible this virus is, I feel like people should be taking more precautions. Speaking of staying home, right now, many people are looking to play games to compensate for the time they could be spending outside. For those who are looking to move into the PC gaming community, I just tried out the Antec P82 Flow. This is a smaller mid-sized case that seems to be focused on airflow. Does this case meet expectations? Keep reading to find out!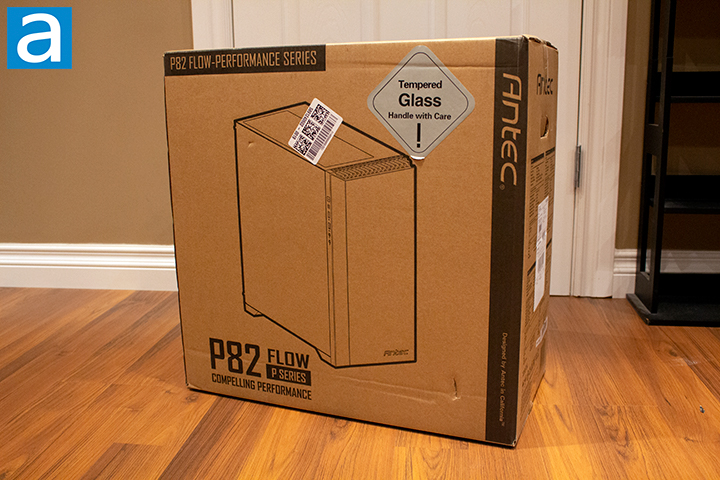 The Antec P82 Flow arrived via Canada Post Expedited in its retail box, which was held inside another Amazon-branded box from Mississauga, Ontario, Canada. The Amazon box retained the majority of the dents. The retail box had very few marks and scuffs, but the package arrived in one piece. Canada Post had successfully done its job to ensure the safety of the contents. I grabbed a pair of scissors and cut open the box to reveal the contents inside.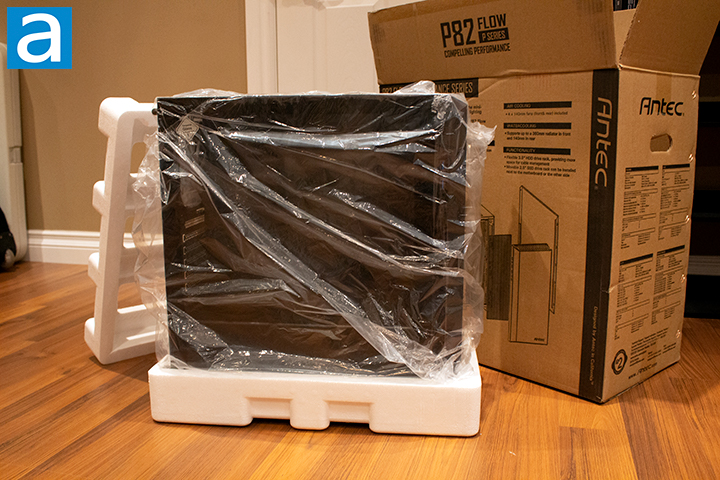 Antec used two large Styrofoam blocks on the top and bottom of the case to absorb any impact that may have occur in the delivery. This is very important for any case with tempered glass panels. The case itself was wrapped in plastic to prevent scratches. There was another additional layer of plastic on the glass panels to prevent dust or prints that would dirty the glass. Inside the case are all the screws needed for installation as well as an instruction manual. The packaging did its job in preventing any damage to the case.
Before we continue, here are the specification for the Antec P82 Flow, as posted on the manufacturer's site:
Case Specifications
Dimensions: 454 x 215 x 480 mm (DWH)
Form Factor: Mid Tower
Material: SPCC + Plastic
Mainboard Support: ATX, M-ATX, ITX
Front Access & Controls: Power, Reset, USB3.0 x 2, Audio
Side Panel: Tempered Glass Side Panel
Expansion & Drive Bays
Expansion Slots: 7
5.25": 0
3.5"/2.5": 2/2
2.5": 2
Fans
Front: 120 mm x 3 / 140 mm x 3
Top: 120 mm x 3 / 140 mm x 2
Rear: 120 mm x 1 / 140 mm x 1
Pre-installed Fans: 4 x 140 mm white blade fans (Front & Rear)
Radiator Support
Front: ≤ 360 mm/ 280 mm
Top: ≤ 240 mm
Rear: ≤ 140 mm
Clearance
Max GPU Length / VGA: ≤ 380 mm
Max CPU Cooler Height: ≤ 178 mm
Max PSU Length: ≤ 220 mm
Miscellaneous
Dust Filter: Top / Bottom / Front
Net Weight: 7.78 Kgs
Gross Weight: 9.22 Kgs
Warranty: 2 Years
UPC#: 0-761345-82003-5
---
Page Index
1. Introduction, Packaging, Specifications
2.
Physical Look - Outside
3.
Physical Look - Inside
4.
Installation and Conclusion