By: Jonathan Kwan
July 19, 2007
Computers are insanely powerful and incredibly affordable nowadays. However, it's not without its consequences -- ten years ago, components run cool enough that a simple heatsink plus a few low RPM fans, if necessary, will suffice. Nowadays, many components will need additional cooling if you want some overclocking headroom or just to bring it to an acceptable operating temperature. Many of our readers began putting additional fans into their computers to achieve this very purpose. Unfortunately, there's always that weird area that needs extra airflow over top, but it's almost impossible to mount a fan close enough effectively. Solution? Not until you take a look at Antec's Spot Cool.
Our review unit came in a small box using UPS Ground from Antec's US office in Fremont, California. Yep, Antec has their own custom printed boxes for shipping!
It arrived well packed and everything was in great condition. Again, UPS just left it at my door and left, I didn't even hear the bell rang, haha. Good thing I opened my door to take a look, as I expected it to -- otherwise the thunderstorm that night would have soaked the cardboard box through.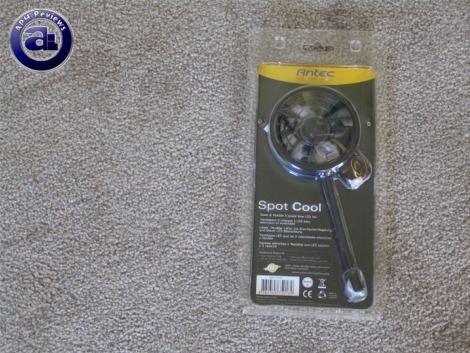 The Antec Spot Cool came in retail packaging. Although the clear plastic package appears to be a blister pack, a closer look demonstrates to us that the sides are not sealed -- two frictional buttons attaches the top, and two small ring binds are made on the side. The retail pack opens like a clamshell.
The clear plastic retail package allows retail consumers to have an unobstructed physical look at the product before purchase. Short description and photos are printed on various sides of the cardboard backing.
Speaking of which, let's take a look at Antec's description and specifications of the Spot Cool, before we begin:
---
Antec's Spot Cool is specifically designed to mount on any motherboard to provide cooling wherever you need it most. Simply mount it on a motherboard mounting hole, angle the fan as you desire and power it from a motherboard fan connector. 3-speed switch lets you balance quiet performance with maximum cooling. Get active cooling for your RAM, or expansion cards, or wherever your system needs it, and you'll see even better performance.
- Mount virtually anywhere inside a case
- Cools RAM, expansion cards
- Blue LED illumination included
- 3-speed switch lets you balance quiet performance with maximum cooling
---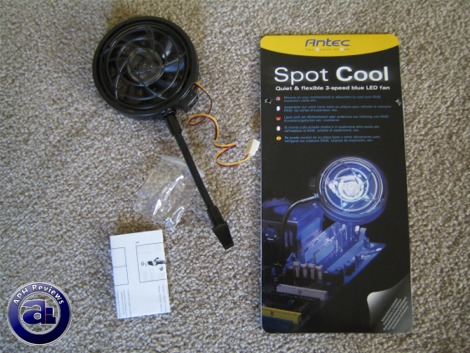 Out of the package, you will receive the Antec Spot Cool fan module itself, as well as a brief installation guide, and an attachment screw.
The Antec Spot Cool obtains its power using a three pin motherboard connector. Personally, I would appreciate it if a three pin to four pin Molex adapter is included; because some users will prefer to connect it directly to the power supply, or in a rare case, no motherboard fan headers are available. There is a possibility on some motherboards that no fan headers are near area of operation, which could pose a limitation on cabling aesthetics.
Otherwise, nothing excessive or unnecessary are included out of the box. Installation is clean and easy; the end of the Antec Spot Cool is installed by a screw pass-through -- which can share a mounting hole with your motherboard. Quite an excellent way of implementing easy installation.
After installation and correct power connection, the thick and stiff 4" wire that holds attaches to the fan can be bent to accommodate different areas of cooling, similar to a desk lap. The fan on its circular frame can also be rotated to control air direction. This will permit maximum flexibility of effective use.
A fan grill is placed in front to prevent the Spot Cool's fan from hitting other components or cables in your case, and less protection at the back to allow maximum unrestricted airflow.
Antec's Spot Cool can actually be an extremely useful product to bring airflow to virtually anywhere you want in your computer. For example, if you want to cool your RAM but don't want to get specialized RAM coolers -- or hard to reach locations such as the motherboard chipset (P5N-E SLI users, you'll need one ;) ) without large interfering coolers, and heck, even insufficiently cooled VRMs -- the potential of Antec's Spot Cool is limitless. Just think of all the uses for it!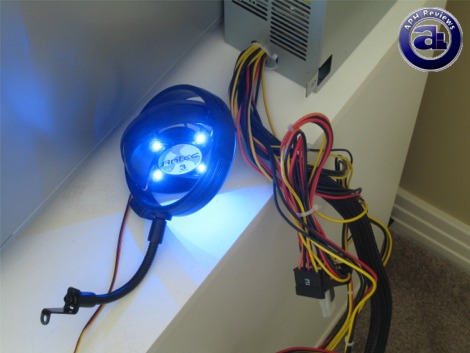 A demonstration of Antec Spot Cool's flexibility to perform in different positions. Four blue LEDs are placed at the back of the fan module to illuminate the cooled area. Cool? Yep!
For our tests, I have attached Antec's Spot Cool to our silent modified test power supply using a three pin to four pin Molex adapter I 'borrowed' from Arctic Cooling's Turbo Module. This way, I can make comments on its performance as well as isolated sound tests.
A switch is located on the Antec Spot Cool to select its fan operating speed. The available speeds are 'Low', 'Medium', and 'High'.
Low (Specification 2000rpm): Moves an acceptable amount of air, and generates minimum amount of noise. However, it is not silent. On a subjective perceived sound loudness scale of 1 to 10, where 10 is the loudest, I would give it a 3.5/10.
Medium (Specification 2500rpm): Moves a decent amount of air, but the noise it generates starts to pick up at this speed -- ~2800rpm as our motherboard reports. A buzzing and whining noise can be heard, as well as a prominent whooshing sound. On a subjective perceived sound loudness scale of 1 to 10, where 10 is the loudest, I would give it a 4.5/10.
High (Specification 3000rpm): It moves a serious amount of air -- consistently and powerfully. However, it's actually quite loud at this stage -- loud whining and buzzing with strong whooshing sounds all in a combination. On a subjective perceived sound loudness scale of 1 to 10, where 10 is the loudest, I would give it a 6.5/10.
Unless you own a very quiet computer like mine (Sound generating components: Seasonic M12 - 120mm low RPM Adda fan; Noctua NF-S12-800 - back; Noctua NF-S12-1200 ULNA @ 600rpm - front; Scythe Infinity - 120mm low RPM fan; Seagate 7200.10 320GB PMR drive; video card is passively cooled by Arctic Cooling's Accelero S1) you probably won't be able to hear the Antec Spot Cool in your case on Medium mode.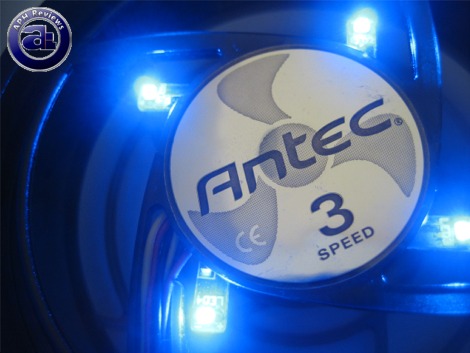 Special thanks to Susie and Sapana representing Antec for making this review possible.
APH Review Focus Summary:
8/10 means Definitely a very good product with drawbacks that aren't likely going to matter to the end user.
7/10 means Great product with many advantages and certain insignificant drawbacks; but should be considered before purchasing.
-- Final APH Numeric Rating is 7.3/10
Please note that the APH Numeric Rating system is based off our proprietary guidelines in the Review Focus, and should not be compared to other sites.
Excellent innovative product that allows the user to easily and effortlessly bring airflow to virtually anywhere they like inside the computer. Four bright blue LEDs add to the coolness factor, but the fan can be quieter, and a 3-pin to 4-pin Molex adapter could also be included.
Do you have any comments or questions about the Antec Spot Cool? Drop by our Forums. Registration is free, and it only takes a minute!