By: Aaron Lai
March 17, 2023
Last month, I took my girlfriend out to dinner for Valentine's. Originally, I had made plans to go to a sushi restaurant, but it was fully booked and when I asked her, she said she wanted to go for steak instead. The days leading up to it, I was quite excited and had to keep it as a surprise from her the entire time. Unfortunately, there were several warnings of incoming snow. As the place was outside of Calgary, my parents were quite concerned about me driving on the highway during inclement weather. To not make them worry, I rebooked again. Thankfully, we did end up at a steakhouse in town and we enjoyed our meal. At the end of the meal, we were given the dessert menu. After a few second of glancing at the offered sweets, we looked at each other and decided the best dessert would be an apple pie and ice cream, except from McDonald's. The rest of the night was spent baking at home and building Lego pandas. All in all, even though we did not go with the original plan, I think she was quite happy and I enjoyed another pleasant evening with my girlfriend. It is quite often in life that things do not always go as planned or expected. External factors alter the course of each day. However, how do we react to these changes? For example, Antlion Audio is well known for their microphones that attach to third-party headsets, such as their ModMic USB. This way, users are not limited to just gaming headphones when they want an audio solution for games. However, today we have the Antlion Audio Kimura Duo, which swings in an opposing direction. These are in-ear monitors with a microphone attached, which makes it the full package now. It definitely came as a surprise when they launched these IEMs, but how do they perform and what is my reaction? Let us read on to find out!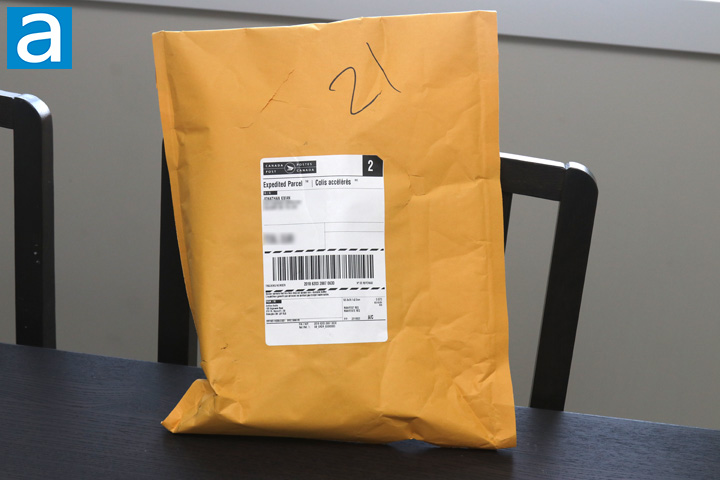 Today's review unit of the Antlion Audio Kimura Duo arrived from a distribution warehouse for Antlion Audio in Brampton, Ontario, Canada. This yellow padded envelope traveled with Canada Post and their Expedited Parcel service to our APH Networks offices in Calgary, Alberta, Canada. We have not always had great luck with products arriving via envelopes, as they can get easily pierced when in transit. You can see there are some tears around the package, but it is nothing too concerning. Otherwise, let us take a closer look at the product inside.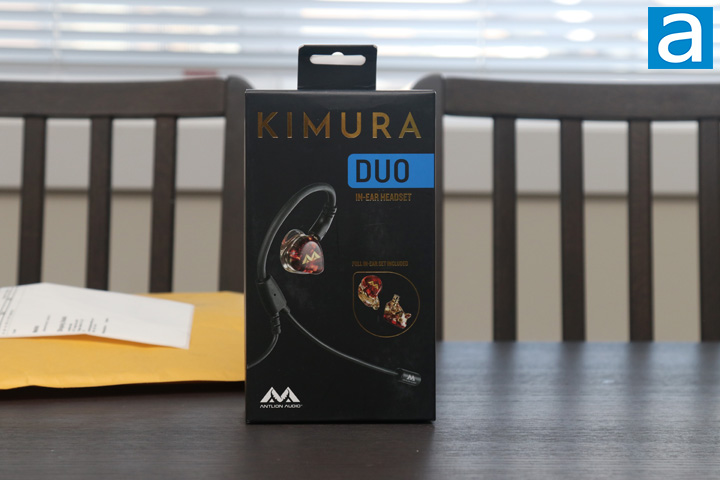 From here, you can see the Kimura Duo retail packaging. It shows off the product name in large letters with the description of "In-Ear Headset". From here, you can see the right side of these IEMs with a microphone attached to the ear hook. The box shows off the fact we have a full in-ear set included. One thing that is interesting is the fact they actually have the Kimura Solo on the front packaging, which is why we see the red exterior. In fact, the Antlion Audio Kimura Duo has a blue resin exterior, as you will see shortly. Around the box, we have a show of all of the contents in here. The box opens by tearing away a tab at the back and lifting out another box.
Before we continue, I have obtained the specifications from the manufacturer for your viewing pleasure:
Specs
Cable Length: 2 Meters
Termination: Dual 3.5mm TRS jack
IEM Type: MMCX
Microphone Capsule Specs
Kimura Microphone Cable Microphone Pattern: Omni-Directional
- Frequency Response: 100Hz - 10kHz
- Sensitivity:-42±3 dB
- Impedance: 2.2(Max) kΩ
- S/N Ratio: 60(Min) dB
- Maximum Input Sound Pressure Level: 115(Max) dB
- Standard Operating Voltage: 2.0 Vdc
- Operating Voltage Range: 1.0~10 Vdc
Kimura Duo IEM
- One Dynamic Driver
- One Balanced Armature
- Sensitivity:125dB
- Impedance:24Ω
- Frequency Response Range:10Hz-30kHz
- Connector: MMCX
What's in the Box
- One Kimura Microphone Cable (MMCX)
- One Pair of Kimura Duo IEMs
- One set of memory foam eartips
- Small, medium, & large silicone eartips
- One shirt clip
- Antlion Audio Y Adapter
- Hard shell carrying case
- Instruction manual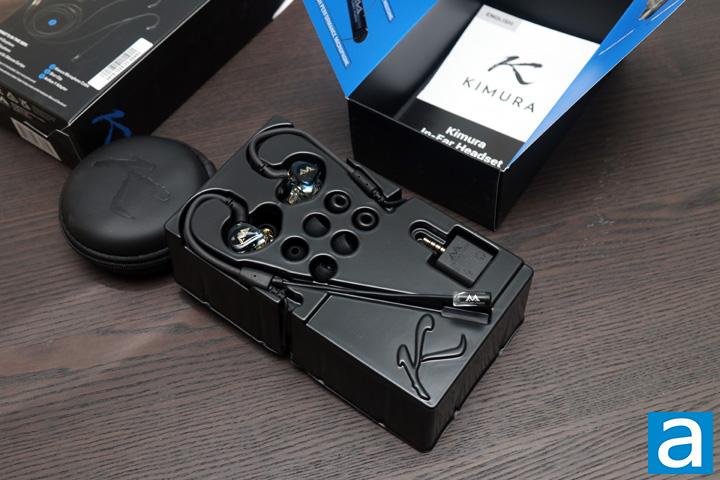 The next box opens up with a few flaps to expose the plastic tray inside, which holds all of the accessories. You can see a stylized 'K' on the box, presumably for the Kimura name. Otherwise, everything is packaged nicely in this tray to keep the contents protected. The microphone head is also wrapped in a clear plastic cover to prevent scratches here. A small manual can be found underneath this plastic box, which provides more information about the Antlion Audio Kimura Duo.
---
Page Index
1. Introduction, Packaging, Specifications
2.
Physical Look - Hardware
3.
Subjective Audio Analysis
4.
Conclusion