Page 3 - Physical Look - Inside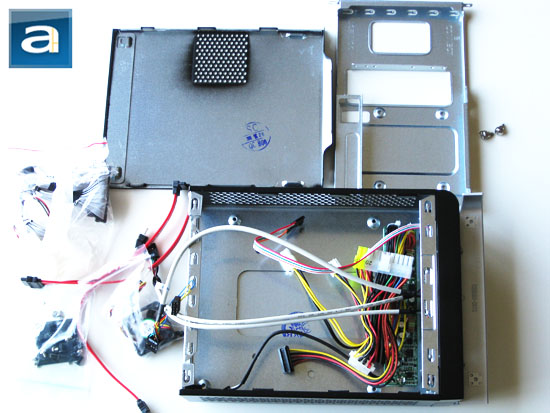 Removing two thumbscrews releases the top cover, and allows the user have full access to the Apex MW-107's interior. Unlike its black painted exterior, the entire interior is left in its natural color. A removable metal optical drive/hard disk drive frame clips to the edges, and is capable of accommodating one slim optical drive in conjunction with one 2.5" internal drive. The bottom panel doubles as the motherboard tray; four mounting holes correspond to standard mini-ITX boards for placement near the back of the chassis. The mounting holes bevel up to act as integrated risers. A DC to DC converter board is installed between the front panel and motherboard, with a cable running from the back of the case to the front to provide power. Overall, the Apex MW-107 is very simple, and its open design with a fully removable drive frame makes components very easy to install by the end user, even if the end user has large hands. It is safe to assert that while the case itself is very compact, it is far from being cramped inside!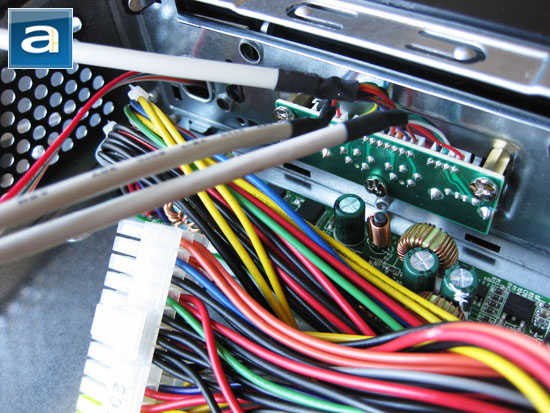 Three case I/O connectors run inside from the front panel, including the power LED, HDD LED, and power button. An external reset button is not featured on the Apex MW-107. Internal USB and audio block headers connect to your motherboard to provide function to two front panel USB ports, one 3.5mm output jack, as well as one 3.5mm microphone jack. Meanwhile, the DC to DC converter board provides one ATX 24-pin, one ATX 4-pin, one Molex, and SATA, and one floppy power connector to accommodate mini-ITX boards that uses ATX power supplies. This design maximizes compatibility, saves room, and minimizes heat from generated inside the case -- yet another excellent aspect of the Apex MW-107! My only complaint is that there is only one of each power connector, so if you need any more of the same type, you will need to pick up your own splitter cable as well.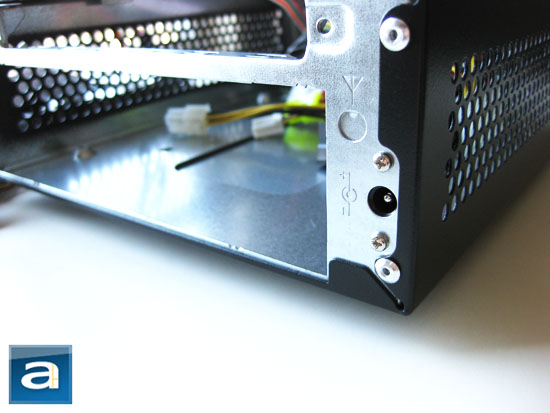 The DC power input jack is right next to the motherboard I/O shield opening. Two screws affix the socket module to the chassis, which can be easily disconnected along with the DC to DC converter board. I handily removed it since my particular motherboard used with the build -- the Jetway NC96FL-510-LF -- did not need it as it features a built in DC to DC converter. This made cable routing extremely easy later on, but for everyone else, the Apex MW-107 provides absolutely no cable management features, which is something we would definitely like to see in the future. Heat congestion is a problem in small environments, and the Apex MW-107 would certainly benefit from improved cable management. Overall, this case is constructed solidly with durable SECC panels all around; I have noticed no outstanding sharp edges that may cause harm to the end user.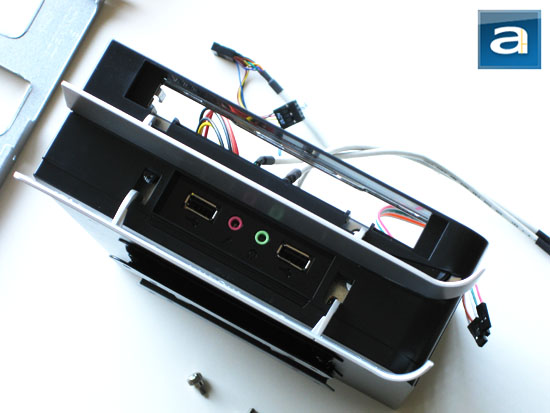 As aforementioned, two doors on the front bezel hide a slim optical drive opening at the top, as well as two USB 2.0 ports and two 3.5mm jacks at the bottom. Here you can see the plastic hinges a little more clearly; which should be pretty clear of why I said it feels pretty cheap and flimsy discussed on the previous page. Admittedly, I am a big fan of its design to accommodate one slim optical drive; unfortunately an appropriate adapter is not included out of the box, rendering much inconvenience to the end user. The reason why I say this is because laptop optical drives are neither expensive nor very hard to find, but an adapter to make it usable in this environment is quite the opposite in relative.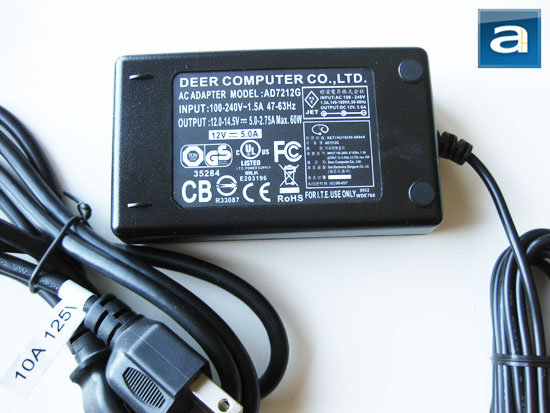 Apex includes a 60W AC power adapter manufactured by Taiwanese manufacturer Deer Computer, providing 5A of power at 12V. This power adapter features a standard plug that can be plugged into motherboards with built in DC to DC converters such as the Jetway NC96FL-510-LF we have reviewed last week.
---
Page Index
1.
Introduction, Packaging, Specifications
2.
Physical Look - Outside
3. Physical Look - Inside
4.
Installation and Conclusion