By: Jonathan Kwan
May 28, 2010
I am not going to pretend I am an expert in the world of mini-ITX systems. Prior to writing and editing a good series of such reviews here at APH Networks for the past few weeks (And with many more to come), I certainly did not know there was so much I needed to learn! It is especially interesting to note how different reviewing is in the mITX realm, as compared to my usual role in evaluating desktop-standard performance components. This is still the case even when small things like power supplies are concerned: the Jetway NC96FL-510-LF motherboard I reviewed last week features a built in DC to DC converter to eliminate the need of an ATX or ATX compatible power supply -- it is especially useful to save room and reduce complexity. But there are also boards that take standard ATX power input for wider compatibility. Then it comes to the chassis in which you want to install the motherboard. We have the Lian-Li PC-Q07 that takes standard components at the expense of larger physical size, the Thermaltake Element Q which features a built in SFX power supply to save room, and ultra compact cases such as the Apex MW-107 we are reviewing today that uses an external power adapter with an internal DC to DC converter for users who want a really compact system with maximum compatibility. All of this sounds great -- but how well does the Apex MW-107 step up in real life? We took the liberty to find out all the answers for you today.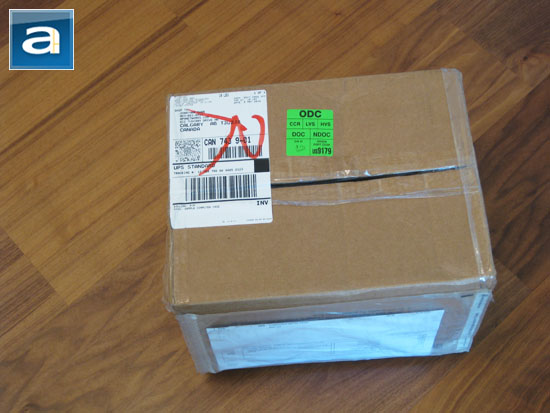 Our review unit of Apex's MW-107 mini-ITX chassis came in a medium sized, brown corrugated cardboard box from Apex's offices at City of Industry, California, USA. Using UPS Standard, everything arrived safely and securely, as always. It was kind of funny how the same UPS guy comes nearly on a daily basis. We had a nice little chat when he was collecting customs fees for my LED tail lights on the subsequent day, wondering what the heck I do that constitutes so many deliveries. He came again a few days later with my Thermaltake Armor A90, haha.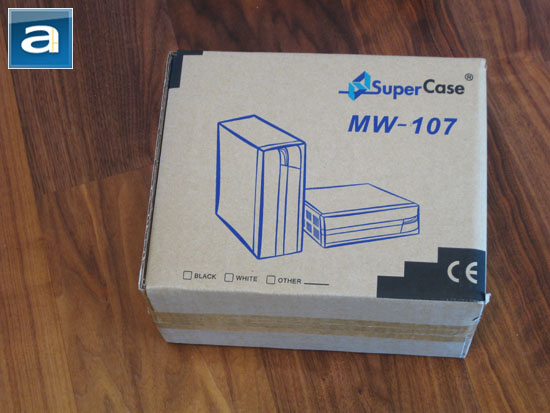 After cracking open the shipping box, we were greeted with another brown corrugated cardboard box residing within. The Apex MW-107's retail box is extremely simple; it can double as an OEM shipping box without any problems. The reason why I say this is because specifications of a fully built system can be scribbled onto a parts table, located on both the left and right side of the box. Meanwhile, the front face of the box (As well as its reciprocating face) shows the model number under Apex's SuperCase brand at the upper right corner. A sketch of the MW-107 chassis itself can be seen at the center in two different positions, as shown in our photo above.
Before we move on, let's take a look at the specifications of Apex's MW-107 mini-ITX chassis, as obtained from the manufacturer's website:
Dimensions: 2.8" x 8.7" x 7.3" (H) x (W) x (D) - Measurement of depth is without front bezel
Drive Bay: 1 - 5.25" Exposed (slim optical drive); 1 - 2.5" Hidden
Form Factor: Small form factor
Motherboard: Mini ITX
Expansion Bay: N/A
PSU: 60W external
Additional Fan:
Front Access Port: USB2.0 Port x 2; Audio Port x 2 (AC97 & HD Plugs)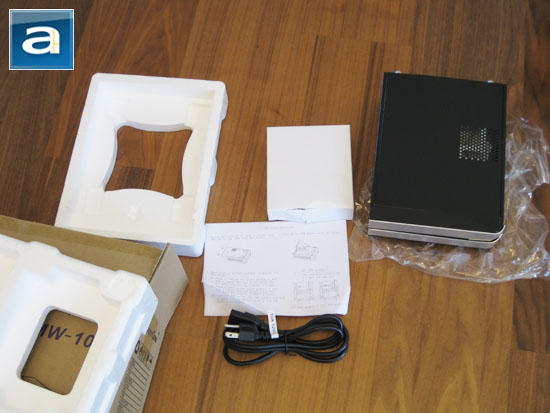 Out of the box, you will receive the Apex MW-107 chassis packaged neatly inside a plastic bag, and clipped between two Styrofoam brackets for safe transport. A 60W external power brick is included along with its associated cables. The internal DC to DC converter with standard connectors is pre-installed for you already, while installation accessories are placed in a bag inside the chassis to save space. A brief installation poster with diagrams and written in somewhat convoluted English can be found as well. However, everything is relatively simple, and it should be a little easier to figure out the stuff on your own instead, haha.
---
Page Index
1. Introduction, Packaging, Specifications
2.
Physical Look - Outside
3.
Physical Look - Inside
4.
Installation and Conclusion