By: Jonah Chow
April 29, 2022
When skiing this year, I sported two jackets when ripping it down the hills. One jacket was an Arc'teryx Beta AR, while the other was a Ripzone. Both these jackets have their advantages and disadvantages, and I would like to focus this introduction on the Ripzone jacket. This jacket was less fancy than the Beta AR, but it was much thicker and warmer, which has a great advantage for colder days. This was much different than the Beta AR, which almost always required a warm mid-layer vest to be worn underneath. It was also just as durable and flexible, being easy to move around in. The biggest advantage to me was the price, as it was significantly cheaper than the Arc'teryx shell. One might argue that there is no point in buying something so expensive when you can get something that works just fine for a cheaper price. Now, while the Beta AR had its advantages, this is a thought I do understand. This sentiment can be similarly said for CPU coolers. We know liquid coolers will generally provide stronger cooling performance, but they typically cost more and are harder to install. So why not settle for an air cooler that will also perform fine for everyday tasks? That brings us to today's review of the ARCTIC Freezer A35 A-RGB. It has been some time since we have reviewed a cooler from ARCTIC, and given their consistent bang-for-the-buck offerings, I am looking forward to this. Does the ARCTIC Freezer A35 A-RGB prove that spending less can get you results that are just as acceptable? Let us read on to find out!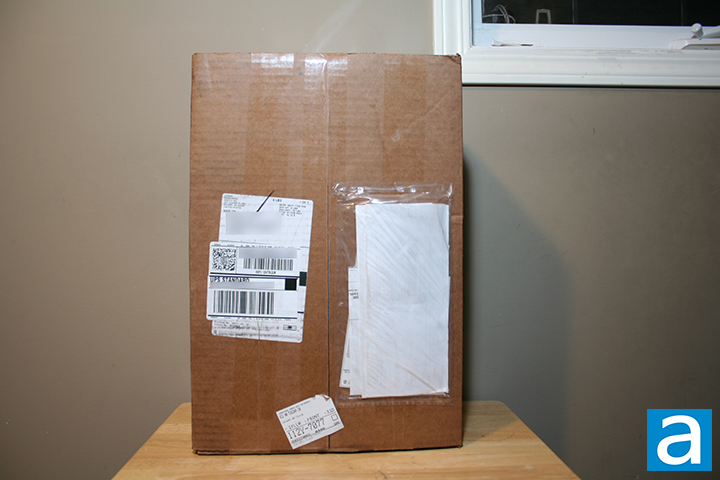 Our review unit of the ARCTIC Freezer A35 A-RGB arrived via UPS Standard from their American offices in Quinby, South Carolina, USA. The shipping package arrived to us here in Calgary, Alberta, Canada. Other than a few minor dents, the medium-sized brown corrugated cardboard box arrived in good condition. ARCTIC also sent us their Liquid Freezer II 280 A-RGB, which will also be reviewed by Yours Truly.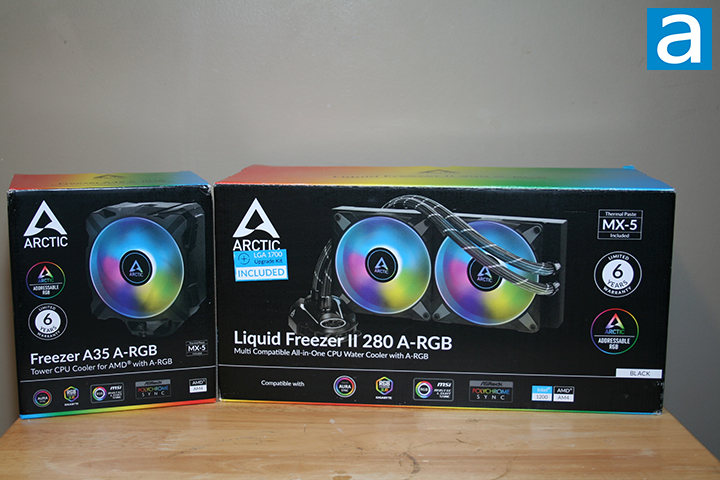 The ARCTIC retail box is packed with information. A scaled-down image of the cooler itself can be seen on the right side with the ARCTIC logo, a tag indicating addressable RGB, and a six-year warranty label located right next to it. The product name is located below the image of the cooler with the text "Tower CPU Cooler for AMD with A-RGB" right below. ARCTIC also advertised their MX-5 thermal paste, which comes with the cooler. All the compatible motherboard lighting softwares are shown at the bottom. Further information can be found around the sides and back of the box.
Before we move on, here are the specifications from the manufacturer's website:
Compatibility
AMD Socket: AM5, AM4
Ram Clearance: unlimited
Warranty: 6 Years
Operating Ambient Temperature: 0 - 40 °C
Heatsink
Heat Pipes: 4
Fin Material: Aluminum
Number of Fins: 54
Fin Thickness: 0.4 mm
Thermal Paste: MX-5 (0.8g)
Fan
Fan Size: 120
Fan Speed: 200 - 1700 rpm
Fan Bearing: Fluid Dynamic Bearing
Noise Level: 0.35 Sone
Current: 0.11 A
Connector: 4-Pin
RGB Specifications
LEDs: 12 A-RGB LEDs
Connector: 3-Pin 5V-DI-GND Connector
Current / Voltage: 0.4 A/5 V
Cable: 450 mm cable with 80 mm sharing cable, black
Size & Weight
Lenght: 91 mm
Width: 133 mm
Height: 158.5 mm
Weight: 734 g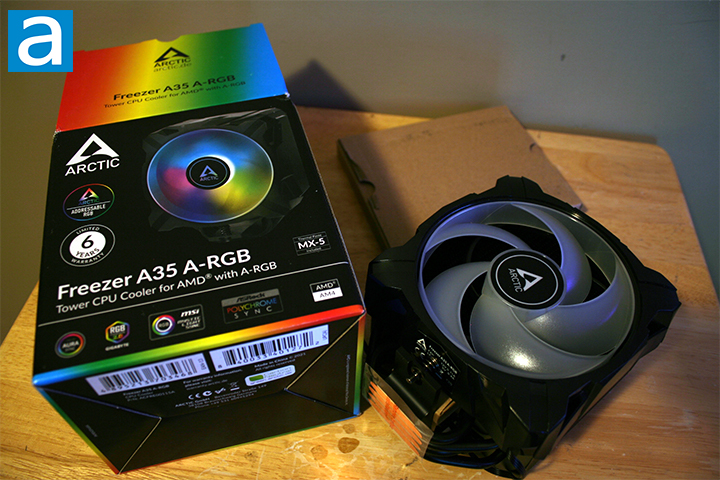 Opening up the retail packaging, we are met with the cooler itself and another box containing the installation accessories. Despite not being cased in foam, the Freezer A35 A-RGB arrived with no scratches or scuffs. The smaller box contains installation accessories to mount onto AMD's AM4 and AM5 sockets. ARCTIC's MX-5 thermal paste is included along with the installation tools. There is no included screwdriver or physical installation manual. Instead, there is a QR code on the retail box that takes you to an online installation manual. The Freezer A35 A-RGB comes with six years of warranty.
---
Page Index
1. Introduction, Packaging, Specifications
2.
Physical Look - Hardware, Installation
3.
Test Results
4.
Conclusion