By: Jonah Chow
May 6, 2022
In my last review, I talked about my experience skiing with two different jackets: A winter jacket by a smaller brand known as Ripzone and a shell by the well-known Arc'teryx. I discussed the advantages of having the Ripzone jacket such as the warmer material and cheaper price, but does that mean it is a better jacket overall than the Arc'teryx Beta AR? While this jacket costs a ton and required a mid-layer vest to stay warm, its advantages were significant. The Beta AR is made out of a Gore-Tex material, which made the jacket insanely waterproof. I would find my Ripzone jacket quite wet after a day of skiing and wipeouts, but my Beta AR remained dry as ever with any traces of snow or water just dripping right off. The jacket also had ventilation zippers on the side pits, which helped a lot on warmer days when I noticed myself sweating more. And of course, this jacket was also just as flexible and durable as the Ripzone jacket, being very easy to move in. As final praise, this jacket is not limited to just winter use. It makes for a fantastic rain and wind shell for the spring and fall season, and you will really get your use out of it. The Beta AR is a jacket that is worth its price in my opinion, and I can see why many outdoor enthusiasts choose to own one for their activities. Similarly, liquid coolers are a common choice for PC enthusiasts. They may be more expensive and require a little more work to install when compared to their air cooler counterparts, but the cooling performance they provide is often at the top of their game. Today, we have the Liquid Freezer II 280 A-RGB, another promising cooler by ARCTIC. Does the ARCTIC Liquid Freezer II 280 A-RGB continue to prove the advantages of having a liquid cooler? Let us read on to find out!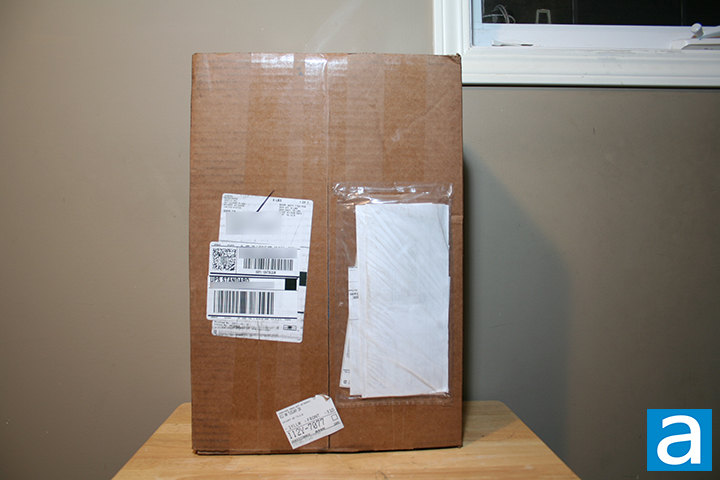 Our review unit of the ARCTIC Liquid Freezer II 280 A-RGB arrived via UPS Standard from their American offices in Quinby, South Carolina, USA. The shipping package arrived here in Calgary, Alberta, Canada. Other than a few minor dents, the medium-sized brown corrugated cardboard box arrived in good condition. ARCTIC also sent us their Freezer A35 A-RGB, which was reviewed last week by Yours Truly.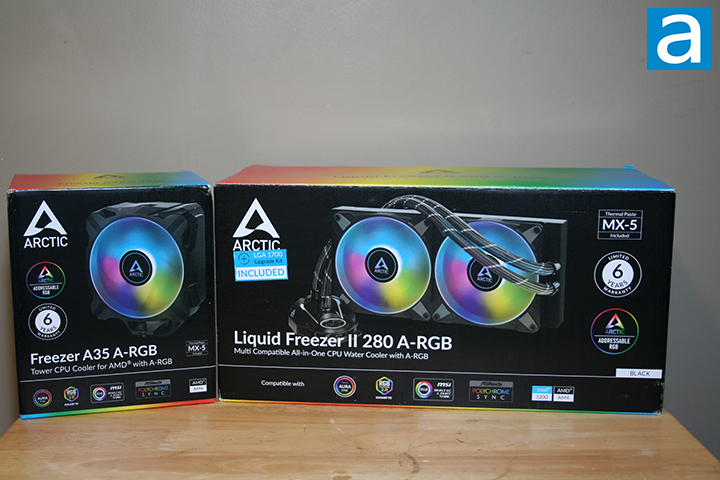 The ARCTIC retail box is packed with information. A scaled-down image of the cooler itself can be seen in the center with the ARCTIC logo, a tag indicating addressable RGB, and a six-year warranty label located right next to it. An LGA 1700 upgrade kit sticker is pasted right under the ARCTIC logo. The product name is located below the image of the cooler, with the text "Multi Compatible All-in-One CPU Water Cooler with A-RGB" right below. ARCTIC also advertised their excellent MX-5 thermal paste, which comes with the cooler. All the compatible motherboard lighting software are shown at the bottom. Further information can be found around the sides and back of the box.
Before we move on, here are the technical specifications from ARCTIC's website:
General data
Compatibility
Intel Socket: 1700, 1200, 115X, 2011-3*, 2066* *Square ILM
AMD Socket AM5, AM4
Ram Clearance: unlimited
Warranty: 6 Years
Operating Ambient Temperature: 0 - 40 °C
Connector: Cooler: 4 pin PWM Connector
LEDs: 4-pin 5V-Di-Gnd Connector
Pump/Cold Plate
VRM Fan: 40 mm, 1000 – 3000 RPM (PWM controlled)
Pump: 800 – 2000 RPM (PWM controlled)
Power Consumption: 0.5 W – 2.7 W (Pump + VRM Fan)
Cold Plate: Copper, Micro-Skived-Fins
Thermal Paste: MX-5 (0.8 g)
Fan
Fan: 2x ARCTIC P14 PWM A-RGB – 140 mm Fan
Fan Speed: 200 – 1 900 RPM
Fan Bearing: Fluid Dynamic Bearing
Noise Level: 0.3 Sone
Voltage / Current: 0.17 A / 12 V DC
Airflow: 68.9 CFM
Static Pressure: 2 mm H2O
Connector: 4 pin Connector
RGB LEDs: 12 A-RGB LEDs per Fan
Connector: 3 pin 5 V-DI-Gnd
Current/Voltage: 0.4 A/ 5 V
Size & Weight
Radiator: 317 x 138 x 38 mm
Pump (w/o tubes): 98 mm x 78 mm x 53 mm
Tube Diameter: Outer: 12.4 mm // Inner: 6.0 mm
Tube Length: 450 mm
Weight: 1600 g (Fan, Radiator, Pump, Tubes)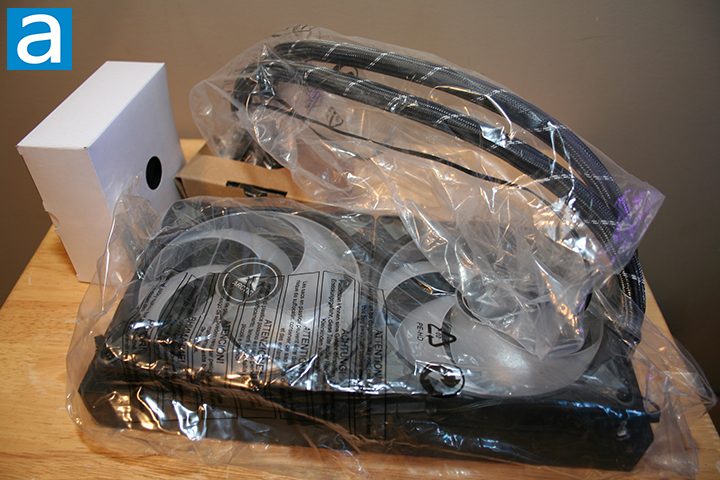 Opening up the retail packaging, we are met with the cooler itself and another box containing the installation accessories. The Liquid Freezer II 280 A-RGB arrived with no scratches or scuffs, so the retail box did its job. The white box contains installation accessories to mount onto Intel and AMD sockets. The Liquid Freezer II 280 A-RGB supports Intel LGA 1700, 1200, 115X, 2011-3, and 2066 and AMD sockets AM4 and AM5. Although the MX-5 thermal paste was advertised, ARCTIC's MX-4 thermal paste was included instead for some reason, which may be due to a packaging error. There is no included screwdriver or physical installation manual. Instead, there is a QR code on the retail box that takes you to an online installation manual. The Liquid Freezer II 280 A-RGB comes with six years of warranty.
---
Page Index
1. Introduction, Packaging, Specifications
2.
Physical Look - Hardware, Installation
3.
Test Results
4.
Conclusion