By: Ben Joubert
April 22, 2022
A couple of years ago, a friend of mine recommended a minimalism documentary. The movie follows two guys as they communicate the importance of minimalism. They also clarified what minimalism actually was in an attempt to get rid of all sorts of caricatures and false premises around it. It is an older documentary at this point, but it seems as if minimalism is all over the place. Not everyone may be fully adopting the philosophy, but I think many can appreciate a minimalist aesthetic. I think the clean look minimalism provides is something many people enjoy, especially when it comes to desk setups. It is always nice to get rid of many of the extra things like cables and other accessories around a person's desk to have a much cleaner look. Wireless products have grown to be much more popular since then. Removing cables from peripherals like mice, headphones, and keyboards definitely make a big difference to how clean a desk setup looks. Today, we are taking a look at a wireless keyboard, the ASUS ROG Falchion NX. It is a compact keyboard that further reduces desk clutter and promises to be packed full of features without sacrificing quality. Is this really the case? Let us read on to find out!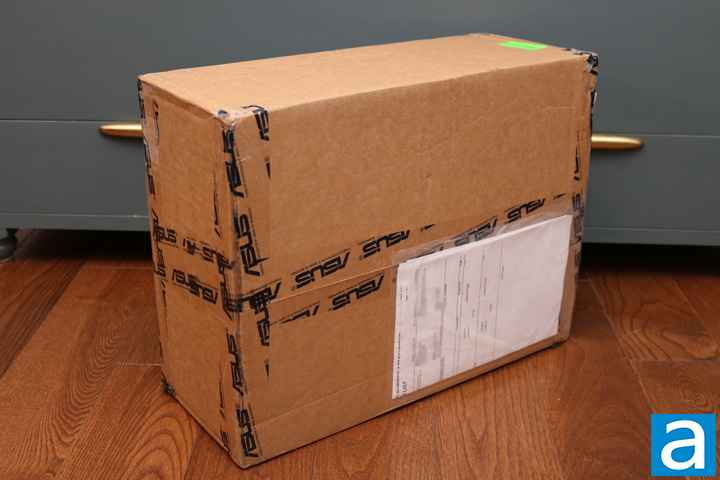 The ASUS ROG Falchion NX arrived alongside the ASUS TUF Gaming M4 Air mouse. The shipping package was delivered in good condition. There was little damage done to the outside edges considering the long journey from Newark, California, USA to me here in Hamilton, Ontario, Canada. FedEx did a good job in ensuring the safety of the contents. A well-needed safety precaution was taken in the shipping box, since it was filled with large plastic bubbles to prevent the contents from bumping against each other inside. Overall, it arrived in good condition and there was no concern for the contents.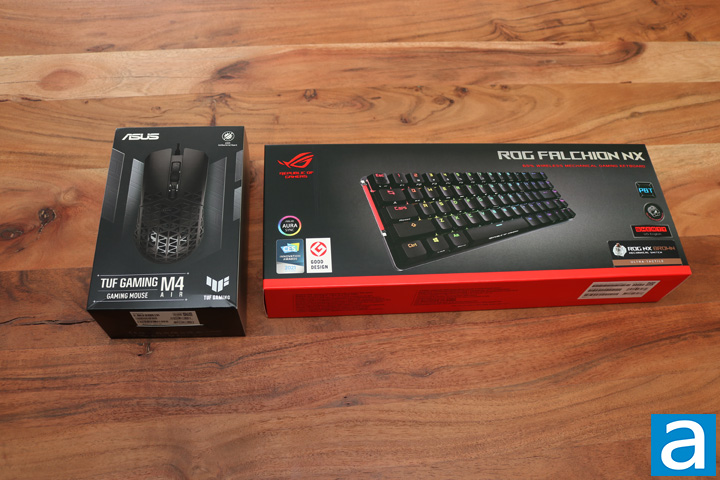 Compared to the ASUS TUF Gaming M4 Air, the ROG Falchion NX definitely sells the gamers aesthetic much more. The red and black colors are typical of gaming products with many other peripherals or hardware opting for this color scheme. The Republic of Gamers branding is found in bright red in the top left, while the product name, Falchion NX, is found in the opposite corner. Below the product name, we find a succinct description indicating this is a 65% mechanical gaming keyboard. Along the right edge, some other features are highlighted, such as the PBT keycaps, ROG NX mechanical switch, layout, and the Brown-type switches on this keyboard. In the far-left corner, we find some accolades printed on the retail box, as well as the AURA Sync feature. The back of the box explains the features in more detail, discussing other options for the mechanical switches, keyboard cover, and battery life for this wireless keyboard.
Before we move on, here are the specifications for the ROG Falchion NX from ASUS' website:
Key Switch: ROG NX Mechanical: Brown
Connectivity: USB 2.0, RF 2.4GHz
Size (Full/TKL): 68%
Actuation Force: 45g
Lighting: Per-Key RGB LEDs
AURA Sync: Yes
Anti-Ghosting: N-Key Rollover
Macro Keys: All keys programmable (except Fn, Shift)
USB Report rate (USB Report rate): 1000 Hz
Cable: Detachable braided USB cable
OS: Windows® 10
Software: Armory Crate
Dimensions: 305 X 101 X 38.5 mm (keyboard)
Weight: 520g (without cable)
Color: Black and Gray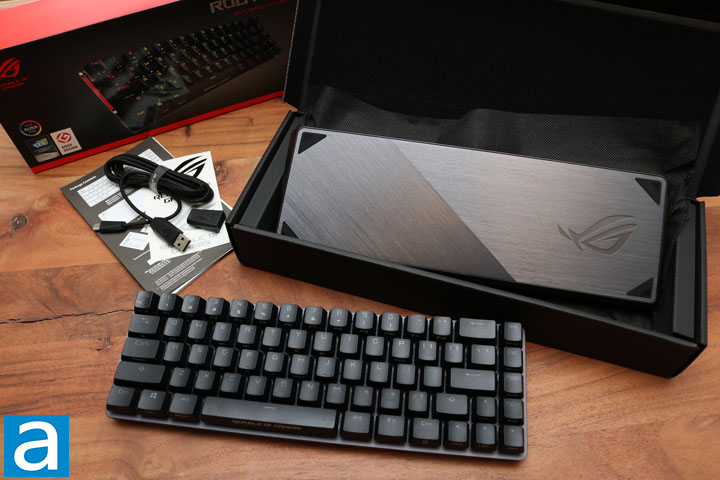 The ROG Falchion NX is packed excellently. The retail box opens on the side revealing an inner black box. This inner box opens up on one side revealing the keyboard in a cloth cover. The lid of the black box has a thin foam layer to provide some extra protection for the product. Other than the keyboard, there is a metal and plastic keyboard case, which protects the keyboard if you transport it anywhere. The plastic case can be placed underneath the keyboard when not in use, ensuring you will not lose it. Other than that, there is a USB Type-C cable to charge the device, small USB wireless dongle, and a wireless dongle extender. A quick start guide and a sticker is included as well.
---
Page Index
1. Introduction, Packaging, Specifications
2.
A Closer Look - Hardware and Software
3.
Conclusion