By: Ben Joubert
March 4, 2022
I used to be a picky eater growing up. There were particular things I just would not eat and so there were plenty of different things I never tried until I was much older. One of those is Sriracha sauce. My wife bought a big bottle to have in the pantry for use in different recipes. One day, she was making something, and I thought I would try just a little bit. The result was awesome. It was great with the food we were making that night. A few weeks later, my wife was away, and I was cooking. I thought some Sriracha sauce would be a great addition to my meal. I tasted some again, except this time I had too much, and it left my mouth burning. Even so, I decided to add it to the food. I mixed it all in and tasted the food again, but my mouth was still burning from the initial test. Instead of drinking some water or cooling my mouth down to taste the food again, I thoughtlessly poured in more Sriracha sauce. I continued to repeat tasting and adding more until it clicked in my mind that I probably could not taste what I have added to my food since my mouth was still burning. I drank some water to cool my mouth down and made my final taste test, only to realize I had added way too much Sriracha. I was still able to eat the food, but it was definitely way spicier than I intended. I enjoyed trying something new even if I overdid it. Despite that, I still think it is important to try new things and see what the experience may hold. Today's ASUS TUF Gaming M4 Air is definitely a new experience for me as I generally like heavier mice, and the M4 Air's main selling point is how lightweight it is. This will be a change for me to experience, so read on to see if the M4 Air does lightweight well!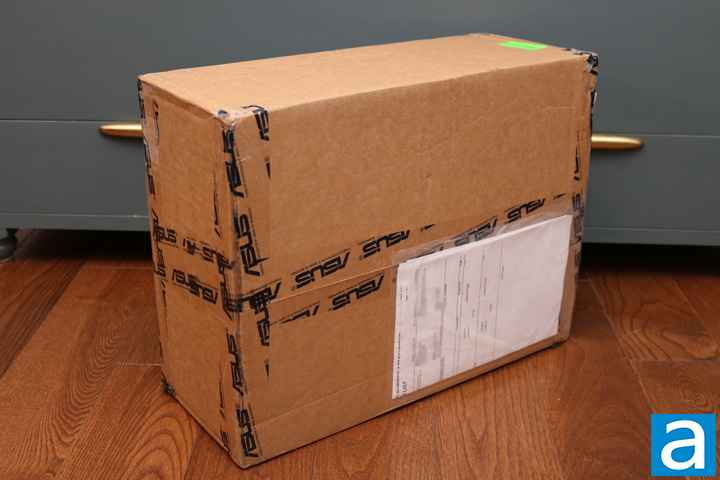 The ASUS TUF Gaming M4 Air arrived at my place in Hamilton, Ontario, Canada in a medium-sized box. The box traveled all the way from Newark, California in the United States and FedEx ensured it arrived in good condition. For such a long journey across the continent, the box was only slightly beat up around the edges, but there was no other damage of concern. Alongside the ASUS TUF M4 Air, we also received the ASUS ROG Falchion NX keyboard, which will be reviewed in the coming weeks.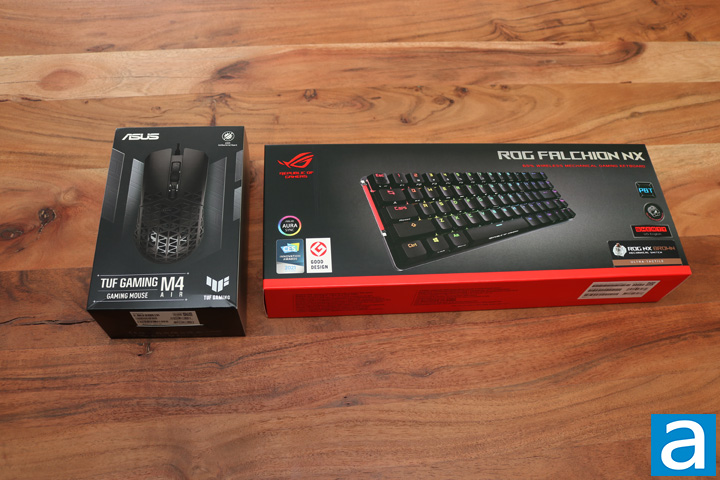 Opposite the ROG retail box, the Asus TUF Gaming M4 Air's design is much more subdued. The black, white, and gray colors of the M4 Air give it a much more industrial feel. This is further emphasized with a metal-like object on both sides of the mouse, which is found in the center. ASUS's branding is found in the top left, while the antibacterial guard feature is highlighted in the top right. Along the bottom of the front, the name of the mouse is here with another TUF Gaming branding logo. The two sides of the box are silver, continuing the industrial feel. One side has more branding, while the other features the main selling point of the M4 Air, its shell design, that makes it extremely lightweight. On the back, other notable features are highlighted in orange text. Again, the lightweight design, plus cable, bacterial guard, and surprisingly, tIPX6 rating of the mouse. All in all, the retail box effectively communicates this is a basic no-nonsense mouse committed to being as lightweight as possible, while providing excellent performance. We will see how this holds up as we continue the review.
Specifications:
Connectivity: USB 2.0
Weight: 47g w/o cable
Sensor: PAW3335
Resolution: 16000
Max Speed: 400
Max Acceleration:40g
USB Report rate: 1000 Hz
L/R Switch Type: 60 million
Button: 6
Cable: TUF Gaming Paracord Cable
OS: Windows® 10
Software: Armoury Crate
Dimensions: 126 x 63.5 x39.6 mm
Color: Black
Contents:
1 x TUF GAMING M4 AIR Mouse
1 x Quick Start Guide
1 x Warranty Card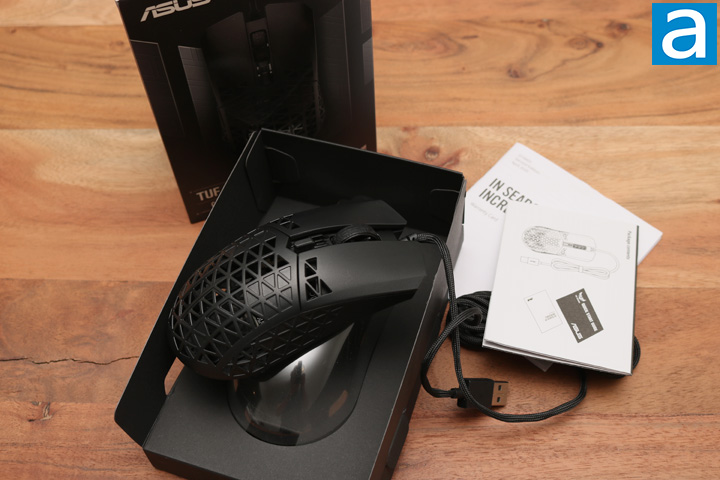 The ASUS TUF Gaming M4 Air's packaging is fairly consistent with any other mouse. The top opens up, which allows you to slide the entire housing of the mouse out. The M4 Air is settled neatly behind a plastic shell to protect it from any surface damage. The cable is neatly wrapped up in a silicone cable tie. Manuals and other documentation are found behind the mouse. Continuing its clear focus on being a lightweight mouse, there really is nothing else included.
---
Page Index
1. Introduction, Packaging, Specifications
2.
A Closer Look - Hardware and Software
3.
Subjective Performance Tests
4.
Conclusion