Page 4 - Installation and Conclusion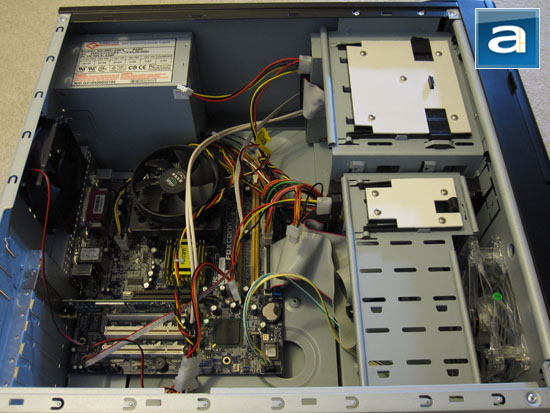 Installation began with the power supply and the motherboard. It was a very straightforward affair here; the integrated motherboard standoffs were easy to use, and there is certainly no confusion as to which position I should be placing the motherboard in. The power supply installation was just as simple: just slide the power supply in and attach the four screws. The above procedure should be reversed if you have an exceedingly large power supply unit. Next came drive installation. The external drives were very easy to install, as they had tool-free installation mechanisms. It does seem that you can just plug in your 3.5" internal drive into its respective external drive bay -- just leave the exterior plastic cover on. The tool-free mechanism for the 3.5" external drive bay seems to double as an internal 3.5" drive bay as well. The tool-free mechanism held the drives in very securely, although it would be nice to have all the drive bays tool-free, but even a degree of tool-free is better than none. And not to mention that the AZZA Spartan 102 is a $40 case.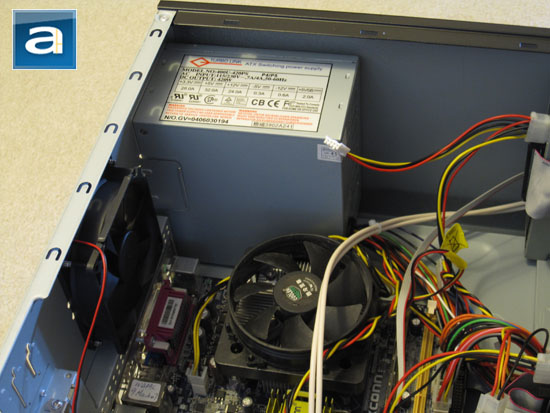 With a top mounted power supply, good cable management will be challenging for novice users, especially with no routing holes provided on the chassis. There may be installation issues due to the power supply interfering with larger tower style heatsinks, such as the Noctua NH-U12P, after the motherboard has been installed. Cable management, as mentioned earlier, is one area that AZZA definitely needs to make improvements on. Providing cable tie holes at the rear of the motherboard tray, as well as drilling cable management holes, would definitely give this case an extra edge over certain other budget cases. The Spartan 102 will fit up to 10.5" long video cards, but anything longer will not fit, as the drive bays will interfere with video card installation. Of course, you can always make the argument that users having ultra high end video cards may not overlap with the target market of this chassis. Therefore, I would not count the size limitation as a significant problem. Additionally, due to the relatively shallow depth of the case, taller tower style heatsinks such as the Thermalright Ultra 120 Extreme or Noctua NH-U12P will have some clearance issues. The side panel fan might have to be removed in order for these heatsinks to fit.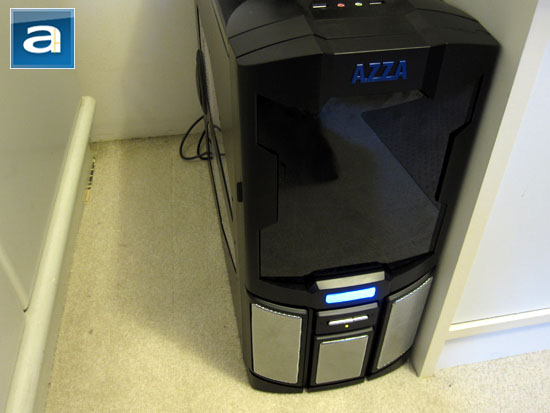 With everything installed and ready to go, and the system turned on, I have to say that the Spartan 102 looks pretty good. As with most AZZA cases, this chassis features a fairly aggressive design in my opinion, but at the same time the user is not overwhelmed by excessive LED lighting. I like how AZZA, despite being a company that creates some designs that may be overly complex sometimes, has created a relatively conservative design compared to some of their lineup. The use of LED lighting was not overwhelming at all. As always, design preference is subjective, so I hope the photo resources provided will be helpful to you in determining whether the AZZA Spartan 102 appeals to you or not.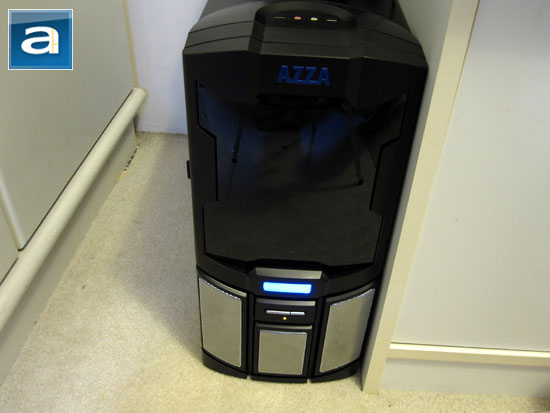 From an acoustic standpoint on a scale of 1 to 10, with 0 being silent and 10 being the loudest, I would subjectively rate the Spartan 102 at a noise level of 5.0 out of 10. The fans that had been used were not particularly loud when it comes to motor noise, but it was certainly audible -- and I was able to hear quite a bit of turbulence noise. With the 92mm rear exhaust fan, I didn't expect amazing acoustics from this case, but I was pleasantly surprised. Not only did AZZA include three fans with this case where some other budget chassis don't even include one, the Spartan 102 is certainly commendable in terms of thermal management. Airflow is more than adequate for all but the most hardcore setups, and there is an extra fan mount on the side panel, should the user choose to add one more for extra airflow over the core components. Although no sound proofing material was used in the construction of the Spartan 102, acoustics are better than average when compared against other budget cases. I am pleased at what AZZA is able to deliver in this regard.
----------------------------------------
What AZZA has created here is a budget chassis that has surpassed many of my initial expectations. Priced at a very attractive MSRP of $39.99 USD, this case provides more than adequate cooling capabilities, along with support for a plethora of hard drives -- all for less than forty bucks. The tool-free installation is certainly a bonus to have, and credit to AZZA for creating a secure method of mounting hard drives. I wish this could be done for all the drives, rather than just the externally accessible ones. Other than that, AZZA has done a good job here. On the other hand, some improvements could definitely be made particularly with cable management. The obvious choice would be to pre-drill cable management holes -- as I believe even a budget chassis needs to have these features, as it should only negligibly increase production costs, if at all. This is a concern especially since a top mounted power supply base is implemented, and it generally makes for more difficult cable management. All in all, the AZZA Spartan 102 is certainly a good example of what AZZA is capable of doing, even in the budget personal computer case market. The relatively new player in an otherwise saturated computer chassis market certainly landed a positive impression in my books! I believe the AZZA Spartan 102 has done what the Spartans did in the movie 300 -- it has managed to overcome almost all odds, but has just fallen short. Improve some cable management, implement true tool-free installation methods across the entire case, and have several other minor refinements, and we will have a real winner at this price point. Even if they need to include less fans out of the box!
THIS IS SPARTA!!!!!!!!!!!!!!!!!!! (Sorry I had to add that into this review, haha) - Editor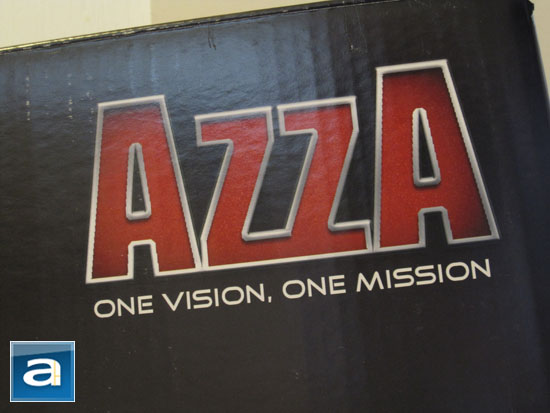 Special thanks to Linda over at AZZA for making this review possible.
APH Review Focus Summary:
6/10 means A product with its advantages, but drawbacks should not be ignored before purchasing.
7/10 means Great product with many advantages and certain insignificant drawbacks; but should be considered before purchasing.
-- Final APH Numeric Rating is 6.7/10
Please note that the APH Numeric Rating system is based off our proprietary guidelines in the Review Focus, and should not be compared to other sites.
The AZZA Spartan 102 is a budget chassis with good thermal management. However, cable management has room for improvement, and the case could be further refined.
Do you have any comments or questions about the AZZA Spartan 102? Drop by our Forums. Registration is free, and it only takes a minute!
---
Page Index
1.
Introduction, Packaging, Specifications
2.
Physical Look - Outside
3.
Physical Look - Inside
4. Installation and Conclusion