Page 3 - Physical Look - Inside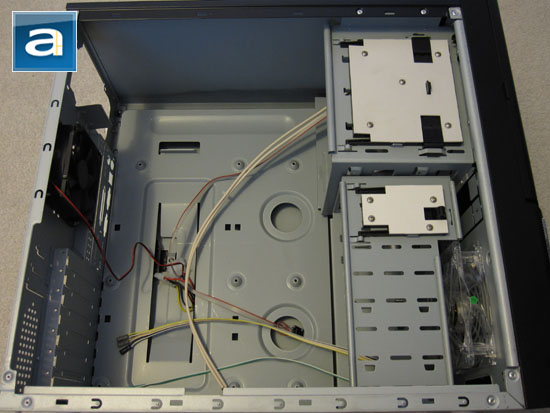 By taking off the side panel, we are met with the inner workings of the Spartan 102. As far as mid-tower cases go, this is a relatively simple and basic design, which is nothing out of expectations. There is enough space for 10.5" video cards, such as the ATI Radeon HD 4870 and NVIDIA GeForce GTX 260; however, longer cards such as the 11.25" Radeon HD 5870 or the 12" Radeon HD 5970 will not fit. As you can see in our photo above, there is a lack of cable management holes on the motherboard tray.
As aforementioned, the power supply is mounted at the top of the case in a rather traditional fashion. Because of space limitations at the top of the chassis, there may be issues installing longer sized power supplies such as the Corsair HX750 or HX1000 after the motherboard has been installed. But otherwise, any standard power supply should fit inside the AZZA Spartan 102 without any issues. Provided along with the case was a small plastic bag containing installation instructions, as well as all the screws required for assembly.
As usual, this chassis supports mATX as well as ATX sized motherboards. It does come pre-installed with ATX standoffs, but if you were to install a mATX board, the extra standoffs that AZZA provided are unused. Like the Thermaltake V9 Black Edition I reviewed a while back, the Spartan 102 features unremovable standoffs that are fixed into the motherboard tray.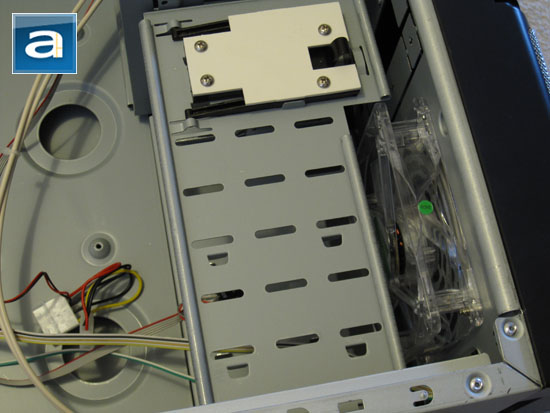 In total, there are six internal 3.5" drive bays. Unfortunately these do not feature a tool-free installation; however again do keep in mind that this is a chassis carrying a MSRP of $40. Nonetheless, instructions on how to install a drive into these bays are very straightforward. As you can see, the AZZA Spartan 102 features two external 3.5" drive bays, and these actually DO feature a tool-free installation system. It would definitely be an added bonus, had they used the tool-free mechanism used in the external drive bays for the internal drives as well. Just in front of the 3.5" internal drive bays is one 120mm blue LED lit fan. This provides the primary air intake into the chassis. Generally speaking, AZZA included three fans with this chassis, which definitely puts them a step ahead of some other budget chassis that don't come with fans installed.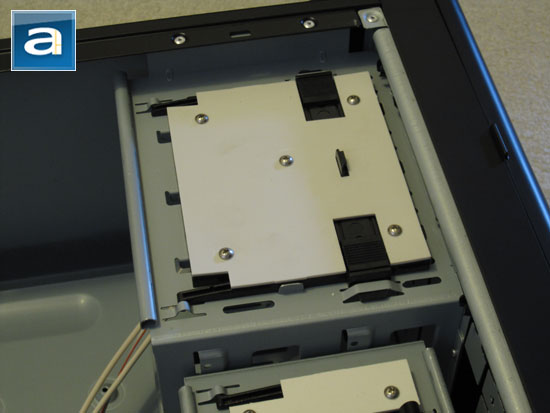 At the top of the case, there are four external 5.25" drive bays. Like the two external 3.5" bays, these also have the same tool-free installation mechanism. They are very simple to use and appears to be very durable. This is a very well implemented tool-less installation method, and I have to give credit to AZZA for including this in a value oriented chassis. While it is not really an issue considering the price point of this product, just take note that the Spartan 102 has no support for internal 2.5" drives, so if you are putting an SSD into this chassis you will have to buy your own 2.5" to 3.5" bay converter. Located above the I/O panel is where the power supply is meant to be mounted.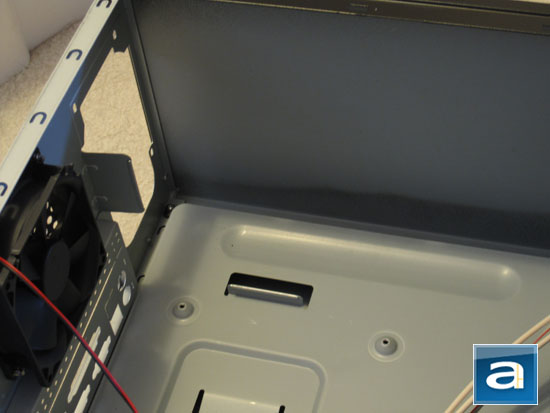 Just below the power supply is an included single 92mm exhaust fan. Unlike the side panel fan and the front intake fan, this one is not LED lit. I would have liked a 120mm fan installed here instead, as it provides more air flow with less noise. As I have mentioned on the previous page, I would still give props to AZZA for including fans with a budget chassis. As usual, this fan is placed in a position such that hot air generated from the CPU and core components can be pushed towards the rear of the case, and exhausted immediately by this fan.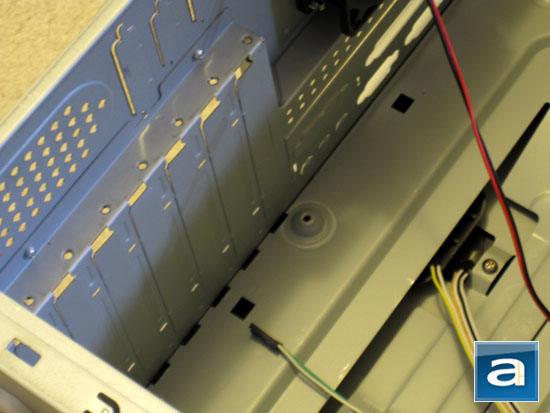 Below the I/O panel, we have the seven expansion bay slots. With any case, it is nice to see there are at least 7 expansion bays which should be more than enough even for the most complex setups. However, I would have liked the bay covers to be held in by screws instead of being the punch-out variety (Again, however, cost is definitely an issue). The problem with the punch out variety is that generally, computer enthusiasts are constantly exchanging computer parts, and with these expansion bay covers that are not replaceable, there would be a hole left at the back of the case for air leakage, or another opening for dust to enter the case.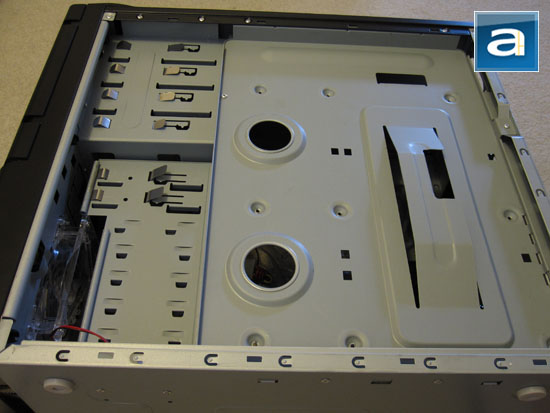 AZZA has decided not to include pre-drilled cable management holes for the back of the motherboard tray. They have left plenty of ventilation holes for the motherboard, but still, this is one area I would like to see improved. Cable management is quite an important aspect of a chassis, and especially with how hot some of the components run nowadays, maximizing airflow is crucial. Also, cable tie points or space behind the motherboard tray were not provided, so routing cables behind the motherboard tray was more difficult than it should have been with the Spartan 102. This shouldn't incur manufacturing cost increases, so we believe it is reasonable to ask for such, even in a budget case.
---
Page Index
1.
Introduction, Packaging, Specifications
2.
Physical Look - Outside
3. Physical Look - Inside
4.
Installation and Conclusion