By: Anthony Kwan
February 18, 2010
What do you think of when I mention the word 'Spartan'? Now I can't speak for the majority, but that word reminds me of the city-state of Sparta in Ancient Greece. Characterized by their exemplary military power back in 650 BC to 371 BC, the fictionalized retelling of the Battle of Thermopylae also happens to be the topic of the 2007 action film "300" starring Gerald Butler. The movie 300, in a nutshell, is this: a King (Leonidas) leads three hundred Spartans into a battle against the Persians (Who were led by Xerxes), whose army numbered over one million soldiers. I think it's safe to say that the Spartans in this regard are viewed as underdogs. At this point, you may be wondering how this relates to our review. Well, today we will be taking a look at the AZZA Spartan 102, a budget -- or otherwise value oriented -- mid-tower chassis from AZZA. AZZA is a relatively new player not only in the computer chassis market, but also a newcomer in APH Networks' review line-up. In the past several months, AZZA has made huge strides in the industry, introducing a variety of different cases competing in several different price brackets, ranging from high end products for the hardcore gamer, to budget chassis for casual gamers. The AZZA Spartan 102, which we will be looking at today, is a great example of the latter. Does the Spartan 102, priced at a mere $39.99 MSRP, keep up with the likes of Antec's Three Hundred and the NZXT Beta? Can it do as the Spartans have done, and upset the competition? Or will it be overwhelmed by its stiff and likely more experienced competition? Read on to find out!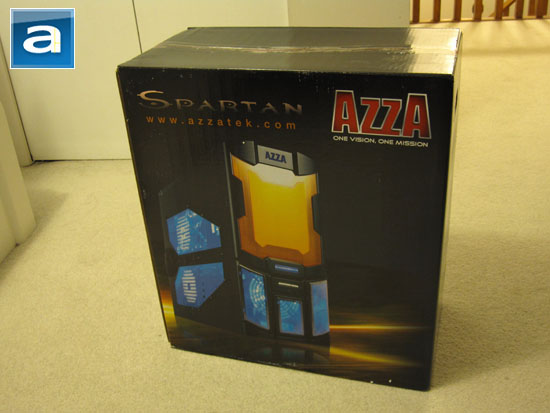 Our AZZA Spartan 102 came shipped to us in standard retail packaging from AZZA's offices in Walnut, California. Weighing 27 pounds upon arrival, the Spartan 102 came packaged "box in a box" style. On the outside is a huge AZZA Fantom 900 box -- once the Fantom 900 box is opened, we find the Spartan 102 retail box on the inside. Because AZZA took the effort to ensure additional protection by using an additional layer of shipping material, our AZZA Spartan 102 came in literally flawless condition. In most situations, shipping a chassis in standard retail packaging is more than enough to prevent any shipping damage, but in this case AZZA has taken it a step further and further protected the package they were sending to me. Good on them to make sure the product they are sending for review sustains zero damage.
The retail box is labeled in standard chassis retail box format, with an image of the chassis on the side, along with the company logo and the name of the case. On the other two sides of the retail box, AZZA has put the case specifications. This retail box is multi-purpose, as AZZA has decided to use the same box for their Spartan 101 and Spartan 102 cases, as well as a potential future Spartan 103 case.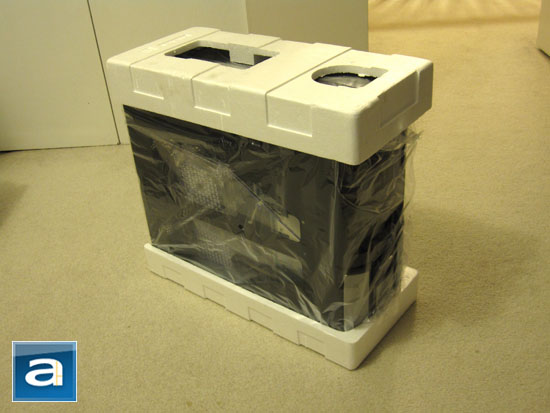 Once taken out of the retail packaging, we find the AZZA Spartan 102. It comes packaged between two large pieces of Styrofoam. These two Styrofoam brackets ensure that the chassis does not move while being transported inside the box. For additional protection, AZZA has wrapped the box in plastic wrapping prior to putting the Styrofoam protection to ensure that the case does not suffer any scratches during the shipping process.
Before we continue onto our review, let's take a look at the specifications of the Spartan 102, as obtained from AZZA's website:
Model Number: CSAZ-102
Case Type: Middle Tower
Material: SECC
Front Bezel Material: Plastic
Color: Black
Side Panel: Yes
Motherboard Support: ATX, M-ATX
Motherboard Tray: No
5.25" Drive Bay: 4
Int. 3.5" Drive Bay: 6
Int. 2.5" Drive Bay: None
Ext. 3.5" Drive Bay: 2
Expansion Slots: 7
Front I/O Ports: USB 2.0 x 2, HD Audio
Fans:
- Front (intake): 1 x 120mm Blue LED
- Side (intake): 1x 120mm Blue LED
- Rear (exhaust): 1 x 90mm
Liquid Cooling Capable: No
Liquid Cooling Embedded: No
Power Supply Supported: Standard ATX PS2
Power Supply Included: No
Dimensions (H*W*D): 17.5 x 8.3 x 20.5 in / 445.0 x 211.0 x 521.0 mm
Security Lock: No
Application: Gaming
---
Page Index
1. Introduction, Packaging, Specifications
2.
Physical Look - Outside
3.
Physical Look - Inside
4.
Installation and Conclusion