By: Aaron Lai
August 12, 2022
If you ask me, the one thing I have really enjoyed doing on my birthday over the past several years is to take the day off and get free stuff. I know others like to have parties or spend the day relaxing on their own, but I enjoy going out with one or two people and collect the various gifts from these businesses. A lot of the businesses require some sort of membership or subscription like an email newsletter, which means you will need to remember to sign up prior to your birthday. As my birthday passed by last month, I drove around with my girlfriend to collect all the free things, which mostly consisted of food. Obviously, spending the day with her was the actual reason the day was so special, but getting free food was the cherry on top. As for be quiet!, they recently just passed their 20th anniversary, which is pretty awesome to say the least. We have worked with different companies that are both older and younger than be quiet!, but nonetheless this is an achievement to remain competitive in the industry for so long. It is great to see how far be quiet! has come in the past twenty years and we hope them all the success for another twenty years and beyond. As part of their celebration, they released a whole range of products under the "FX" name. Consisting of two CPU coolers and a case, we have the privilege of looking at the two CPU coolers. Today, we have the be quiet! Pure Rock 2 FX, based on their original Pure Rock 2 Black with some visual updates. How will this cooler perform, and will it be worth celebrating like be quiet!'s impressive anniversary? Let us read on to find out!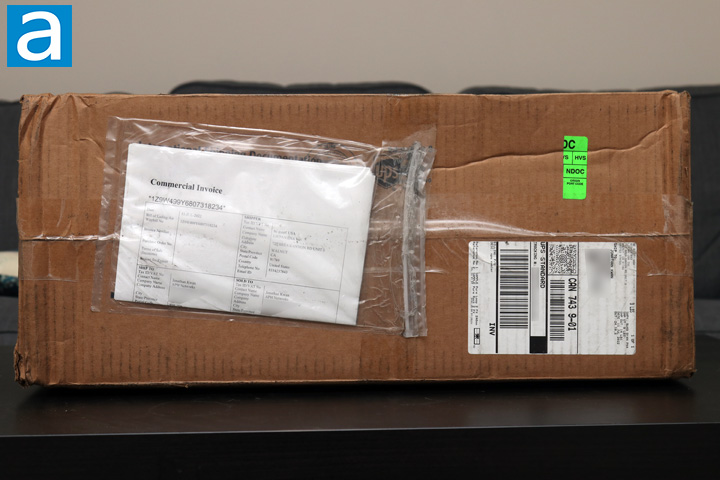 Today's review unit of the be quiet! Pure Rock 2 FX arrived from be quiet!'s American offices in Walnut, California. Traveling with UPS and their Standard ground service, this box came to our APH Networks offices in Calgary, Alberta in average condition with some notable amounts of bruising around the box. The shipping container is a pretty large box with lots of bubble wrap to try to keep the products inside safe. In addition to our Pure Rock 2 FX, be quiet! also sent us their Pure Loop 2 FX 240mm, which I will be reviewing in the coming weeks.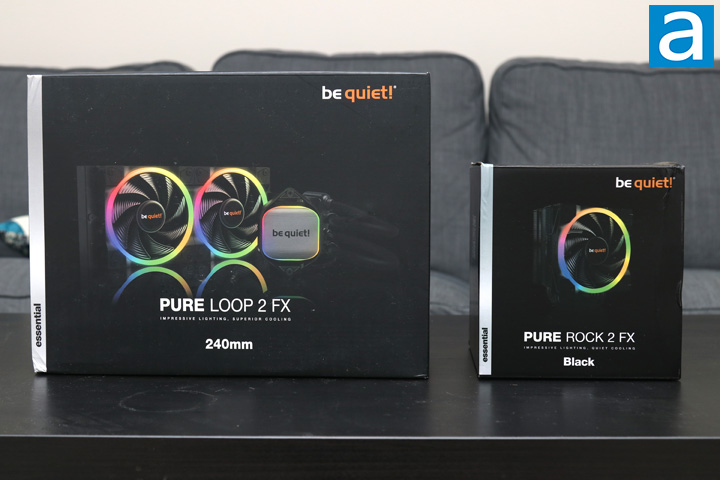 The be quiet! Pure Rock 2 FX looks very similar to other be quiet! products despite a new lineup, at least when it comes to the retail box design. As you can see, both boxes are pretty bruised on the sides, but the Pure Rock 2 FX definitely took more of a beating while being shipped. The front shows off the CPU cooler with its attached fan illuminated. The side shows an "essential" tag to indicate the Pure lineup is meant to be more economically oriented. The top shows the be quiet! logo, while the bottom shows the product name. Otherwise, around the box we have some specifications and features about the CPU cooler.
One thing I should note is that as part of the anniversary, the products in their FX range will be available at a discounted price for the month of August and September, as long as supplies last. While the FX lineup is meant to be celebrate the 20th anniversary, these products are not limited time runs and will be available after the event at their suggested retail pricing.
Before we continue, I have obtained the specifications for this cooler from the manufacturer's website:
General data
Model: Pure Rock 2 FX
Dimensions (L x W x H), (mm): 87 x 121 x 155
Total weight (kg): 0.685
TDP (W): 150
Socket compatibility AMD: AM5 / AM4
Socket compatibility Intel: 1700 / 1200 / 2066 / 1150 / 1151 / 1155 / 2011(-3) square ILM
Fan model, number: Light Wings 120mm PWM high-speed
Decoupled fan mounting: ✓
Overall noise level (dB(A)) @ 50/75/100% (rpm): 7.9 / 16.6 / 24.4
Heatsink specifications
Overall dimensions without mounting material (L x W x H), (mm): 62 x 121 x 155
Number of fins: 55
Fin material: Aluminum
Base material: Copper
CPU contact surface: heat pipe direct touch
Heatpipe number / Diameter (mm): 4 / 6
Color: Black
Surface treatment: Electrophoresis
Fan specifications
Fan dimensions (mm): 120 x 120 x 25
Speed @ 100% PWM /12V (rpm): 2000
Bearing technology: Rifle
Motor technology: 4-pole fan motor
Rated Voltage (V): 12
Input current (A): 0.38
Input power (W): 4,56
Connector: 4-pin PWM
Cable length (mm): 220
Lifespan (h / 25°C): 60,000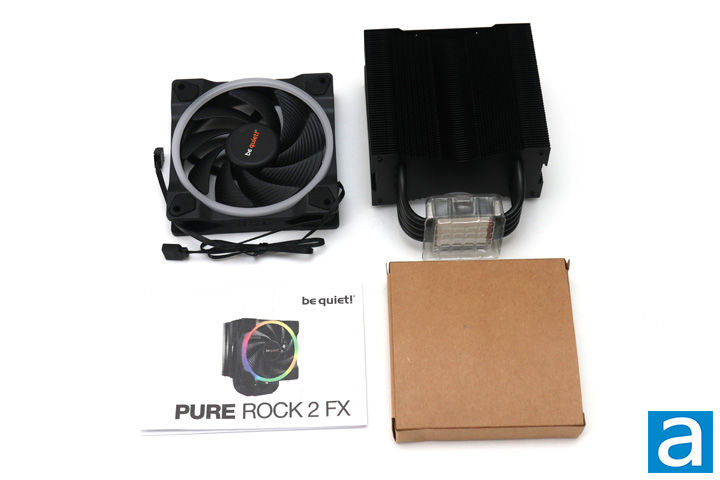 Out of the box, there is the heatsink and fan contained between two foam inserts. A single cardboard box can be found that holds all of the included accessories for mounting and installation. With all of these accessories, you can mount the be quiet! Pure Rock 2 FX on Intel LGA1700, LGA1200, LGA115x, LGA2011, and LGA2066 sockets, as well as AMD AM5 and AM4 sockets. The only notable exclusion from this list is AMD's TR4 or Threadripper 4 socket, which is understandable considering how much larger the integrated heatspreader and CPU is. As well, you will see the AMD upcoming AM5 socket mentioned, which is because it shares the same mounting mechanism as the current AM4 socket. Otherwise, some documentation is included outside of the accessory box, including installation and warranty information. A standard three-year warranty with this cooler, which is decently long for a wallet-friendly cooler.
---
Page Index
1. Introduction, Packaging, Specifications
2.
Physical Look - Hardware; Installation
3.
Test Results
4.
Conclusion