By: Aaron Lai
September 2, 2022
One thing I really appreciate in any story is seeing character development and how it affects or changes the plotline. As I briefly mentioned in my review of the Creative Live! Mic M3, I recently finished watching Avatar: The Last Airbender for the first time. I know a lot of people around my age grew up on cartoon shows like this, but I did not watch too many cartoons when I was younger. To be honest, I probably would not have watched this if it were not for my girlfriend, who also watched this show when she was younger. As for Avatar, I think it has a somewhat typical plot of needing to save the world, but this is augmented by seeing the development and growth of the primary characters. Their personalities affect how the story progresses with their identity and traits displayed in their decision making. The only thing I wish was to see one more episode resolving some events after the big showdown, but if you have not watched it yet, I do recommend the show despite now being an adult. As well, Secret Tunnel is a great tune to belt along with, haha. In a similar line of thought, be quiet! just celebrated their twentieth anniversary, and today we have another product from their FX anniversary line in the Pure Loop 2 FX 240mm. I already looked at the original Pure Loop and had generally good impressions about the whole unit. Now that be quiet! has released the updated version, how does the Pure Loop 2 FX compare and what has been improved upon from the first? Let us read on to find out!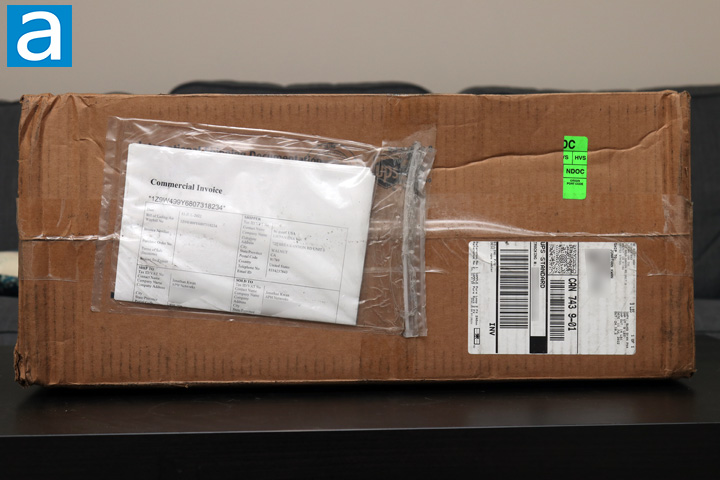 Today's review unit of the be quiet! Pure Loop 2 FX 240mm arrived from be quiet!'s American offices in Walnut, California. Traveling with UPS and their Standard ground service, this box came to our APH Networks offices in Calgary, Alberta in average condition with some notable amounts of bruising around the box. The shipping container is a pretty large box with lots of bubble wrap to try to keep the products inside safe. In addition to our Pure Loop 2 FX, be quiet! also sent us the Pure Rock 2 FX.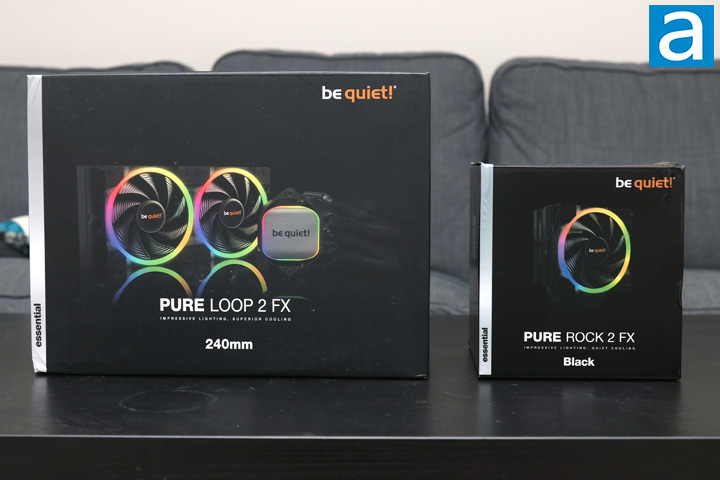 The be quiet! Pure Loop 2 FX looks similar to other be quiet! products despite a new lineup, at least when it comes to the retail box design. Unsurprisingly, this shares the same box appearance as the Pure Rock 2 FX with a black background and some silver highlights. The front shows off the AIO cooler with the block illuminated. The side shows an "essential" tag to indicate the Pure lineup is meant to be more wallet-friendly. The top shoes the be quiet! logo, while the bottom contains the product name. Around the box, we have some specifications and features about this liquid cooler.
One thing I should note is that as part of the anniversary, the products in their FX range will be available at a discounted price for the month of August and September 2022, as long as supplies last. While the FX lineup was released during 20th anniversary celebrations, these products are not limited time runs and will be available after the event at their suggested retail pricing.
Before we continue, I have obtained the specifications from the manufacturer's website for your perusal:
General data
Model: Pure Loop 2 FX 240mm
Dimensions radiator, incl. fan (H x W x D), (mm): 277 x 120 x 52
Total weight (kg): 1.18
Socket compatibility
- Intel: 1700 / 1200 / 2066 / 1150 / 1151 / 1155 / 2011(-3) Square ILM
- AMD: AM5 / AM4
Noise level (dB(A)) @ 25 % / 50% /100% rpm: 8.0 / 16.7 / 32.3
Fan model, number: 2x Light Wings 120mm PWM high-speed
Pump speed (rpm): 5500
Pump adjustable: 4000 - 5500 rpm
Pump connector: 4-pin PWM
RGB connector: 3 Pin 5V Addressable
Tube length (mm): 400mm
Refill port: ✓
Radiator specifications
Dimensions (H x W x D), (mm): 277 x 120 x 27
Radiator material / finish: aluminum / black spray painted
Base material / finish: copper / nickel plating
Fan specifications
Fan dimensions (mm): 120 x 120 x 25
Speed @ 100% PWM (rpm): 2500
Bearing technology: Rifle
Motor technology: 4-pole fan motor
Rated Voltage (V): 12
Input current (A): 0.45
Input power (W): 5.4
Connector: 4-pin PWM
Cable length (mm): 500
Lifespan (h / 25°C): 60,000
Accessories
Thermal grease: Included
Mounting set: Intel, AMD
User manual languages: CN, DE, EN, ES, FR, JP, PL, RU, TW
Bottle of coolant (ml): ✓/ 100
ARGB-PWM-Hub: ✓
Service
Warranty (Years): 3
International hotline / free of charge: ✓/ DE, FR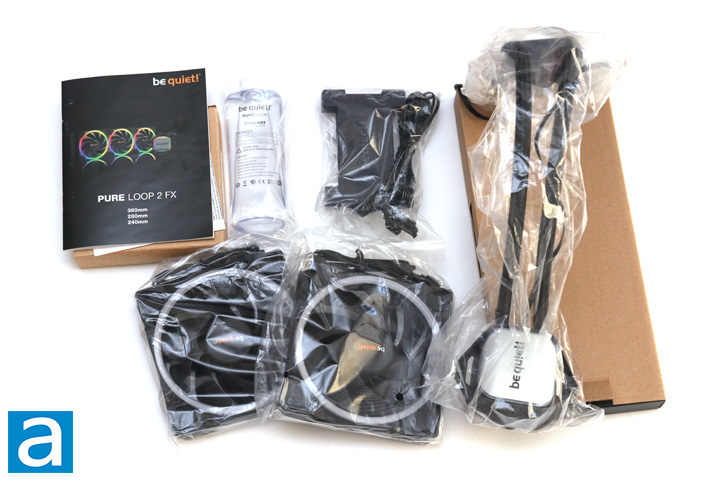 As with most all-in-one coolers, everything is held in a single cardboard carton inside the retail container. Most of the components are wrapped in plastic bags to prevent damage to the components. I appreciate the cardboard cover be quiet! uses to sleeve the radiator as opposed to a clear plastic bag, as this should be more durable and prevent the radiator from getting dinged up while it is in the box. As you may have read in the compatibility portion of the specifications, the be quiet! Pure Loop 2 FX 240mm supports most modern sockets, including Intel's LGA1700, LGA1200, LGA115x, and LGA20xx, as well as AMD's AM4 and AM5. The only modern socket that is missing is AMD's TR4, although this is understandable, considering how much larger the IHS area is compared to general consumer processors. In addition to the radiator, pump, and CPU block combination, we have another resealable bag filled with mounting equipment. A bottle of coolant is also provided for topping up the radiator, as we will see shortly. Two be quiet! Light Wings 120mm PWM high speed fans are included with the AIO unit. A separate PWM and ARGB hub is provided to control the fans and lighting together. Otherwise, there is some documentation included to help users with the installation process for both the hardware and software.
---
Page Index
1. Introduction, Packaging, Specifications
2.
Physical Look - Hardware; Installation
3.
Test Results
4.
Conclusion