By: Brian Cheung (Guest Writer)
May 15, 2015
If you have had the opportunity to attend a Basic Economics 101 class, you will have most likely been presented with the basic definition of what economics is. In a nutshell, economics is the study of how individuals, firms, governments, and nations make choices to allocate their scarce resources to satisfy their unlimited wants. Because of this scarcity, we as individuals are forced to allocate our resources efficiently. The limited resources in the case of an individual is vastly different from the limited resources of a nation. Sources of our resource limitations can originate from different things like money, space, and energy. Hence, we must make informed choices between different items to fulfill our wants. These choices that we make are done by giving up or trading off one want to satisfy another. Applying this knowledge, I can see a similar struggle when choosing which fans to install in a computer system. On an aside, thankfully, this is more of a first world problem, since you have a computer to play around with: When users are looking for a fan, their first and foremost want is a solution that is cool, both literally and figuratively. Secondly, they hope their fans are quiet. Looking good with vibrant lights and flashy colors may also be another desire, but it is not necessarily as high of a priority. The limited resources playing into factor is money and physics. The real first world problem is the struggle between performance and noise. Will the Spectre Pro LED be the faster and quieter fan that users will want to get for their system? Read on to find out!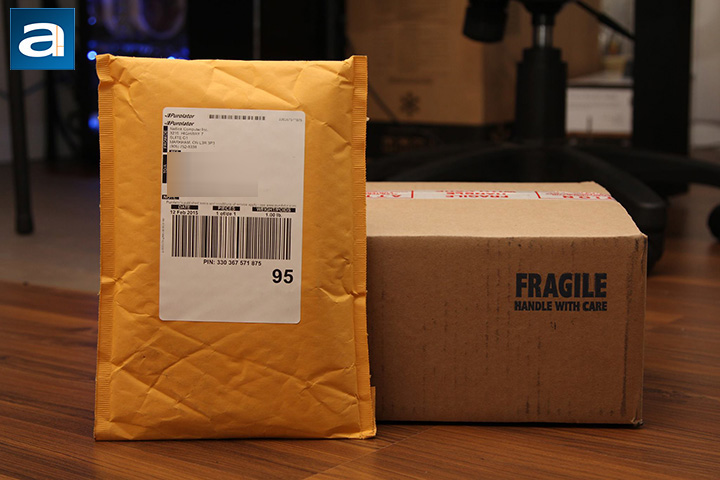 Today's unit of the BitFenix Spectre Pro LED 120mm Red and Spectre Pro LED 120mm Blue arrived from Vancouver, British Columbia to our headquarters in Calgary, Alberta. It arrived with the box containing the BitFenix Alchemy Connect LED Strips reviewed by Technical Editor Aaron Lai and the BitFenix Recon reviewed by yours truly. Since beautiful British Columbia is a neighboring province to Alberta, the box arrived in good condition with no crumpled edges or any damages at all. The shipping company of choice was Purolator, and they did a good job to ensure the box was shipped to its destination in the condition it was sent off in.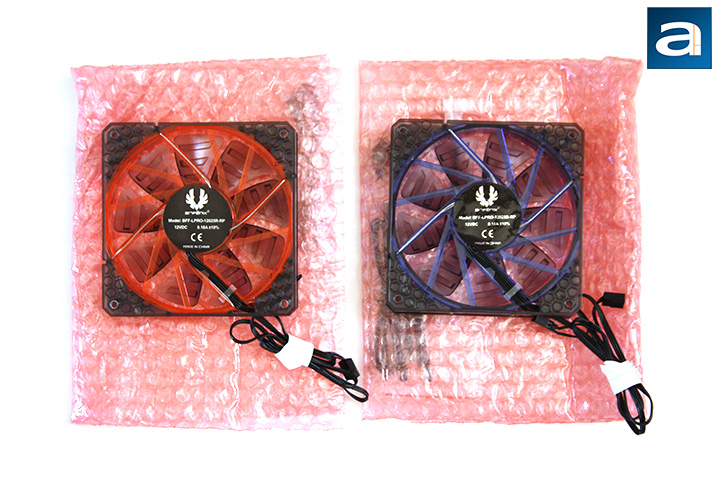 Since the box was in good condition, it was no surprise both the Spectre Pro LED fans were in good shape as well. This can be accredited to the ten air-sealed inflatable packaging and individual red bubble wrap bags for the two fans. However, at this point, I had to wonder was why neither of the fans were in their retail packaging. It was shipped inside the bubble wrapped bags along with its accessories. Since the packaging process was so meticulous, I could only hope there is no internal damage to the units. Due to the missing retail packaging, I have obtained its specifications from the manufacturer's website:
Model No (Red): BFF-LPRO-12025R-RP
Model No (Blue): BFF-LPRO-12025B-RP
Materials: PC & PBT
Color (Red): Black blade, black frame, red LED
Color (Blue): Black blade, black frame, blue LED
Bearing: FDB (Fluid Dynamic Bearings)
Connectors: 3pin
Rated Voltage: 12V DC
Start Voltage: 5V DC
Rated Current: 0.18A
Speed: 1200rpm 10%
Airflow: 56.22CFM 10%
Static Pressure: 1.24mmH2O
Noise Level: 18.9dBA@5V
Dimension: 120mm (L) x 120mm (W) x 25mm (H)
---
Page Index
1. Introduction, Packaging, Specifications
2.
A Closer Look - Hardware
3.
Performance Tests
4.
Conclusion