Page 3 - Physical Look - Inside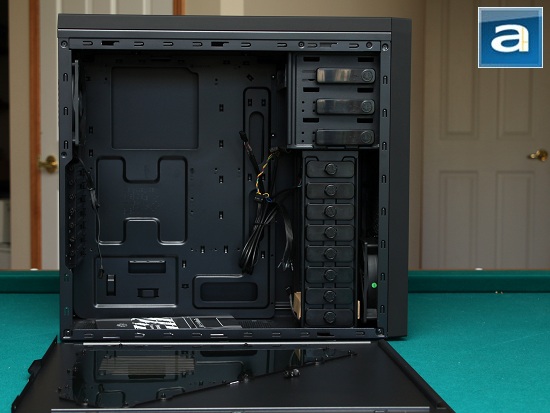 Sliding off the main side panel, you will see the standard single chamber interior, fully painted black with matching top panel I/O cables in black. From a general overview, there is nothing too special in terms of a standard mid-tower case, as this should be fairly familiar for those that have played with such cases in the past. Like any other manufacturer of computer chassis, BitFenix provides you a box of accessories to complement the components that you will be installing into your case. On the side note, they have mounted the box as if it's an HDD to keep it from sliding around too much while being shipped to our offices here in Calgary.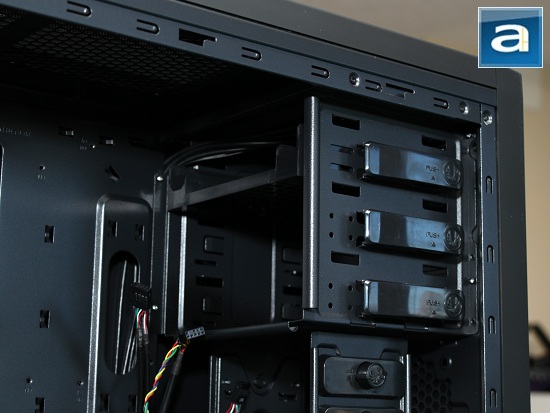 Taking a quick snapshot here, there are three 5.25" drive bays near the front at the top; one of them having a 5.25" to 3.5" adapter at the top most slot. I think this is more than sufficient for most end users in the long run. Besides, how many optical drives will you be using anyways? The installation process does not require you to pull out your tools, so you can save a couple of minutes digging through your toolbox. 5.25" bay clips simply involves you pushing on the bottom and swinging the latch out. Below this area is the 3.5" drive bay area, in which I will go into further detail in just a bit. Just on the back side, BitFenix has already done some cable routing for you, showing that they encourage the end user to actually utilize the back side for cable management, along with the implemented cable management openings and hooks for zip-ties.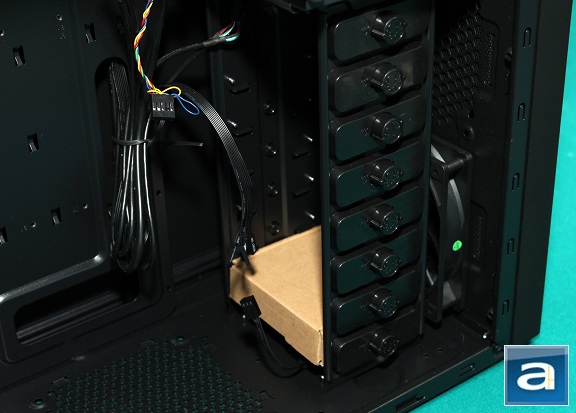 The BitFenix Shinobi Window uses a single column design with detachable tool-free clips on both sides to hold your 3.5" drives in place. Simply twist and pull the clips, and off they come for you to install your HDDs. I found this quite convenient to use, especially the fact that it gives you so much space to work with your cables. As well, there are a total of eight bays here, so there are more than enough slots for up to eight HDDs. With the additional space, if you find your cabling job to be quite a mouthful, you could always use some extra space here besides the cable management openings around the case. At the front, there is an included 120mm fan for HDD cooling and increased airflow intake. This fan is connected to your motherboard via a 3-pin header. You may be able to mount a second 120mm on, if you find it necessary.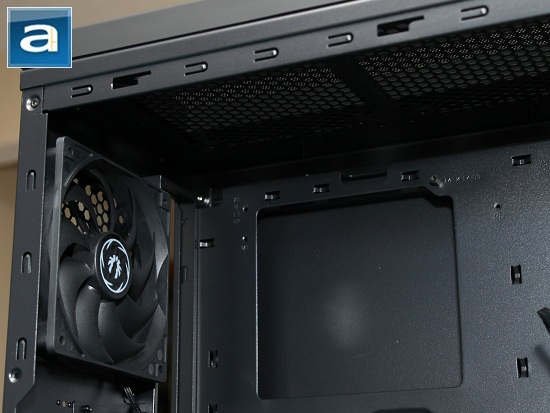 At the top back corner, there is, of course, the 120mm exhaust fan next to the I/O opening for the motherboard. The exhaust fan is also connected via a 3-pin header. At the top, you may wish to mount two additional 140mm or 120mm fans for kicking the heat out of your system. As aforementioned, I would like to see dust filters here to prevent dust from settling in when the computer is off. Perpendicular to this area is the motherboard tray with the large opening. I found this opening to be quite easy for end users to install aftermarket heatsinks with backplates, and it is large enough to compensate for most shifted CPU sockets on modern motherboards.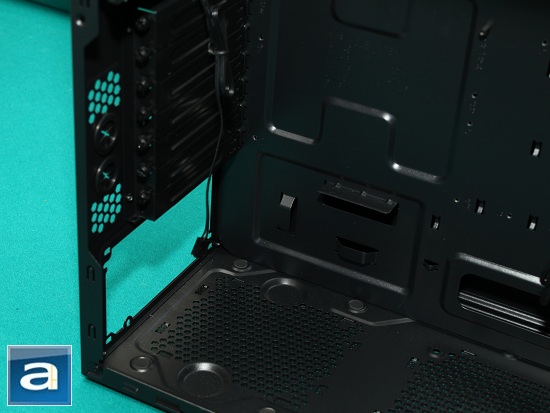 Moving on to the second last section here, the PSU area offers four vibration dampeners to reduce vibrations from the PSU itself. Just above this area are the expansion slots next to the water cooling holes. The expansion slots offer thumbscrews, so you can save the hassle of bringing out your tools. Also, we can see the bottom ventilation more clearly here, with the dust filters that can be easily removed for cleaning when necessary. The motherboard tray features pre-drilled holes that are labeled, so for inexperienced builders, this is quite helpful for indicating where risers should go.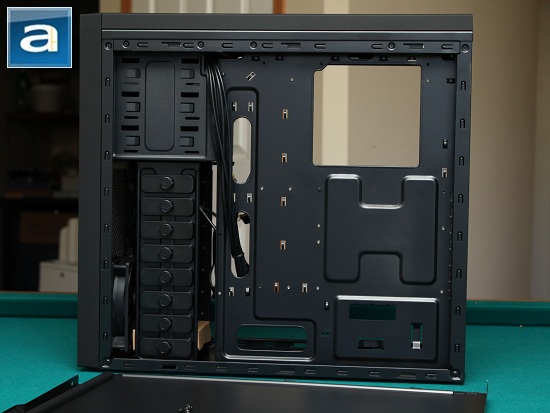 Here is a look at the back side, where most people do not pay as much attention to, but is quite important when it comes down to good cable management. In my opinion, BitFenix has provided quite a bit of space, as there are more than enough cable management opening slots around the motherboard tray, as well as next to the 3.5" bay area. Using your zip-ties would greatly increase the neatness of your cabling job, and provides the user with space for other cables instead of having everything all clustered up. However, it would be nice if BitFenix could provide a little more space between the motherboard tray and right side panel to accommodate thicker wires, such as the 24-pin motherboard cable.
---
Page Index
1.
Introduction, Packaging, Specifications
2.
Physical Look - Outside
3. Physical Look - Inside
4.
Installation and Conclusion