Page 4 - Installation and Conclusion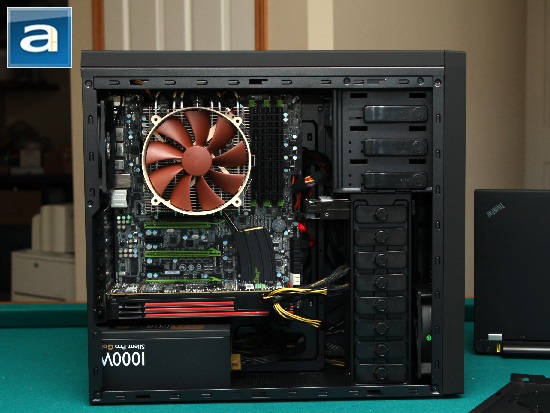 The BitFenix Shinobi Window offers quite a bit of room to work with, so it really does not matter if you installed the motherboard first or your PSU first. Personally, I like to install the PSU first, so I can easily route all the necessary cables first to the general areas. After mounting the motherboard, you could then easily pull the cables through and plug them in accordingly. Up next were my HDD, RAM, heatsink, and GPU, in that order; although you could install these components in whichever order you like, since there is more than enough space to work around with. For testing its capabilities in cable management, I decided to stick my GPU on the bottom slot just for demonstration purposes to see how it works out, and so far, I have had absolutely no complaints about it. (I moved my video card back to the first slot after taking this picture.) Installing ODDs and HDDs took absolutely no time either, thanks to the tool-free clips. Motherboards such as the Gigabyte G1.Sniper should not have any problems fitting in, even though it is slightly wider than most standard ATX boards on the market today.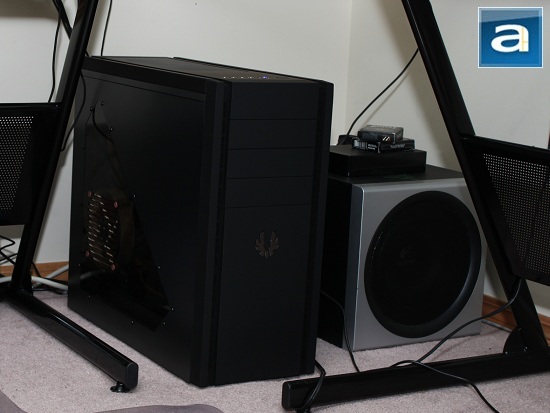 After a thorough cabling job, setting it up and hitting the power button, your system should look similar to what I have in the photo above. If you like what you see -- a clean, slick build -- then this case is definitely a consideration for your next shopping list, as it is valued at approximately $70 retail at press time. Before we forget, there is always a subjective test on the fan loudness. On a scale from 0.0 to 10.0 where 0.0 is the silent and 10.0 is loudest, the fans would come in at 2.5 subjective sound rating in my opinion.
-----------------------------------------
The BitFenix Shinobi Window is by far one of the most contemporary sleek-looking, yet and cleanest cases I have owned in a while. Although previously, I may have been a bit biased in a sense that simple chassis designs are just too plain in terms of looks, modern cases nowadays such as the Shinobi Window has incorporated a sense of class, which I really like. The front and top panels are made of soft touch plastic, which puts you under the impression that these areas are coated with a thin layer of rubber. The tinted windows does give you the stealthy looks on your case, and in my personal opinion, this feature adds the extra kick to your case, although I would have preferred a clear window. Combined with an abundance of room to work within the interior, it gives the end user a sense of practically of component and cable management. However, with that aside, there is a few minor flaws that I would like to touch upon. Firstly, simply by pure looks and preference, I believe that the fan that can be installed optionally on the side panel may take away some of the clean looks to the case -- and as the original Shinobi does not offer this feature, it is only an extra tack-on which offers little practicality, if any. As well, it would be nice of dust filters were implemented under the mesh of the top panel. This will greatly reduce the amount of dust entering the system when turned off. With all these features in mind, generally speaking, I am quite impressed by the BitFenix Shinobi Window, and for a relatively new player in the chassis market, they are certainly on the right track.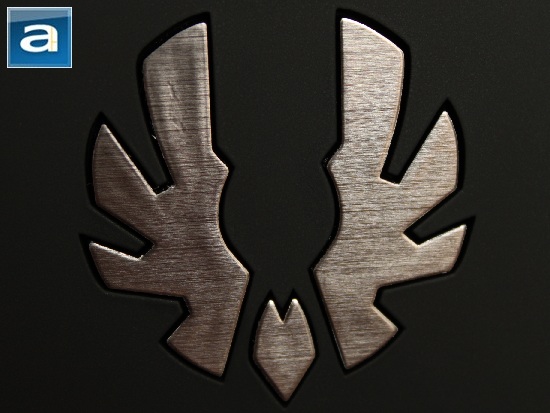 BitFenix provided this product to APH Networks for the purpose of evaluation.
APH Review Focus Summary:
8/10 means Definitely a very good product with drawbacks that aren't likely going to matter to the end user.
7/10 means Great product with many advantages and certain insignificant drawbacks; but should be considered before purchasing.
-- Final APH Numeric Rating is 7.7/10
Please note that the APH Numeric Rating system is based off our proprietary guidelines in the Review Focus, and should not be compared to other sites.
The BitFenix Shinobi Window is a great value case that offers good appeal in terms of looks, while featuring great practicality in component installation.
Do you have any comments or questions about the BitFenix Shinobi Window? Drop by our Forums. Registration is free, and it only takes a minute!
---
Page Index
1.
Introduction, Packaging, Specifications
2.
Physical Look - Outside
3.
Physical Look - Inside
4. Installation and Conclusion