By: Preston Yuen
August 15, 2011
What comes to mind when I mention the word "Phoenix"? Is it the Phoenix Coyotes from Phoenix, Arizona? Would it be the legendary firebird found in certain mythologies? I don't know about you, but the first thing that comes to my mind are items such as Phoenix Downs found in the Final Fantasy series. In mythological stories, it has been said that at the end of a Phoenix's life cycle, it encompasses itself in a blazing fire, and is regenerated from its own ashes in the form of an egg. The "Down" depicted in the FF series refer to the Phoenix's tail feathers, in which it is used to revive fallen characters in battle. When it comes down to a company called BitFenix, to my own interpretation, I can see where some of the inspiration is coming from. Being a relatively young company in the world of technology, to my understanding, BitFenix's main focus is to design hardware that can seamlessly be integrated to the expectations and daily usage of computer products to the end users. So when I first heard of the company, it occurs to me that this company is giving the end user a good sense of revival in terms of using technology with ease, even under extreme conditions. My idea of BitFenix in correlation to the Phoenix firebird is simply the fact that hardware created by this company should be relatively quite simple to use while providing great looks without overwhelming features. To see how it all works out, what we have in store today is the BitFenix Shinobi Window. Combining the reviving power of the Phoenix and the stealth of a Shinobi ninja warrior, I have a strong feeling that BitFenix has created quite a value case that would be quite competitive in the computer market. Keep reading to see what we have found!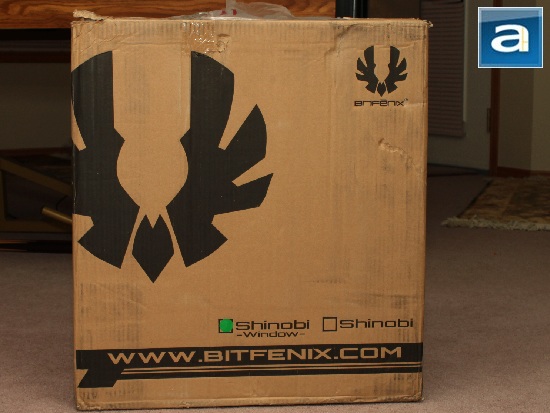 Our unit of the BitFenix Shinobi Window was shipped from Taiwan to our Calgary, Alberta office, and arrived via FedEx Ground. There are the typical bumps and bruises here and there, but nothing to worry about, because I am sure BitFenix did a good job at providing sufficient packaging material. Taking a quick portrait shot and quickly cracking it open with my knife, I soon got down to work to see what goods we have inside.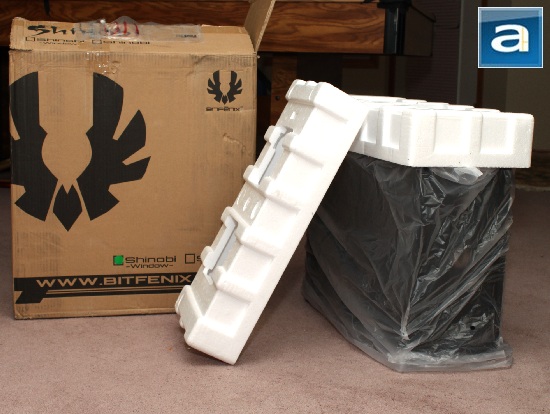 Like other case reviews here at APH Networks, our particular BitFenix Shinobi Window unit came covered in a large plastic bag sandwiched between two Styrofoam clips for protection while on its trip to our office. There is nothing too special as far as exterior looks are concerned. Their company logo can be easily identified on the top right along with their company name, with the logo printed again in quite a large size on the left side of the box on the simple brown corrugated surface. Their website is boldly printed across the bottom with a simple design. Two check boxes are present to identify whether the case is the regular Shinobi or the Shinobi Window. Taking a look at the flip side, you will find yourself taking a quick look at some of the features of the Shinobi Window.
Before we move on to the real goods, let's take a quick look at the specifications, as obtained from BitFenix's website:
Specifications
- Materials: Steel, Plastic
- Color (Int/Ext): Black/Black
- Side Panel: Tinted Window
- Dimensions (WxHxD): 205 x 460 x 490 mm (ATX Mid Tower)
- Motherboard Sizes: Mini-ITX, mATX, ATX
- 5.25" Drive Bays: 3
- 3.5" Drive Bays: 8 (1 x external, using 5.25" adapter)
- 2.5" Drive Bays: 1 (using 5.25" adapter)
- Cooling Front: 2x 120mm (1 x 120mm included)
- Cooling Rear: 1x 120mm (included) or 1 x 92mm (optional)
- Cooling Side Panel: 1x 120mm (optional)
- Cooling Top: 2x 140mm or 2x 120mm (optional)
- Cooling Bottom: 1x 120mm (optional)
- PCI Slots: 7
- I/O: 4x USB 2.0, Audio
- Power Supply: PS2 ATX (bottom, multi-direction)
- Extras: Tool-free drive locking mechanisms
---
Page Index
1. Introduction, Packaging, Specifications
2.
Physical Look - Outside
3.
Physical Look - Inside
4.
Installation and Conclusion