By: Aaron Lai
April 16, 2021
If there is one thing I do not like having to do, it would be making calls. Recently, I had to do it twice, once for the prepayment of my mortgage and another to renew my contract with my cell phone provider. Thankfully, both of these calls were quite seamless for similar reasons. For one, neither of them had a long wait time. Conversely, my calls to my internet service provider are often met with hours upon hours of waiting with their background music playing, but both of these recent ones were answered by live people within a minute of dialing. Secondly, both of them executed the exact requests I had made without dilly-dallying about. I can understand them trying to sell you other products, especially if you contact them so infrequently, but they barely ever offer anything am interested in. Thirdly, both of them dealt directly with me instead of passing me off to another person where I would need to re-explain the situation. Once again, this does seem a bit more situational depending on who you are calling or the reason for contacting them. But obviously, the final satisfaction came from the fact my call was finished in about ten minutes for each. They did not keep me waiting for too to complete my request and I was off the phone quickly. In a similar way, products that offer simplicity but execute well on its intended purpose are usually seen in a positive light in my eyes. I do not need any frills or extras, especially if they do exactly what I need it to do. Today, we have the Cooler Master MasterAir MA624 Stealth, which is a large CPU cooler with two towers of heatsinks and larger SickleFlow fans. With this large footprint, will this still execute well on the basics in providing cooling for your processor? Let us read on to find out!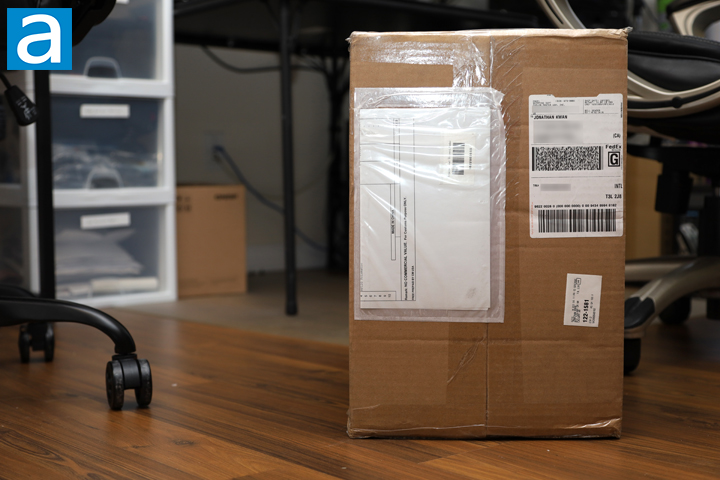 Today's review unit of the Cooler Master MasterAir MA624 Stealth arrived from Cooler Master's offices in Brea, California. Traveling with FedEx and their standard Ground service, this box arrived in great condition with no real issues to speak of. This box arrived to our APH Networks offices in Calgary, Alberta. Along with the MasterAir MA624 Stealth, Cooler Master sent us several other cooling related products, including the MasterAir MA610P ARGB, MasterFan MF120 Prismatic, and the MasterFan SF120M ARGB, which will be reviewed by me and my fellow editors.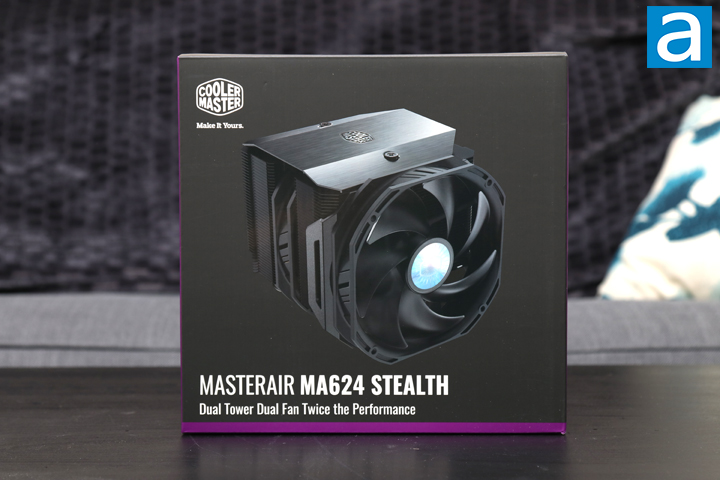 As expected from Cooler Master products, you can see the retail container of the MasterAir MA624 Stealth in its dark gray and purple color scheme. The front of the box shows off the MA624 Stealth in its all-black look with two 140mm fans attached. Underneath, we have a tagline of "Dual Tower Dual Fan Twice the Performance", while a Cooler Master logo is located on the top. On the other panels, we have some more features and specifications regarding this CPU heatsink, but we will explore these later on. Overall, this box is clean and simple, but obviously what matters is inside the box.
Before we continue on, I have grabbed the specifications from the manufacturer's website for your viewing pleasure:
PRODUCT NUMBER: MAM-D6PS-314PK-R1
EXTERIOR COLOR: Black
CPU SOCKET: LGA2066, LGA2011-v3, LGA2011, LGA1200, LGA1366, LGA1156, LGA1155, LGA1151, LGA1150, AM4, AM3+, AM3, AM2+, AM2, FM2+, FM2, FM1
DIMENSIONS (L X W X H): 144.9 x 153.2 x 160 mm / 5.7 x 6 x 6.3 inch
HEAT SINK MATERIAL: 6 Heat Pipes, Aluminum Fins
FAN DIMENSIONS (L X W X H): 140 mm Fan - 140 x 140 x 25 mm / 5.5 x 5.5 x 1 inch, 120 mm Fan - 120 x 120 x 25 mm / 4.7 x 4.7 x 1 inch
FAN QUANTITY: 140 mm Fan - 2 PCS, 120 mm Fan - 1 PC
FAN SPEED: 140 mm Fan - 650-1400 RPM ± 5%, 120 mm Fan - 650-1800 RPM ± 5%
FAN AIRFLOW: 140 mm Fan - 67 CFM (Max), 120 mm Fan - 62 CFM (Max)
FAN NOISE LEVEL: 140 mm Fan - 10 ~ 27 dBA, 120 mm Fan - 8 ~ 27 dBA
FAN AIR PRESSURE: 140 mm Fan - 2.25 mmH2O (Max), 120 mm Fan - 2.5 mmH2O (Max)
FAN MTTF: 160,000 Hours
FAN POWER CONNECTOR: 4-Pin (PWM)
FAN RATED VOLTAGE: 12VDC
FAN RATED CURRENT: 0.15A
FAN SAFETY CURRENT: 140 mm Fan - 0.4A, 120 mm Fan - 0.37A
FAN POWER CONSUMPTION: 1.8W
WARRANTY: 5 years
SERIES: MasterAir
COOLER TYPE: Air Cooler
HEATPIPES: 6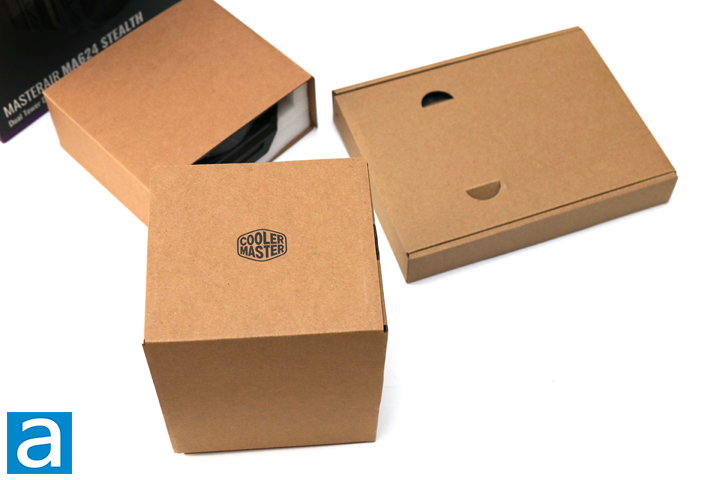 In a similar fashion to some Noctua heatsinks we have seen previously, everything in the Cooler Master MasterAir MA624 Stealth comes packaged in a separate cardboard box to ensure everything has arrived safely with minimal to zero damage to the components. The largest one is marked with the Cooler Master logo and contains the heatsink inside. A flatter box opens up to reveal all of the accessories included for mounting and installing the MasterAir MA624 Stealth into your computer. As you can read from the specifications, this includes mounting hardware to fit Intel's LGA2066, LGA2011-v3, LGA2011, LGA1200, LGA1366, LGA115x and AMD's AM4, AM3+, AM3, AM2+, AM2, FM2+, FM2, FM1 sockets. Depending on which socket you are using, it will affect which hardware you use, but Cooler Master also includes documentation for installation instructions on all of the above sockets. The only recent one you may see missing is AMD's TR4 socket, but this is understandable considering how much larger of a heatspreader the Threadripper CPUs have.
Other accessories in the box include a Y-splitter for connecting two fans into a single fan header, a long L-shaped screwdriver, and a small tube of Cooler Master's MasterGel Pro thermal grease. This is not a retail-sized container, but I am glad Cooler Master has provided a tube to support multiple installations. Finally, the other cardboard sleeve holds the two additional fans included with the MasterAir MA624 Stealth, including a 140mm and a 120mm fan. We will explore these two fans later on in our review.
---
Page Index
1. Introduction, Packaging, Specifications
2.
Physical Look - Hardware; Installation
3.
Test Results
4.
Conclusion