By: Aaron Lai
May 7, 2021
As part of working from home, I know several of my friends decided to update their working environment at their house. For myself, I was able to take a monitor as well as my work computer from the office. However, I really wanted a better office chair, especially since I end up sitting for so many hours while working as a software developer. My chair at the time was alright, but I was really missing good armrests, which resulted in me leaning forward to use my computer. I had looked around the used market for good deals, but I had reservations about sitting in a chair that had absorbed someone else's farts. As such, buying new seemed to be my only option. The real question for me was figuring out what to buy. I knew some of my friends had gone for gamer chairs, but I felt less sure about their durability or ergonomics. Early on in the work from home situation, another one of my friends purchased a Herman Miller Aeron and was absolutely loving it. I had some experience with a Herman Miller Embody from my internship days, so I waited for a good sale on that model and received it in late December of last year. Since then, I have been sitting on this chair daily and I have to say it definitely is comfortable. The difference was immediate, even coming from a decent office chair previously. While the Embody itself does not necessarily look that fancy, it feels fancy in the support for your lumbar and bottom. I also appreciated the fact that this chair came fully assembled and ready to use right away. Conversely, when Cooler Master sent us their MasterAir MA610P ARGB, this was a cooler that first caught my eye for its fancy appearance with its addressable rainbow lighting. Is its elaborate design and appearance matched by a capable cooling performance? Let us read on to find out!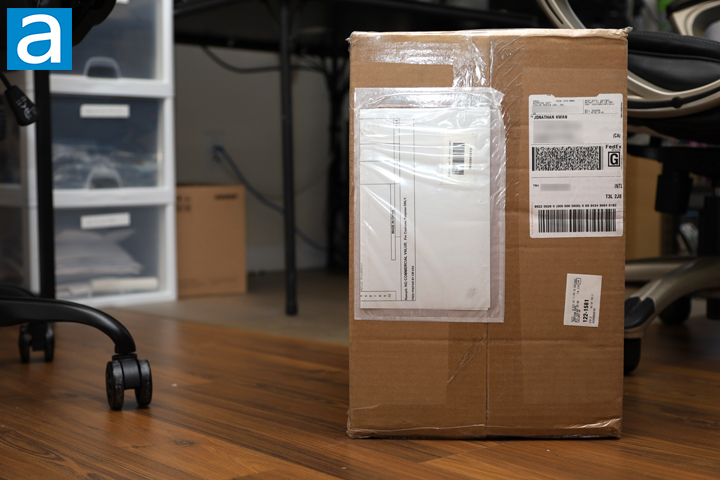 Today's review unit of the Cooler Master MasterAir MA610P ARGB arrived from Cooler Master's offices in Brea, California. This large box arrived to our APH Networks offices in Calgary, Alberta and traveled with FedEx and their standard Ground service. It arrived in great condition with no real issues to speak of. Along with the MasterAir MA610P ARGB, Cooler Master sent us several other cooling-related products, including the Cooler Master MasterAir MA624 Stealth, which I already reviewed. We also received MasterFan MF120 Prismatic and MasterFan SF120M ARGB cooling fans, which will be covered in the coming weeks.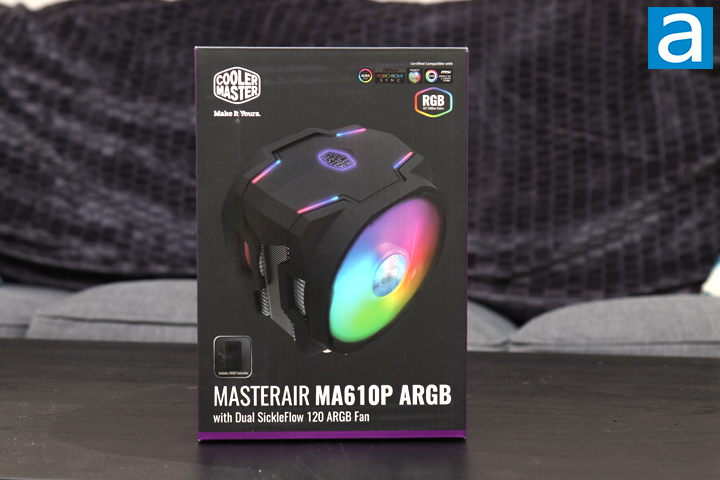 Similar to the aforementioned MA624 Stealth, the Cooler Master MasterAir MA610P ARGB's retail box uses a dark gray and purple color scheme. The front of the box shows off the MA610P ARGB fully illuminated with two 120mm fans spinning and illuminated for the full rainbow lighting experience. Underneath, we have the product name and an additional line to mention the two SickleFlow 120 ARGB fans used on this CPU cooler. On the top corner, you can see this cooler is compatible with majority of the motherboard manufacturers and their RGB lighting headers. On the other faces, we have some more features and specifications regarding this CPU heatsink, but we will explore these later on. Otherwise, the box is pretty clean, but what really matters is inside the box.
For your perusal, we have grabbed the specifications from the manufacturer's website:
PRODUCT NUMBER: MAP-T6PN-218PA-R1
EXTERIOR COLOR: Silver, Black
CPU SOCKET: LGA2066, LGA2011-v3, LGA2011, LGA1200, LGA1366, LGA1156, LGA1155, LGA1151, LGA1150, AM4, AM3+, AM3, AM2+, AM2, FM2+, FM2, FM1
DIMENSIONS (L X W X H): 130.9 x 112.8 x 170.4 mm / 5.2 x 4.4 x 6.7 inch
HEAT SINK MATERIAL: 6 Heat Pipes, Aluminum Fins
FAN DIMENSIONS (L X W X H): 120 x 120 x 25 mm / 4.7 x 4.7 x 1 inch
FAN QUANTITY: 2 PCS
FAN SPEED: 650-1800 RPM ± 5%
FAN AIRFLOW: 62 CFM (Max)
FAN NOISE LEVEL: 8 - 27 dBA
FAN AIR PRESSURE: 2.52 mmH2O
FAN MTTF: 160,000 Hours
FAN POWER CONNECTOR: 4-Pin (PWM)
FAN RATED VOLTAGE: 12VDC
FAN RATED CURRENT: 0.21A
FAN SAFETY CURRENT: 0.37A
FAN POWER CONSUMPTION: 2.52W
WARRANTY: 2 years
COOLER TYPE: Air Cooler
SERIES: MasterAir
HEATPIPES: 6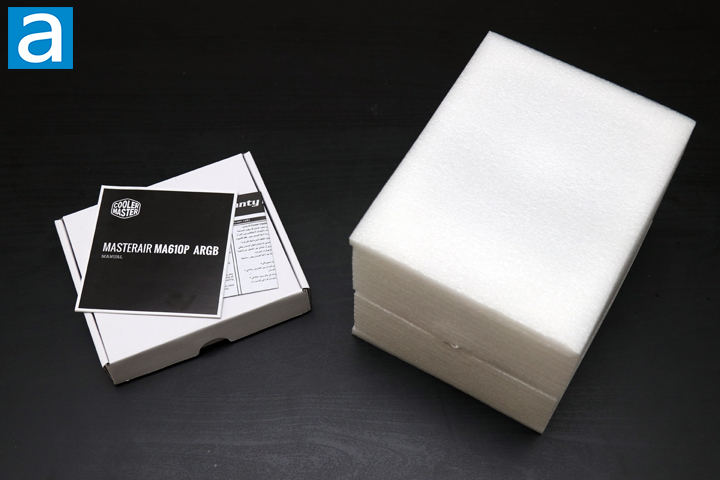 The Cooler Master MasterAir MA610P ARGB is packaged into two separate containers inside the retail box. The first is made up of two large foam brackets with the MA610P ARGB wedged in between. This should cushion any impact or fall damage that may occur while the box is in transit. A flat white corrugated box holds all of the mounting hardware to fit Intel's LGA2066, LGA2011-v3, LGA2011, LGA1200, LGA1366, LGA115x and AMD's AM4, AM3+, AM3, AM2+, AM2, FM2+, FM2, FM1 sockets. Depending on which socket you are using, it will affect which hardware you use, but Cooler Master also includes instructions for installation on all of the above sockets. The only recent socket that is missing from the list is AMD's TR4 socket, but this makes sense when you consider how much larger the heatspreader is on AMD Threadripper CPUs.
Other accessories in the box include a Y-splitter for connecting two fans into a single fan header, additional cables for the RGB lighting, ARGB light controller, and a small tube of Cooler Master's MasterGel Pro thermal grease. This is not a retail-sized tube, but I am glad Cooler Master has provided a tube to support multiple installations. Finally, there is some documentation about warranty information, which is two years for this cooler. Personally, I think this is a bit on the short side, especially when the MasterAir MA624 Stealth comes with a five-year warranty.
---
Page Index
1. Introduction, Packaging, Specifications
2.
Physical Look - Hardware; Installation
3.
Test Results
4.
Conclusion